The event featured about 1,100 exhibitors, including more than 100 new exhibitors. Attendees represented all 50 US states, and dozens of countries. With about 100 aircraft on static display, both at HND and inside the convention center, NBAA-BACE remains the preeminent venue for manufacturers to unveil new models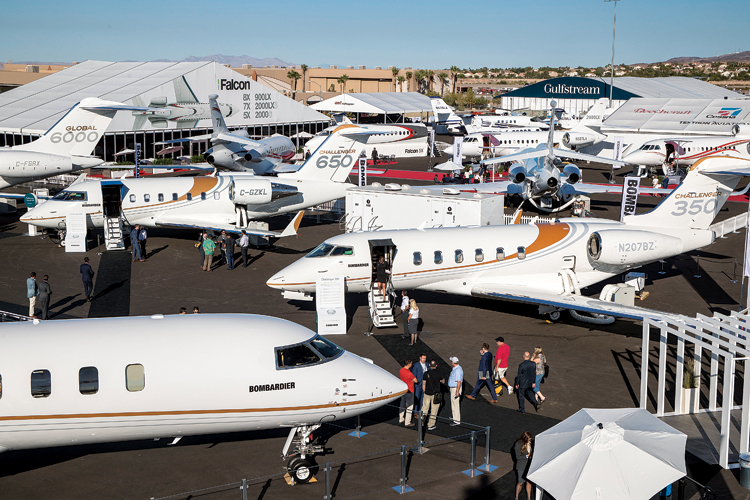 The 2017 Business Aviation Convention & Exhibition (NBAA-BACE) which was held from October 10 to 12 at Las Vegas, Nevada was an all-around success, highlighting the strength of the industry. "This year's show was special in many ways," said NBAA President and CEO Ed Bolen. "We celebrated NBAA's 70th anniversary, and how our industry is stronger when we work together. We gathered in the company of aviation leaders and legends, like Capt. 'Sully' Sullenberger and Capt. Jim Lovell. We saw the launch of exciting new products, and we brought a citywide convention to Las Vegas, which the city welcomed with open arms." NBAA-BACE returns to Orlando, Florida on October 16-18 next year.
The event featured about 1,100 exhibitors, including more than 100 new exhibitors. Attendees represented all 50 US states, and dozens of countries. With about 100 aircraft on static display, both at HND and inside the convention center, NBAA-BACE remains the preeminent venue for manufacturers to unveil new models. For example, this year, the Bombardier Global 7000, Gulfstream G600 and Pilatus PC-24 made their debut at the show.
All three days of the show were packed with well-attended education sessions, including half-day programmes at the NBAA National Safety Forum and Single-Pilot Safety Standdown. Discussions featured top safety experts and representatives from the Federal Aviation Administration (FAA) and National Transportation Safety Board (NTSB). On the final day of the show, more than 1,000 students came to NBAA-BACE, many to participate in Careers in Business Aviation Day, hearing from Dreams Soar Founder and around-the-world pilot Shaesta Waiz — plus a chance to interact with industry leaders and potential employers at the College/University Roundtable event.
ADVOCACY IN FOCUS
This year's convention took place as debate continued in Washington over the future of the nation's ATC system. In a media breakfast held just before the show's opening, general aviation leaders united in mobilizing attendees to oppose legislation that would strip ATC oversight from Congress, and hand that authority over to a private, airline-centric board, unaccountable to the public. Attendees took many opportunities throughout the week to send messages to Congress against ATC privatization, on their mobile devices and using dedicated personal devices on the show floor.
BOMBA RDIER UNVEILS 'THE ARCHITECT'
Bombardier Business Aircraft unveiled The Architect, its fourth Global 7000 flight test vehicle (FTV4) equipped with a cabin interior. The aircraft will be used to validate the overall passenger experience, including the cabin management system and entertainment options, newly designed seats and amenities throughout the four living spaces, the full-sized crew rest area and gourmet galley. FTV4 ferried to Las Vegas following its successful maiden flight on September 28, 2017, where all flight controls were exercised and all systems tested performed as expected.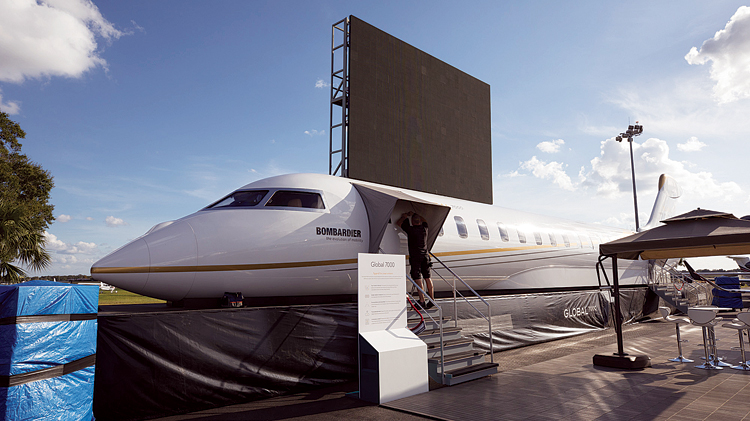 Bombardier unveiled The Architect, its fourth Global 7000 flight test vehicle at the show
Bombardier launched its new Smart Training programe, allowing subscribed technicians to attend as many available technical program,e courses as they like at Bombardier's advanced training centres - and as often as they need — for a fixed monthly payment. Smart Training builds on Bombardier's 20 years as an industry leader in aircraft training, developing its own courseware and providing training to over 3,000 customers a year.
"Bombardier not only builds and maintains its aircraft, it also leverages its OEM knowledge to provide an exceptional aircraft training experience," said Andy Nureddin, Vice President of Customer Support and Training, Bombardier Business Aircraft. "Smart Training takes this experience to the next level - making it possible for technicians to spread out training costs over a period of time, eliminating up-front payments per course."
GULFSTREAM GIVES CABIN EXPERIENCE
Gulfstream Aerospace Corp. highlighted its customer-centric design programme wherein customers got an opportunity to tour a number of Gulfstream aircraft at the Henderson Executive Airport static display, including a newly designed four-living-area Gulfstream G650ER, the fully outfitted Gulfstream G500 production aircraft and an updated Gulfstream G600 cabin.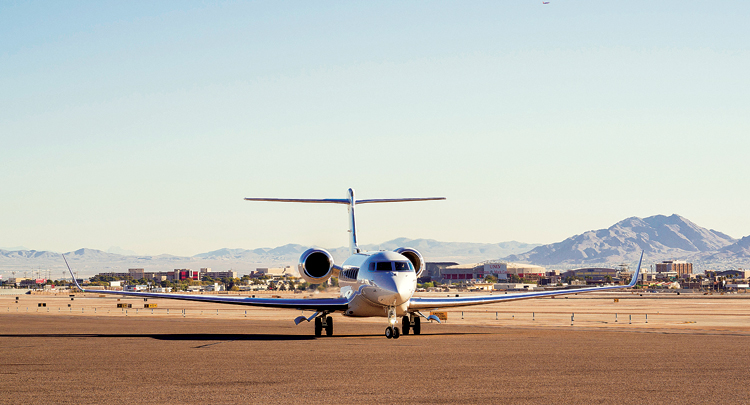 Gulfstream's G650ER on the tarmac
"The cabin is where our customers live, work, play and relax, so it is paramount that they have complete confidence that each aspect and intricate detail of their cabin is a seamless extension of their taste," said Mark Burns, President, Gulfstream. "We believe the perfect cabin is designed when customers are able to visualize the virtually limitless configurations available to them in an engaging and tactile way. That is just what they'll be able to do through our NBAABACE virtual design experiences."
100TH CESSNA DELIVERED
Textron Aviation, a Textron Inc. company, delivered the 100th Cessna Citation Latitude midsize business jet. The milestone aircraft, which comes just 26 months after the first Latitude entered service, was handed over to NetJets Inc at Textron Aviation headquarters in Wichita, Kansas. NetJets extended its total Latitude order to up to 200 aircraft when it took its first delivery in June 2016.
"We set out to redefine this segment by investing in a new product with features our customers told us they wanted: large-cabin amenities and best-in-class operating costs. Delivering 100 Latitudes in just over two years is a testament that we've got the ideal combination," said Rob Scholl, senior vice president of Sales and Marketing, Textron Aviation. "There's no better endorsement than the fact that our longtime customer NetJets reports it as the best-selling aircraft in its fleet."
Textron Aviation delivered 42 Citation Latitudes in 2016, making it the most delivered midsize jet in the world for that year. The aircraft's mission flexibility has made it popular with fleet operators, corporate owners and special missions operators across the world. With certification in 39 countries, the global fleet has surpassed 45,000 flight hours.
EMBRAER LAUNCHES THE NEW PHENOM 300E
Embraer unveiled the Phenom 300E light jet, its newest business aircraft. The new aircraft is designated "E" for "Enhanced" in reference to its entirely redesigned cabin and the addition of nice HD CMS/IFE (Cabin Management System/InFlight Entertainment) by Lufthansa Technik.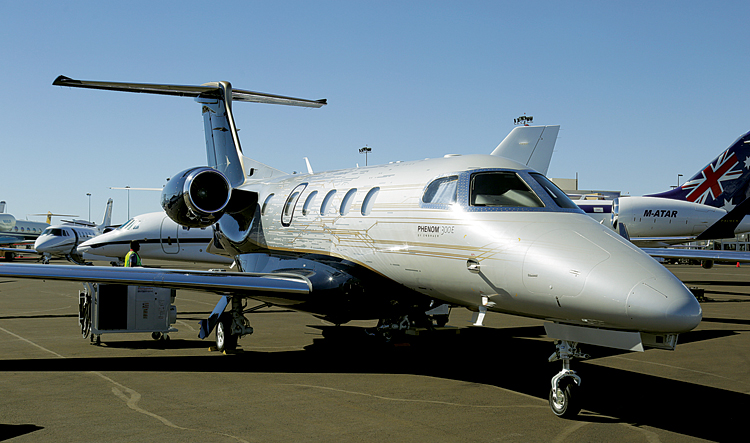 Embraer unveiled the Phenom 300E light jet at the show
Originally launched in 2005, the Phenom 300 first entered the market in 2009. Leading the light jet segment since 2012, the Phenom 300 has been the most delivered business jet since 2013 with over 400 aircraft in close to 40 countries. Deliveries of the Phenom 300E will commence in the first quarter of 2018.
"We are very excited to introduce the Phenom 300E which sets a new standard in value and customer experience. The Phenom 300E reflects our commitment to fascinate our customers," said Michael Amalfitano, President & CEO, Embraer Executive Jets. "With a passion for excellence, our team has been working closely with customers to bring to market yet another beautifully designed and brilliantly engineered marvel of aviation."
The Phenom 300E inherits the Embraer DNA Design, first introduced in its larger siblings, the Legacy 450 and Legacy 500 midsize jets. The application of this design in the Phenom 300E rendered a more spacious cabin with more customization options and ease of maintainability. Starting with the new Embraerdesigned and manufactured seats, the aircraft offers unmatched comfort and personalization in its class. The seat profile, with enhanced headrest, retractable armrest, along with the new table, side ledge, side wall, and valance designs, optimize passenger mobility in the cabin with expanded aisle clearance and increased cabin space.
PILAT US PC-12NG LEADS
Pilatus PC-12 NG continues to lead business aircraft market in both sales and service. After delivering 91 units of its popular single engine turboprop PC-12 NG in 2016, Pilatus executives are optimistic that there are numerous growth opportunities around the world for it to sustain its sales leadership position.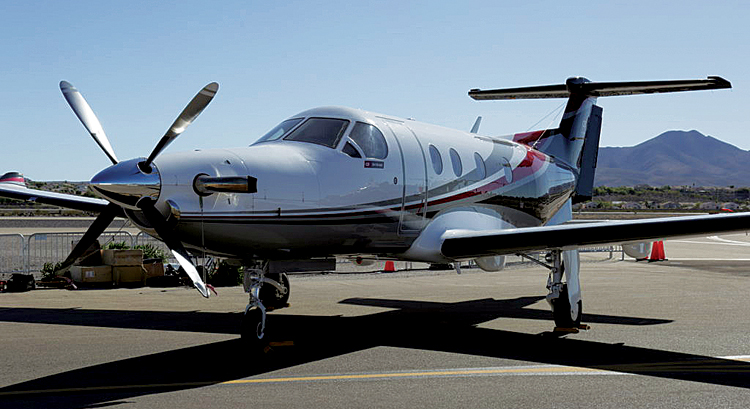 Pilatus delivered 91 units of PC-12NG single engine turboprop in 2016
Pilatus officials attribute this effect to the diverse range of customer uses for the PC-12, ranging from corporate and charter, to personal owner-flown, airlines, air ambulance, and special missions. Being a private company, Pilatus is also able to modulate production rates to avoid flooding the market with new production. Ignaz Gretener, Vice President of Pilatus Aircraft Ltd's General Aviation business unit commented: "Much of our sales success today comes from repeat customers and their recommendation of the PC-12 NG to their colleagues. We constantly listen to their feedback and have a continuous improvement process in place to ensure we provide them with a reliable and efficient aircraft that they can depend on for many years of operation."