Titled, the "lightning round", the first-of-its-kind keynote presentation, featured views from nine Presidents and CEOs from various OEMs who addressed the 2021 market.
"AT THIS PIVOTAL MOMENT, WE CAME TO EBACE CONNECT TO PLAN FOR POST-PANDEMIC GROWTH. THIS MADE CLEAR, BUSINESS AVIATION IS FOCUSED ON MUCH MORE THAN RETURNING TO NORMAL – OUR INDUSTRY IS EVOLVING, COMING BA CK STRONGER, MORE ADAPTIVE AND MORE INNOVATIVE THAN EVER." —ED BOLEN, NBAA PRESIDENT AND CEO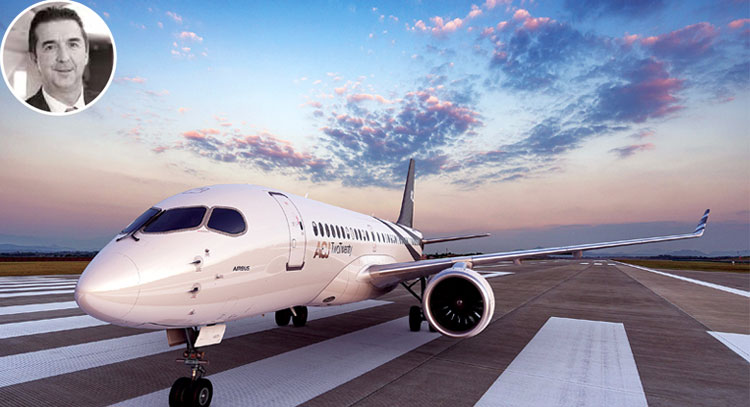 BENOIT DEFFORGE, PRESIDENT, AIRBUS CORPORATE JETS
We are all accustomed to the new normal of the hybrid and majorly virtual world that the pandemic has served us. The regular meets and airshows that the aviation industry harboured upon have also gone digital with a lot of major conferences and shows happening virtually. Recent in the line was the first-ever EBACE Connect which was a strong demonstration of the international business aviation (BizAv) community's eagerness to embrace the future, and shift focus on new opportunities with resilience and reinvention. EBACE Connect was presented by the European Business Aviation Association (EBAA) and the National Business Aviation Association (NBAA) to bring the BizAv community together and share their vision for the future.
"At this pivotal moment, we came to EBACE Connect to plan for post-pandemic growth. This made clear, business aviation is focused on much more than returning to normal – our industry is evolving, coming back stronger, more adaptive and more innovative than ever," said NBAA President and CEO Ed Bolen.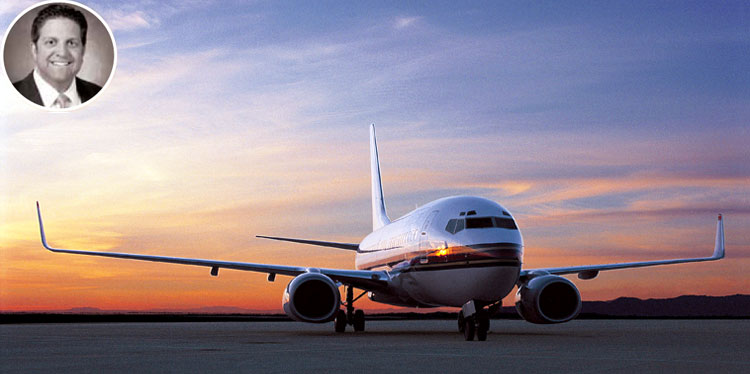 JAMES DETWILER, PRESIDENT, BOEING BUSINESS JETS
ÉRIC MARTEL, PRESIDENT AND CEO, BOMBARDIER BUSINESS AIRCRAFT.
While various significant indicators were witnessed through the event, one of the key highlights was the coming together of leaders from across business aviation to offer a virtual update in lieu of the one they would normally deliver in person at the annual European Business Aviation Convention & Exhibition (EBACE), hosted by EBAA. Titled, the "lightning round" of optimism and progress, the first-of-its-kind keynote presentation, moderated by Bolen, featured views from nine Presidents and CEOs from various OEMs (Original Equipment Manufacturers) who addressed the 2021 market, and the opportunities borne from a challenging year.
PANDEMIC PICTURE
The executives spoke on some important topics, trends and developments in the outlook for the industry and put out the belief that the remote technologies are likely to continue. Responding to the occurrence of the pandemic, Benoit Defforge, President, Airbus Corporate Jets noted how much they really missed seeing their customers face to face. "Another thing we learned is that the private aviation industry is quite resilient," he said. Éric Trappier, CEO, Dassault Aviation underlined that while no one was prepared for this pandemic, thanks to the digital tools things could continue and companies could resume work with some shifts and safety protocols in mind. While Gulfstream Aerospace Corporation's President, Mark Burns highlighted the three elements where Gulfstream shifted its focus for success, "First was the health and safety of our customers & employees, then analysing how to continue operating as a business, ensuring we are good stewards, and to acknowledge that people have started to reassess their choices as more people now understand the value of business aviation. We have first time buyers and new customers since the pandemic."
THE EXECUTIVES ALSO UNDERLINED THAT SAFETY HAS BECOME THE TOP MOST PRIORITY WHICH IS ANOTHER STRONG ASPECT OF BUSINESS AVIATION AS COMPARED TO THE COMMERCIAL ONE
Bombardier's President and CEO, Éric Martel also reaffirmed this shift stating that last year it was only a theory that people will be attracted more towards private aviation but now it is the truth. He also mentioned that last year was when Bombardier decided to become a purely business jet company, so the year was surely challenging but holds promise for the future.
COLLABORATIVE & SUSTAINABLE APPROACH
The leaders also articulated the benefits of business aviation that has come out as one of the significant outcomes of the pandemic. They mentioned about the changing perspectives of the customers, reassessing regulations, and other observations.
Talking about some perks of private aviation which people are noting, Michael Amalfitano, President and CEO, Embraer said, "You can traverse three cities in one day, disclose your personal business on a private jet and securely work on confidential materials in flight, whereas you do not have that option when flying commercial."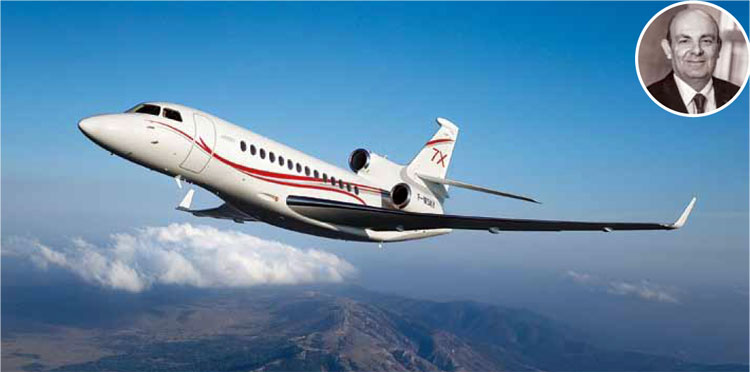 ÉRIC TRAPIER, CHAIRMAN AND CEO OF DASSAULT AVIATION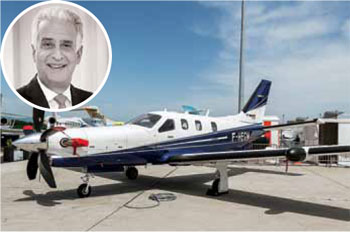 DIDIER KAYAT, CEO, DAHER
The executives also underlined that safety has become the top most priority which is another strong aspect of business aviation as compared to the commercial one. In addition to that the things like cabin air and just the overall physiology of a private aircraft make the trip way more convenient which in turn enhances the productivity of the person. They also noted the importance of training, as well as the diversity that they maintain in the organisations that allows them to better understand the global disbursement of their customer population. The session also highlighted, as more people are noticing the advantages of flying private, the customers themselves are becoming the advocates of the industry.
Ron Draper, President and CEO, Textron Aviation mentioned about the Sky campaign that Textron introduced last summer which was well received and since then Textron has been seeing new entrants in private aviation.
"We have dedicated meetings with our customers to support the development of business jets. They talk to us during NBAA-BACE, or during EBACE, and have some good declarations about how it is really cost effective to get a [business aircraft] to travel and to be able to continue to work in flight." Éric Trappier, CEO, Dassault Aviation.
HOWEVER, THEY DID NOTE THAT DIFFERENT QUARANTINE RESTRICTIONS IN DIFFERENT PLACES DO BECOME A CHALLENGE AND THEY HOPE THOSE CAN BE STREAMLINED
There was also a mention about harmonising international regulations and most of the executives were positive for the same. Daher, CEO, Didier Kayat stated, "During this crisis, we've had excellent relationships with both EASA (European Aviation Safety Agency) and the FAA (Federal Aviation Administration). They've been very helpful, supportive and very efficient despite all the limitations."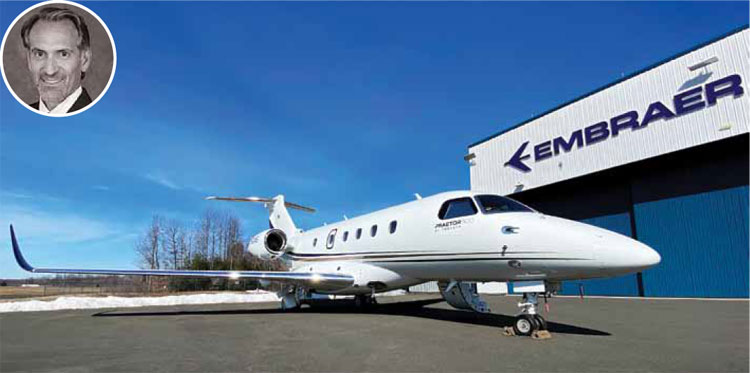 MICHAEL AMALFITANO, PRESIDENT AND CEO, EMBRAER EXECUTIVE JETS
MARKUS BUCHER, CEO, PILATUS BUSINESS AIRCRAFT
However, they did note that different quarantine restrictions in different places do become a challenge and they hope those can be streamlined. Markus Bucher, CEO, Pilatus Business Aircraft also mentioned about the supply chain disruption and the need to rethink the strategy of sources. James Detwiler, President, Boeing Business Jets added that the industry is going to experience a supply chain tightening as material costs have risen, hitting the bottom lines. But they are hopeful that as the strategy for resources are re-thought and remote collaborative processes continue to reduce some costs and time spent in the pursuit of certification, things might strike a good balance.
"Every airplane we have built in the last 20 years is more efficient in a number of ways. Many of the systems that we built, like synthetic vision – and things of that nature that help the airplane be not just safer, but more efficient – are huge contributors to that sustainability effort," said Burns while talking about sustainability. More efficiency in fuels, in engine, in aerodynamics ability, synthetic vision, elimination of waste, etc. is needed to be kept in mind while building airplanes further.
The leaders pointed that more efforts are needed as a community going further to ensure a sustainable synergy. Kayat also noted that with greener aircraft, there is a huge opportunity to reinvent and be more responsible which must be harnessed. Over the past year even though pandemic was the major concern, sustainability was not sidelined by the industry and continued steps in the form of discussions and initiatives for sustainable fuels, greener engines, monitoring the carbon emissions have seen the light of the day.
OPTIMISM ONBOARD
Despite the challenges that the industry encountered, the panel was largely optimistic of the way forward and sure of business aviation's resilient capabilities. "The pandemic was challenging last year, but I think it has created an amazing opportunity for our industry, looking forward," said Martel. Draper also stressed his optimism that the industry is going to see increased demand and favorable days ahead.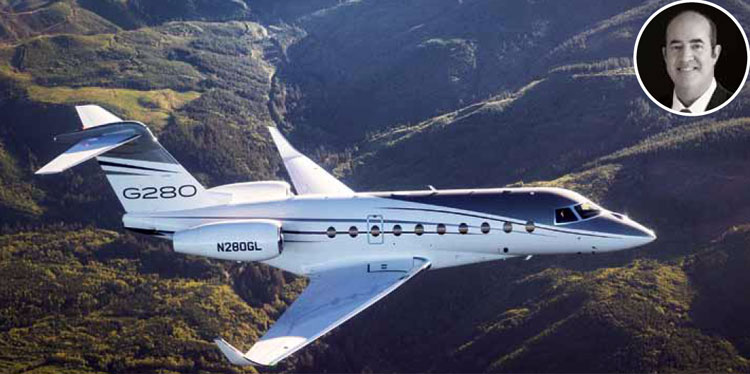 MARK BURNS, PRESIDENT OF GULFSTREAM AEROSPACE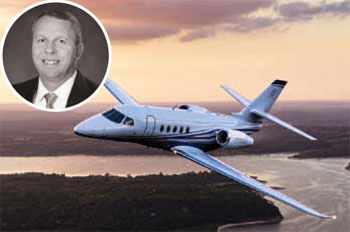 RON DRAPER, PRESIDENT AND CEO OF TEXTRON AVIATION
Other leaders also joined in to highlight that even with the ongoing challenges the outlook is strong. With more digitisation driving in, from Artificial Intelligence to Augmented Reality, contactless to cyber-security, the business aviation leaders are ready to incorporate and improvise the industry with taking initiatives in line with the situational demands.
The session thus showcased a holistic perspective of what the business aviation industry encountered, what it expects and how it sees the situation shaping up in the future directly from some of the most prominent voices of the industry.
EBAA and NBAA pointed to some more standout indicators of EBACE Connect's success:
More than 1,600 attendees participated in the programme, which featured keynote discussions with aviation leaders and visionaries.
Well-known pilot and philanthropist Erik Lindbergh opened the programme by sharing personal insights on the next great era in aviation.
The EBACE Connect panel sessions likewise focused on business aviation's future, covering advanced air mobility, safety regulation for new technologies, growing beyond COVID, market trends and sustainability.
The full lineup of sponsored "Thought Leadership" sessions featured business aviation entrepreneurs and leaders discussing topics such as the evolving workplace, data-management best practices and cloud-based tools for flight operations.