Enhanced vaccination drives, easing of restrictions, Memorial Day weekend regain domestic business aviation trends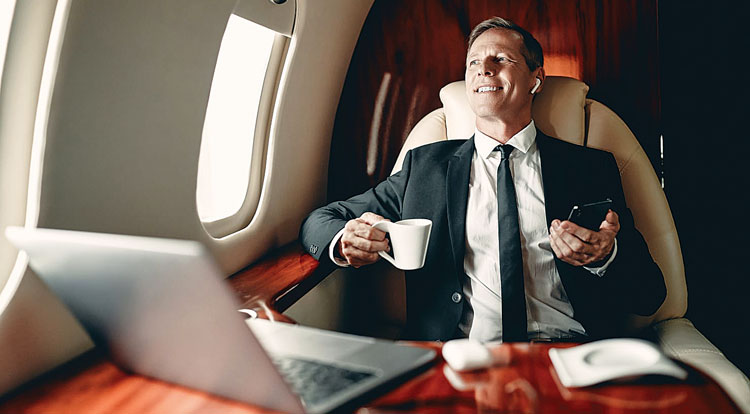 CHARTER DEMAND IN DOMESTIC MARKETS, ESPECIALLY THE US, MAY EXCEED PRE-PANDEMIC LEVELS THIS YEAR
As we begin to adapt to the new normal and with the gradual acceleration in vaccines, the aviation industry is optimistic to soon see light at the end of the tunnel. In a recent research, Moody's Investors Service published that it has revised its outlook for the global airlines industry to positive from negative. "The positive outlook reflects the rating agency's view that industry fundamentals will materially improve over the next 12-18 months, notwithstanding the current record high daily infection rate in India; travel restrictions in countries with large amounts of traffic to and from India; and ongoing lockdowns in other countries," Moody's stated.
The business aviation industry specifically seems more positive with the United States (US) leading the chart. Data research company, WingX Advance released its data last month displaying that traffic levels in 2021 now need to be interpreted versus 2019, gauging return to normality rather than rebound from locked-down 2020. "The evidence so far suggests that charter demand in domestic markets, especially the US, may exceed pre-pandemic levels this year. Fractional operators are also starting to do better than ever before in the US," WingX stated. The US market has made notable gains, with business aviation activity this year up by 37 per cent compared to the first four and a half months of 2020.
Compared to the January to May period in 2019, 2021 has seen more than 15 per cent increase in charter flights between the US and Mexico, Bahamas and Turks and Caicos, and 77 per cent increase in charters to Antigua and Barbados. "All told, the business aviation charter market looks to be well teed up for this summer," stated the data company. With almost 50 per cent more sectors this year than last, and 4 per cent more charters flown than in the same period of 2019 in the United States, the charter market appears buoyant right now.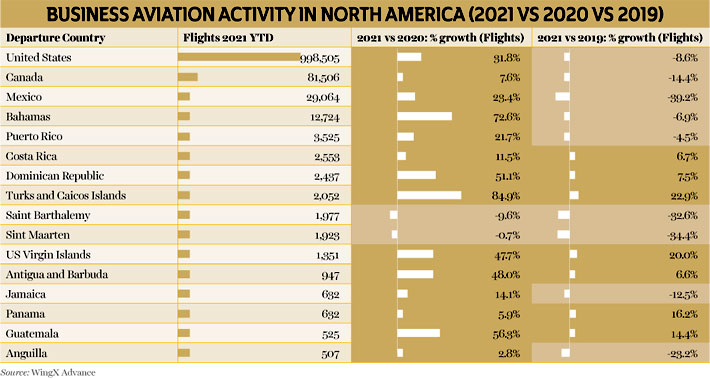 The paced up vaccination drive in the US could well be a major contributor to this rise. According to the latest statistics shared by Our World in data, over 45 per cent of the United States' population has been vaccinated. Moody's too noted the strong recovery in US domestic travel demand that began in March 2021 highlighting the benefits of the combination of vaccinations and a large geographic footprint for the return of domestic travel demand.
"Leisure traffic will lead the charge to the boarding gates, while corporate trips and international long-haul will follow, initially at a slower pace. The restoration of the ability to travel will relieve the tremendous pent up demand to fly to visit friends and relatives and for vacations. With offices in many countries opening by fall 2021, this will facilitate the beginning of the corporate travel recovery," said Jonathan Root, a Moody's Senior Vice President.
WingX also noted at the start of this month that the tide is turning as vaccination programmes start to release restrictions on all aviation activity, with an emphasis on leisure and domestic trips. This was more particularly demonstrated during Memorial Day in the United States.
Memorial Day weekend saw a substantial increase in business aviation flight activity, with 32,000 flights in the Friday to Monday period, compared to just 17,000 in 2020, with this year's holiday racking up 4,000 more departures than Memorial weekend back in 2019.
Scheduled airline traffic, by comparison, was up 25 per cent on the 2020 holiday but still 28 per cent down on the holiday period in 2019.
US REGIONS ON A HIGH
Particularly in North America, a slightly stronger recovery was noticed in Scheduled Airline activity towards the end of May, as flights were down by only 3.5 per cent in comparison to May 2019. The US too is seeing the bulk of this activity, with 1.2 million jet and prop sectors flown this year, up 40 per cent on last year, down 7 per cent on comparable 2019, stated WingX.
Further pointing out specific regions, WingX pointed out Canada being well back on the recovery curve, up 13 per cent compared to 2020, however compared to 2019 trends it is still trailing 15 per cent. In addition to that Mexico is also a long way back on pre-pandemic activity through May and some Caribbean destinations have managed to break records this year, with arrivals into the Dominican Republic, Turks and Caicos and US Virgin Islands well up versus 2019.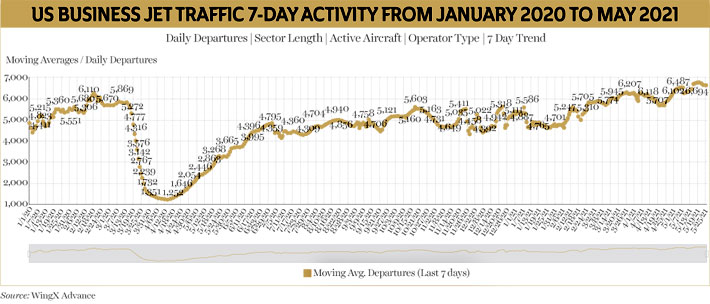 During the Memorial Day weekend, for business aviation travellers, the most populate destinations were Nantucket, Martha's Vineyard, Las Vegas, Saint Simons, Albuquerque, Miami-OpaLocka, Westhampton Beach. This Memorial Day, there were 52 flights from White Plains into Nantucket Memorial, with the same pair seeing only 9 flights last year, and 54 arrivals back in 2019.
The busiest state in North America has come out to be Florida. Outlining an impressive 22 per cent gain on the same period in 2019, Florida dominated with 1,77,000 business aviation departures this year itself, up 62 per cent on 2020. After the Memorial Day weekend, at the regional level, the US is continuing to see a very strong recovery in the South West, with Florida still the busiest global hub, seeing almost fifty thousand more business aviation departures in the month of May than next busiest State, Texas. Moreover, business jet and prop activity out of airports in Florida is running 34 per cent ahead of May 2020, and 18 per cent ahead of May 2019.
Apart from Florida, both Colorado and Arizona saw more business aviation arrivals in May 2021 compared to May 2019. New York is making a rapid recovery, with 56 per cent increase in flights this year over last and only 1 per cent deficit versus 2019. Other States with more traffic this year than in 2019 include South Carolina, and, exceptional among other Canadian territories, British Colombia.
SIGNIFICANT SEGMENTS
The light jet segment in the US has seen immense recovery with sectors up 52 per cent on last year, and up 3 per cent on comparable 2019. Light jet movements are up, versus 2019 too, in seven of the top ten US States. In the charter market in the US, Light Jets, including the older entry-level Citation jets, are flying 20 per cent more charters than in 2019, while ultra-long range Jets are flying more charters than in 2019, up by 8 per cent this year, WingX noted. In Florida, South Carolina, Arizona, branded Charter operations in Light Jets are 21 per cent ahead of 2019 trends, and almost 50 per cent ahead of pre-pandemic trends.
OUTLINING AN IMPRESSIVE 22 PER CENT GAIN ON THE SAME PERIOD IN 2019, FLORIDA DOMINATED WITH 1,77,000 BUSINESS AVIATION DEPARTURES THIS YEAR ITSELF, UP 62 PER CENT ON 2020
Even the Super Midsize jets are showing similar strong recovery. Branded Charter sectors on these aircraft are up 50 per cent on 2020, and up 14 per cent on 2019. Fractional operations on Super Mid jets are up 61 per cent versus last year and up 21 per cent compared to 2019.
After the Memorial Day too, light and super-mid activity continues to be dominant, busier than ever, whilst heavy jet movements languish 14 per cent below 2019 levels.
GLOBAL GAUGE
With 3,30,000 sectors operated so far in May 2021, business aviation traffic has more than 20 per cent of all fixed wing aviation movements last month, closing the gap on May 2019 to just 2 per cent, maintaining more than double the traffic compared to May 2020. The deficit so far this year compared to the January through May period 2019 is now 8.7 per cent, with business jet and turboprop operations up more than a third compared to last year to date. Global cargo traffic continues to outpace both 2020 and 2019 activity, whilst scheduled airline activity is only edging back, up by three times compared to May last year, but still down 10 per cent compared to 2020 through May, and slightly closing the gap on 2019, 44 per cent lower on a YOY basis.
Through the first three weeks of May 2021, global fixed wing activity amounted to just over 1 million sectors flown, with 21 per cent of these operated by business aviation operators, almost double their prepandemic share. Business jet and prop flights in the beginning of last month were up by 123 per cent compared to May 2020, 5.7 per cent fewer sectors than in May 2019. Cargo traffic is up 9 per cent this month, down 4 per cent versus May 2019. Year-to-date, business aviation traffic is up by 34 per cent this year compared to last, in stark contrast to the 13 per cent deficit in scheduled traffic this year versus last. Compared to the January through May period 2019, business aviation activity is down by 8.7 per cent.
Very Light and Super Midsize Jets, these segments seeing more activity so far this year than in 2019, respectively 3 per cent and 1 per cent growth in sectors. This month, the combined Light Jet segments, with 40,000 sectors, is also busier than in May 2019. Large cabin aircraft are still making up historical deficits, sectors down by 10 per cent this month compared to May 2019. The recovery is much stronger for branded charter operators; Light Jet charter sectors are up 23 per cent on May 2019, and Heavy Jets are only 2 per cent below 2019 levels. There is also a lot of regional variation: arrivals of ultra-long-range jets into the Caribbean are up 8 per cent this year versus 2019.
Business jet travel in Asia, Africa and South America is also now exceeding 2019 as well as 2020 levels. Stand-out growth is evident in Brazil, Australia, China, the UAE, India, Nigeria. Saudi Arabia, Morocco and Japan are some of the few countries still behind 2019 trends. Much of the recovery is coming in domestic not international traffic, with UAE-India the top cross-border flown outside the US and Europe. Shorter sector activity is reflected in Ultra Long Range jet usage, still down 10 per cent vs pre-pandemic activity.
As conditions in other markets improve and barriers to travel come down, Moody's expects the current experience in the US market to be repeated globally, over different time frames.