It is critical that pilots are able to differentiate, in advance, between a low-risk flight and a high-risk flight, and then establish a review process and develop risk mitigation strategies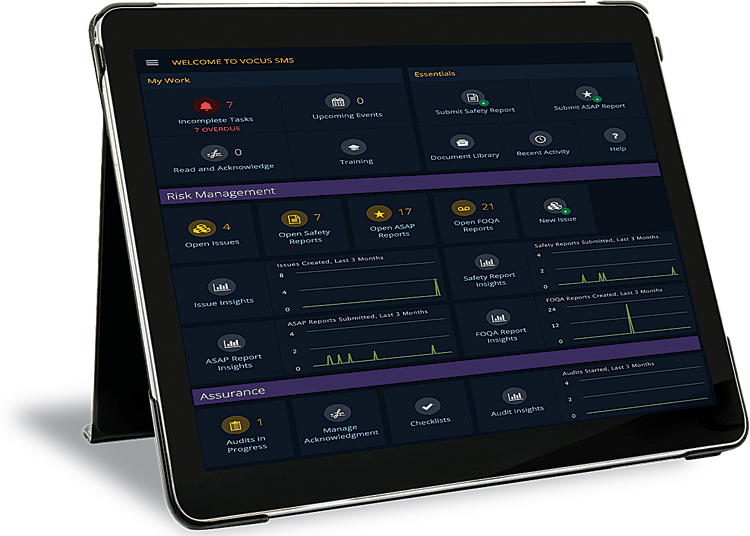 VOCUS advanced safety management software system utilises advanced technology and design concepts to simplify the complexity of safety management and focuses on transforming safety data into actionable insights
Flight Safety is constantly engaging the aviation community. Every accident is too many and every life lost is unacceptable. Modern intuitive and customisable flight risk management applications track risk trends so as to equip pilots and safety officers that will effectively improve flight safety. The risk needs to be tackled at three levels - aircrew, flight environmental, and on-board equipment. Flight risk assessment was in the past done be supervisors based on the inputs and their own gut feelings and experience. The same has become much more professional and done with technology support, data collation and analytical tools. Safety Management System (SMS) has to be ingrained into the organisational flight and ground safety culture.
The first issue is about quantifying risk tolerance vis-à-vis rewards. Defining and enforcing safety rules and regulations is important. There have to be customised warnings based on operations and safety manuals for crew. The operator organisation must be clear about risk threshold. Each risk has to be mitigate in real-time. Pilots and safety managers must track and proactively reduce risks. Collated data on pilots, aircraft, airport, and time-lines give insight into types of risks and recurring trends. All flight scheduling is then done based on this assessment. Risk score for a flight or crew will get automatically generated by the Flight Operations Software tool before the flight.
FLIGHT RISK ASSESSMENT TOOL (FRAT)
The US Federal Aviation Administration (FAA) safety guidelines states that having a Flight Risk Assessment Tool (FRAT) is one of the most important elements of developing the SMS. FRAT must do proactive hazard identification, should be easy to use, and be able to visually depict risk. Similarly, the European Aviation Safety Administration (EASA) feels that pre-flight risk assessment is a task not only of the safety managers, but also of every pilot. Factors that have to be taken into account are aircraft and systems serviceability, meteorological information, briefing of the cockpit and cabin crew, on all potential risks.
FLIGHT RISK ASSESSMENT HAS BECOME MUCH MORE PROFESSIONAL AND DONE WITH TECHNOLOGY SUPPORT, DATA COLLATION AND ANALYTICAL TOOLS. SAFETY MANAGEMENT SYSTEM (SMS) HAS TO BE INGRAINED INTO THE ORGANISATIONAL FLIGHT AND GROUND SAFETY CULTURE.
Normally, the FRATs ask a series of questions that will help a pilot to identify and quantify a risk. The FAA's safety team follows the PAVE approach – questions are on the Pilot, Aircraft, Environment, and External pressures. The success of FRATs is based on the fact that nobody is fudging data. This will become more important once the single pilot airlines operations begin. Only then will the software App be able to suggest appropriate mitigation actions. In very challenging situations, the App might even help decide whether the flight must be made at all.
FLIGHT RISK ASSESSMENT TOOLS FOR HELICOPTER OPERATIONS
A very tough job is for the crew who have to launch off on helicopter emergency medical services (HEMS) and search and rescue (SAR) operations. Very short notice means doing risk assessments on-the-fly in a mission that could be in a marginal weather. They require tools to identify, manage and mitigate the risk to crews, aircraft and patients. Typically an HEMS operation may be in a narrow geographical area. They must know about High Tension (HT) wires, and other hazards around potential landing sites. In case of combat like conditions, there are other risks. As the number of risks increase the software tool becomes more complex. Leonardo Helicopters has developed a mobile solution called SkyFlight. This is designed to ease daily operations, increase mission effectiveness, optimise costs, reduce flight crew workload and help pilots and operators to perform an effective flight risk assessment. Human factors and other factors known to impact safety are combined into a total risk picture for ease of use.
TOOLS FOR GENERAL AVIATION AND SMALL OPERATORS
The GA safety record leaves a lot to be desired, and that fact has created a pervasive public perception that "those little airplanes are just not safe. But, fun flying must also mean safe flying! Teaching decision making processes and actual decisions is important. Next Generation Flight Training (NGFT) Consulting Switzerland has developed a safety App geared to the needs of small operators and general aviation.
INTEGRATED QUALITY AND SAFETY MANAGEMENT SYSTEM
Germany's FAI Air Ambulance makes use of the IQSMS (Integrated Quality and Safety Management System) software from Austrian firm ASQS. It has three modules for quality management, risk management reporting, and airport and flight risk. It caters for ongoing flight risks such as diversion, duty time, on-board medical emergency, and damage to aircraft. FAI is also one of only a few fixed-wing operators that can, and does, fly into conflict zones. There are new situations on the ground every day, and they require agile flight security assessments to handle the ever-changing nature of the destination's risk and to guarantee the safety of the aircraft and crew before a flight can be accepted. Similarly, VIP and VVIP charters planned at short notice, also requires individual adaptation. Risk assessment from many different directions and aspects is indispensable.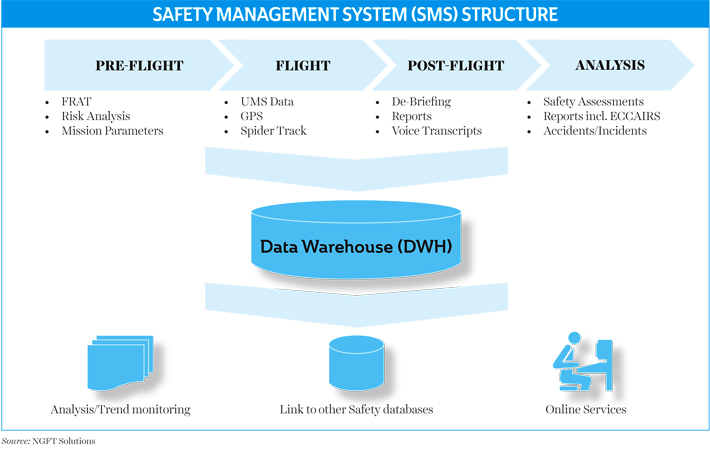 SHIFT RISK ASSESSMENT TOOL
Australian aeromedical organisation Care-Flight uses Air Maestro's operational risk assessment function to create both an online Shift Risk Assessment Tool (SRAT) as well as a FRAT. These provide a systematic approach to identify, assess and mitigate risks during pre-flight planning. It allows to customise the tools to include the assessment of crew dynamics (experience), cockpit seniority gradient, pilot fatigue and flight considerations specific to the types of missions undertaken by the organisation. The tool looks at pilot's flight hours on type, expected weather conditions, as well as if a refuel stop is required during the mission. In addition, it looks at potential risks associated with operating an aircraft post-maintenance check. If either tool presents conditions that are high/extreme risk to the operation, the task is then reviewed by a Flight Operations Manager.
SPIDERTRACKS: FLIGHT DATA MONITORING & AIRCRAFT TRACKING
Spidertracks feels that for considering risk, the best way to predict future events is by looking at historical data. Using its Virtual FDR programme, users can examine and analyse previous events to calculate risk and identify areas where safety could be improved. They look at pilot's past crossing of flight limits and other bad habits like ignoring a red flag. Virtual FDR captures AHRS (roll, pitch, and yaw) and HD tracking data at a high frequency during flights, and automatically transfers it to 'the cloud' securely post-flight. This data is used to deliver easy-to-interpret flight safety events and the risks and opportunities for improvement and safety risk mitigate. Dedicated satellite channel allows two-way communication with an aircraft via any internet-connected device. Critical live weather intelligence is also integrated to identify potential risks. All this helps pilots to make better, well-informed decisions.
FAA SAFETY GUIDELINES STATES THAT HAVING A FLIGHT RISK ASSESSMENT TOOL (FRAT) IS ONE OF THE MOST IMPORTANT ELEMENTS OF DEVELOPING THE SAFETY MANAGEMENT SYSTEM (SMS)
SAR, AERIAL FIRE-FIGHTING AND AIRBORNE POLICING
Airborne special missions cover medical transport, SAR, aerial firefighting and airborne police services. Each has unique set of risks. Offshore SAR has different dynamics. The potential resources, and people that could impact on your mission tends to be much larger, and therefore exponentially more complex. These could include the Rescue Co-ordination Center; other rescue agencies such as coastguard, police, fire service, and ambulance; the presence of the public sometimes in large numbers; other SAR or HEMS aircraft at the scene; or multiple vessels involved in a search or rescue at sea. Some of these are not easy to pre-judge. Does one land or winch? Land on a rocking ship? How is the downwash affecting the rescue effort? Rescue on soft snow mountain slopes have different risks. All these are difficult to predict. Similarly, landing at remote airstrips, or flying aerial fire-fighting missions in mountainous regions, knowing how the wind will change, how an aircraft will perform, will all add to complexity and risk. This requires dynamic risk management.
CONCLUSION
There are a large number of flight risk assessment tools being developed all over the world. It all comes down to asking a large number of flight related questions, from which, a risk assessment chart evolves. Each parameter is assigned a weightage and the same is programmed through the flexible software. A total risk score is then available. It could be Green (low), yellow (medium), and red (high). If it is Green: Go fly. If it is Yellow: Try to mitigate some of the higher scoring items. May be wait for weather to improve, or use more experienced crew. If the score is in the red zone, one should seriously consider cancelling the flight. The proliferation of mobile devices and associated Apps for flight planning, weather briefing, and flight monitoring/tracking greatly support risk assessment and flight planning. Finding the right risk management App is important.
Some Apps use the simple PADEU formula: Pilot, Aircraft, Duration, Environment, and Urgency. The App lets you select a number from one to four in each category, and it then calculates a cumulative total for overall flight risk value. This one is very straightforward, easy to use, and quick enough. More complex risk assessment Apps take more time to use, but can help think through a more complete range of hazards and risk factors.