FIA 2022 signified the revival of the aviation industry, with new technologies, new partnerships, commitments, and thousands of professionals gathering to reconnect.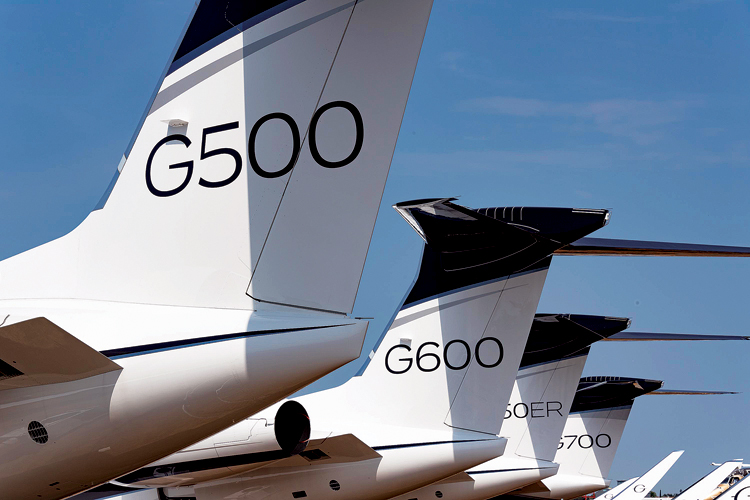 Gulfstream had a significant presence at the show displaying their impressive array of business aircraft
Farnborough International Airshow (FIA) made its return from July 18-22, 2022 with curious enthusiasm, engaged interactions, deals, displays, and deliberations. Setting the course of the industry for decades to come, sustainability, net-zero, advanced air mobility, and space were the leading topics for exhibitors and attendees at the event, which additionally highlighted the industry's dedication to driving positive change and building a more efficient, greener future.
As the industry continually looks to enhance modern life with technological advancements and radical new approaches, the FIA 2022 acted as a platform for the latest and greatest innovations that are pioneering the future of business aviation and general aviation, the developments setting the agenda for the industry in the years ahead, the challenges shaping the direction of the sector and the best course of action for some of the biggest questions facing aviation.
As the race to develop new technology accelerates, there is no question that our skies will soon be transformed as the future of transportation takes to the air and the space beyond our planet's atmosphere. In line with that, advanced air mobility, sustainable, and fast alternative rapid transport were all on display at the Farnborough International Airshow 2022 (FIA 2022), painting the portrait of how the future skies might end up looking.
GULFSTREAM G800 MAKES FIRST INTERNATIONAL FLIGHT
Gulfstream had a significant presence at the show displaying their impressive array of business aircraft. To support their participation, the leading business aircraft manufacturer also flew in their brand new G800 marking the international debut of the aircraft. The allnew ultralong-range Gulfstream G800 made its first international flight just weeks after the aircraft's first flight. The G800 flew from Savannah to Gulfstream Customer Support's Farnborough, England, facility in support of Gulfstream's participation in the Farnborough International Airshow.
The longest-range business aircraft in the industry, the G800 can fly 8,000 nautical miles/14,816 kilometers at Mach 0.85 and 7,000 nm/12,964 km at Mach 0.90 and features the Gulfstream Symmetry Flight Deck with active-control sidesticks and the most extensive use of touch-screen technology in the industry. The G800 cabin can be configured with up to four living areas with seating for up to 19 passengers and sleeping space for up to 10. The G800 also features 100 per cent fresh, never recirculated air, a plasma ionization purification system, and the lowest cabin altitude in the industry.
BOOM SUPERSONIC
The agreement to propose special mission variants of Boom's Overture supersonic aircraft was finalised at the Farnborough International Air Show. A new supersonic aircraft tailored to provide quick-reaction special mission capabilities will be offered through a collaborative agreement between Northrop Grumman and Boom Supersonic.
SETTING THE COURSE OF THE INDUSTRY FOR DECADES TO COME, SUSTAINABILITY, NET-ZERO, ADVANCED AIR MOBILITY, AND SPACE WERE THE LEADING TOPICS AT FIA 2022
Designed to carry up to 80 passengers at twice the speed of today's airliners, the special mission variant of Overture has the potential to support missions that require rapid response. Fitted with specialised capabilities, the aircraft could be used to deliver medical supplies, provide for emergency medical evacuation or surveil vast areas faster than conventional aircraft. The special mission Overture variant could also be used in a variety of scenarios like disaster response. Designed and built in the United States, the first Overture aircraft will be in production for commercial use in 2024, start flight tests in 2026 and begin carrying passengers in 2029.
PIAGGIO AEROSPACE
Piaggio Aerospace is one of the main players in the world for executive turboprops, both in VIP and special mission configurations. The Italian company exhibited at the air show and displayed their P.180 Avanti EVO, a multiutility aircraft that is also operated by various government agencies and flight inspection service providers.
French Operator Oyonnair, a company specialising in medical and cargo transportation, signed an order – through its financial arm Investairs - for the purchase of a new P.180 Avanti EVO, the executive aircraft produced by Piaggio Aerospace. The new P.180, which is expected to be delivered by the second quarter of 2023, will be set up in medevac configuration, with an enlarged door (from 24 to 29 inches wide) and an additional fuel tank, to offer better performance and mission flexibility.
WISK AERO
Wisk Aero, a leading Advanced Air Mobility (AAM) company and developer of the first all-electric, self-flying air taxi in the US, conducted public display of its 5th Generation Aircraft, Cora, was on display at the Farnborough International Airshow adjacent to the Boeing Pavilion.
"We are excited to publicly share our 5th Generation, all-electric, self-flying, eVTOL air taxi with the UK for the first time," said Gary Gysin, CEO of Wisk. "We are fortunate to have a fleet of test, demo, and display aircraft, which allows us to be in multiple places at once without impacting our development and flight test programmes. We look forward to sharing our 5th generation aircraft with the UK as well as other locations around the world in the near future."
EVE HOLDING
Eve Holding announced at the Farnborough Airshow a non-binding Letter of Intent ("LOI") with Embraer and BAE Systems to explore the potential order of up to 150 electric vertical takeoff and landing (eVTOL) vehicles. In a separate announcement, BAE Systems and Embraer signed a Memorandum of Understanding ("MoU") at Farnborough International Airshow to potentially form a joint venture to collaboratively develop an innovative eVTOL variant using Eve's platform.
Andre Stein, Co-CEO of Eve, added: "We are thrilled that Embraer and BAE Systems have chosen Eve as their platform for this collaboration. Our eVTOL can be adapted to meet various essential applications in this market, such as humanitarian response and disaster relief. This collaboration allows Eve to remain focused on exploring the Urban Air Mobility market." The potential order will be added to Eve's current backlog of 1,910 eVTOLS, the largest within the Advanced Air Mobility (AAM) industry.
VERTICAL AEROSPACE
Vertical Aerospace, a global aerospace and technology company that is pioneering zero emissions aviation, announced a partnership with Babcock International to explore new applications of for its VX4 eVTOL aircraft. The VX4 has proven demand in the passenger transportation markets from established airline customers including Virgin Atlantic, aircraft lessors such as Avolon, and helicopter and tourism operators such as Bristow and Iberojet. With this announcement, Vertical and Babcock will set up a Joint Working Group (JWG) to explore how to use the VX4 in new applications such as aerial EMS and cargo transportation. The VX4 has the potential to transform these types of operations and reduce their carbon impact at a lower overall cost. This will include reviewing how to use the VX4 in vital services such as attending accidents and providing emergency transport between hospitals.


(Clockwise from Top Left) Gulfstream flew in their brand new G800 marking the international debut of the aircraft; Rendering of the special-mission variant of the Overture supersonic special-mission aircraft; Supernal revealed its initial eVTOL vehicle cabin concept; Wisk Aero all-electric, self-flying eVTOL air taxi.
The partnership will also see the two companies working on the development of modular MRO capabilities to maximise availability and enable cost effective maintenance of the VX4 in service. The piloted zero operating emissions four-passenger VX4, is projected to be capable of travelling distances over 100 miles, achieving top speeds of over 200mph, while producing minimal noise and having a low cost per passenger mile.
HYUNDAI SUPERNAL
Supernal revealed its initial eVTOL vehicle cabin concept at Farnborough International Airshow, providing the first look at how Hyundai Motors is integrating automotive capabilities to develop the Advanced Air Mobility (AAM) market.
Supernal's five-seat cabin concept provides clues to how the Company is harnessing automotive design processes and materials – while meeting commercial aviation's highest safety standards – to optimise the AAM passenger experience and price-point. The design embodies biomimicry philosophy – a butterfly in this case – and the Company's pillars of safety above all, human-centered design and environmental responsibility.
Supernal partnered with the Group's design studios to create the cabin concept as the Company works to certify its eVTOL vehicle for commercial use in the United States starting in 2028 – and in the EU and UK shortly after. Beyond the vehicle, Supernal is collaborating with external partners and the Group's more than 50 affiliates to responsibly co-create the expansive AAM value chain.
With sustainability as a priority, the cabin concept incorporates materials such as advanced recyclable carbon fiber reinforced thermoplastic, durable plant-based leather, recycled plastic fabric and responsibly sourced woods. The seat frame also utilises excess raw material from the airframe manufacturing process.
LILIUM
Bristow Group, the global leader in innovative and sustainable vertical flight solutions, and Lilium N.V., developer of the world's first electric vertical-takeoff and landing ("eVTOL") jet, announced a strategic partnership where Bristow will have the option to purchase 50 Lilium Jets in addition to providing maintenance services for the Lilium Jet's launch network in Florida, and other future US and European markets.
Lilium is among the first eVTOL companies to pair certified air carriers with infrastructure developers and support services, such as maintenance and repair and flight training. The addition of Bristow as a Part 145 maintenance provider marks significant progress for Lilium. Bristow is the global leader in innovative and sustainable vertical aviation solutions to some of the world's leading offshore energy companies. Bristow is actively transforming its business to embrace innovative and sustainable technology including eVTOL aircraft.
Farnborough International Airshow yet again established itself as an excellent place to see new technology in action and discover future applications for it. Additionally, FIA 2022 signified the revival of the aviation sector and an optimistic outlook across businesses.