"The G700 signature Gulfstream Cabin Experience practically give passengers the ability to arrive at their destination feeling more refreshed than when they departed", Scott Neal, Senior Vice President, Worldwide Sales, Gulfstream in an exclusive interaction with BizAvIndia.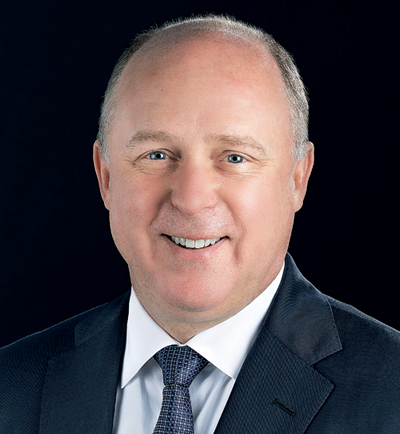 BizAvIndia (BAI): Would you like to share some of the most unique features of G700 and elaborate for us?
Scott Neal (Neal): The all-new Gulfstream G700 features the industry's most spacious cabin, the longest range at the highest speeds and the most advanced technology, all optimised by Gulfstream to deliver an unparalleled travel experience.
The G700 harnesses Gulfstream-developed technology including the award-winning Symmetry Flight Deck and other new safety advancements. Along with active-control sidesticks and the industry's most extensive use of touch-screen technology, the flight deck comes standard with Gulfstream's Predictive Landing Performance System which gives pilots advanced warning of potential runway excursions so they can adjust approaches or go around. All these technologies greatly improve situational awareness and pilot communication, so they stay alert and focused on flying.
The largest aircraft in the Gulfstream family, the G700 offers an outstanding range of 6,400 nautical miles/11,853 kilometers at its high-speed cruise of Mach 0.90 and 7,500 nm/13,890 km at its longrange cruise speed of Mach 0.85. The ability to fly at faster speeds (Mach 0.90 versus Mach 0.80) gives customers more time, lower annual expenses for maintenance, parts and services, and shorter crew days for safer operations.
All-new, high-thrust Rolls-Royce Pearl 700 engines power the G700 and, along with newly designed Gulfstream winglets, ensure the aircraft achieves high performance capabilities with its larger cabin. The aircraft offers excellent takeoff and landing performance and can operate easily at weight-restricted, short-runway and high-altitude airports.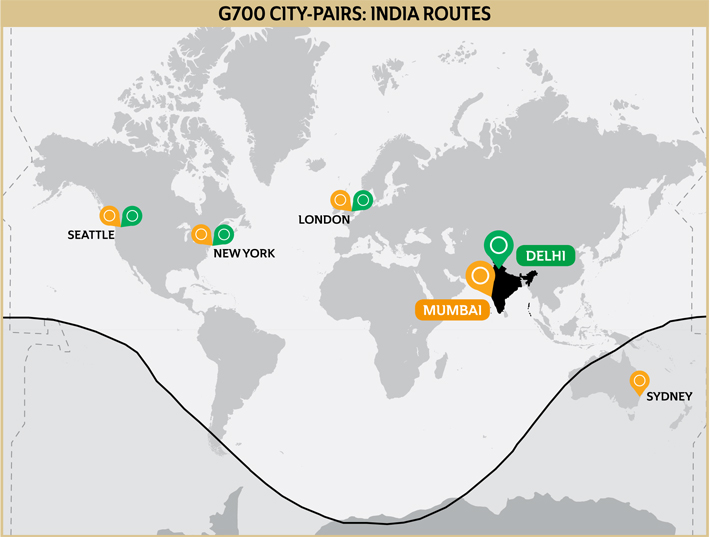 BAI: What kind of innovation you ensure in the interiors to offer the best possible comfort thereby offering decent and comfortable experience to the passengers traveling in G700?
Neal: The two G700 production test aircraft on the fall 2022 world tour showcase the tallest, widest and longest cabin in the industry and the flexibility passengers will have to extend their ground-based lifestyle to the air.
The first fully outfitted test aircraft features the G700 extra-large ultragalley with its 10-foot/3.048-meter countertop, yet another industry best, and dedicated crew space. The aircraft also includes an entertainment and presentation area; a six-place conference and dining area; and a state room with full-length wardrobe. Interior elements include award-winning seat design; natural stone flooring in the galley and bathrooms; quartz countertops; powered single seats; surround sound; and other bespoke features that come standard on the aircraft.
The second G700 production test aircraft, which made its first flight in September 2022, features a grand suite with fixed bed and newly designed spacious lavatory with natural light, full vanity and shower, as well as a six-place dining area with a fully expandable, self-contained table. This G700 also includes the all-new ultra high definition dynamic circadian lighting system, an optional feature capable of replicating sunlight. The Gulfstream-designed system mixes warm white, cool white and amber LED lights and spans from 0.01 brightness to 100 per cent, allowing it to simulate sunrise to sunset. The lighting can also be programmed individually for each cabin zone, tailored to passenger preferences and specific activities, such as dining or working.
Combined with 20 Gulfstream panoramic oval windows, the industry's lowest cabin altitude, 100 per cent fresh air and whisperquiet sound levels, the G700 lighting and signature Gulfstream Cabin Experience practically give passengers the ability to arrive at their destination feeling more refreshed than when they departed.
BAI: Please share the range factors of G700 flying point a to point b without any halt/layover. Also in view of G700 flying from Delhi and from Mumbai.
Neal: Some G700 nonstop city-pair connections will include Miami to Dubai and Geneva to Singapore at Mach 0.90 and New York to Hong Kong at Mach 0.87.
BAI: What about the lowering of carbon emission? Where does G700 stand?
Neal: The G700's combination of the Gulfstream-designed wing with all-new, advanced, high-speed winglets and the efficient Rolls-Royce Pearl 700 engines results in outstanding fuel-efficiency. The technology in the Symmetry Flight Deck also contributes to the G700's fuel-efficiency – Gulfstream's Enhanced Flight Vision System and Predictive Landing Performance System create more efficient flying and decreased fuel usage.
BAI: Can we say G700 is a delight to fly for the pilots? How?
Neal: The Symmetry Flight Deck on the G700 and on the full Gulfstream next-generation fleet, the G400, G500, G600 and G800, was designed for pilots by pilots. With the flight deck's electronically linked active control sidesticks (ACS), pilots can instinctively feel each other's control inputs or the inputs from the autopilot. This tactile feedback provides an unprecedented awareness of flight-control inputs and nonverbal communication. The precise ACS responses to pilot inputs also improves aircraft handling qualities, resulting in a smoother flying experience.
In 2018 Gulfstream became the first aerospace company to certify Enhanced Flight Vision System (EFVS) to touchdown and rollout. The technology provides the latest image resolution, more than four times the resolution of its predecessor, giving pilots better visibility at night and in adverse weather conditions. Using EFVS to touchdown and rollout on the G700 equips pilots with a new level of safety and reduces the potential for runway incursions, go-arounds and diversions.