India's vast and diverse coastline and inland lakes remain a treasure trove of untapped potential for the seaplane operations market
By SUDHIR S. RAJESHIRKE,


CHIEF OPERATING OFFICER, JETCLUB EUROPE
ON OCTOBER 31, 2020, PRIME MINISTER NARENDRA MODI LAUNCHED A SEAPLANE SERVICE IN GUJARAT
ONE OF THE MOST overlooked, and often ignored until recently, aviation markets in India and perhaps globally, is the seaplane market to develop and exploit the untapped coastlines of our country. Proponents of seaplane services state that the length of a coastline is the key driver for growth of seaplane services. Hence, it is believed that India has a great potential to develop seaplane services market.
Globally, the estimated total length of the world's coastlines, including offshore islands, is approximately 3,56,000 kilometers according to the World Resources Institute (WRI). Canada has the largest coastline of all countries and one of its operator Harbour Air is the second largest operator of seaplanes in the world with a fleet of approximately 43 aircraft. In comparison, India's coastline is around 3,000 kms and ranks 18th in the world. However, India has no single seaplane operator currently in service. On the other hand, Maldives, an archipelagic state, in spite of ranking 87th in the world in terms of coastline length, has the largest seaplane operator. Trans Maldivian Airways (TMA), with its merged entity Maldivian Air Taxi, operates a fleet of 54 seaplanes.
Hence, it is not only the length of the coastline that determines the market potential for seaplane operations. Other factors such as land area, coast/area ratio and potential for inland tourism having connectivity to inland lakes add to the increasing potential for the development for seaplane services. Further, the Government of any country has to promote seaplane services as a strategic tourist initiative and has to provide the right infrastructure to promote the usage of seaplane services for this aviation segment to nourish and grow.
For example, the Government of India is keen on exploring the potential of seaplane services in India. On October 31, 2020, the Prime Minister launched a seaplane service in Gujarat which showed that India is making progress in this segment. However, there has not been much movement in the seaplane services segment and this article takes a look at some of the challenges and influencing factors that can enable the spurt of the growth.
OPPORTUNITY FOR INDIA
Seaplanes cater to various market segments, including tourism, transportation, adventure travel, and special missions (such as search and rescue or firefighting). The largest operators cater to tourism and transportation segments. Harbour Air uses much of its 40+ aircraft fleet for tourist operations and much of its growth comes from the increase in the tourism sector. On the other hand, majority of TMA's flights are transportation ones carrying passengers over various islands and between the respective islands and the international airports that bring tourists from various countries.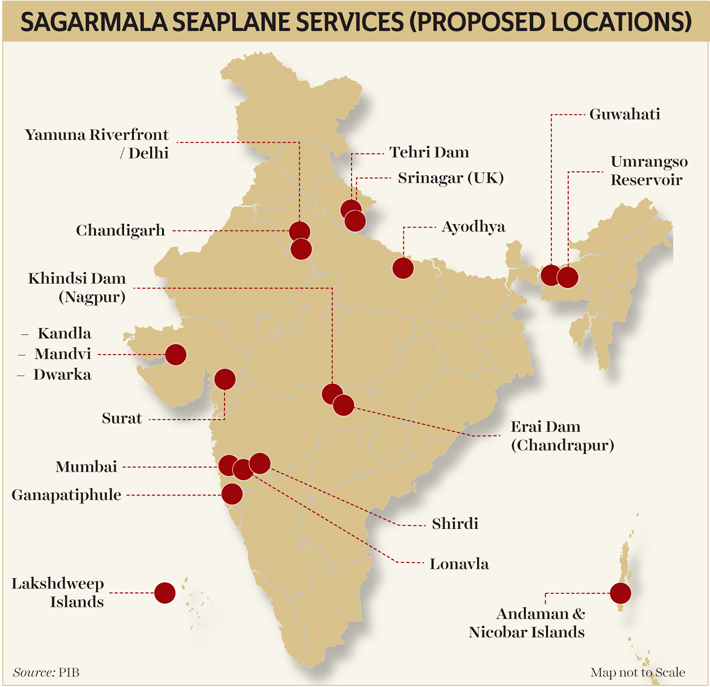 With the right market diligence, India's long and a beautiful coastline offers the potential to develop both the tourism and transportation segments. India has several positive factors that could potentially benefit the seaplane operations market.
OPERATORS
Few operators in India have demonstrated entrepreneurial initiatives and have tested the seaplane operations market in the past. Jal Hans, a Pawan Hans initiated project was a commercial seaplane service based in the Andaman and Nicobar Islands was launched as a pilot project on December 30, 2010 by the Ministry of Civil Aviation.
Later, in 2013, Kerala Seaplane, a commercial service was started by Kerala Tourism Infrastructure Limited in association with a local operator. However, the initiative could not make any progress due to local agitation by the fisherfolks.
In 2020, SpiceShuttle, a subsidiary of SpiceJet, launched seaplane services using a 15-seater Twin Otter 300 aircraft. SpiceJet had secured 18 seaplane routes under the UDAN scheme, which included Ahmedabad-Kevadia (Sabarmati River Front to Statue of Unity, Sardar Sarovar) and Agatti-Minicoy, Agatti-Kavaratti etc.
Recently, an operator placed a substantial order for electric seaplanes that are planned to be launched in 2029.
Hence with the right infrastructure and Governmental support, there are operators who are willing to test waters and start commercial feasible seaplane operations.
GOVERNMENT INITIATIVES
The Government of India and State Governments have taken initiatives in the past and continue to do so to promote seaplane operations. Under UDAN 5.0 (2023), the Ministry of Civil Aviation opened up more seaplane routes and also committed to developing seaplane waterdromes. Furthermore, Airport Authority of India (AAI) has sanctioned 287 crore for 14 water aerodromes in India.
Not only MoCA, but the Ministry of Ports, Shipping and Waterways has initiated the process of commencing operations of the Seaplane services, on the select routes, under a Special Purpose Vehicle (SPV) framework through prospective airline operators. The model will be operated as a hub and spoke system which will include various islands of Andaman & Nicobar and Lakshadweep, Guwahati Riverfront & Umranso Reservoir in Assam, Yamuna Riverfront / Delhi (as Hub) to Ayodhaya, Tehri, Srinagar (Uttrakhand), Chandigarh and many other tourist places of Punjab & HP; Mumbai (as Hub) to Shirdi, Lonavala, Ganpatipule; Surat (as Hub) to Dwarka, Mandvi & Kandla; Khindsi Dam, Nagpur & Erai Dam, Chandrapur (in Maharashtra) and/or any other Hub & Spoke suggested by the Operator.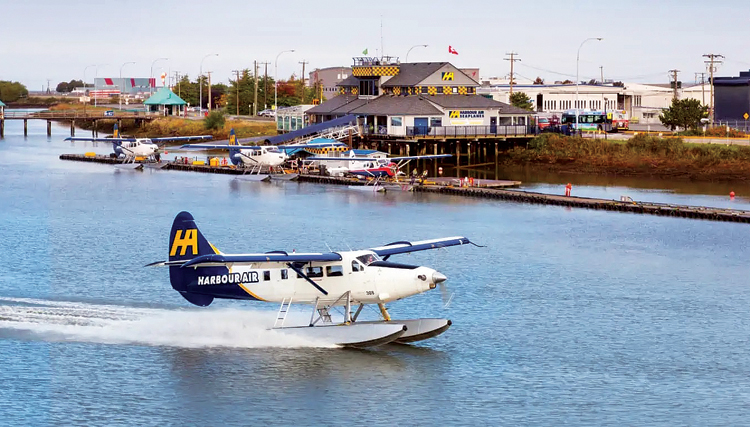 HARBOUR AIR IS THE SECOND LARGEST OPERATOR OF SEAPLANES IN THE WORLD WITH A FLEET OF APPROXIMATELY 43 AIRCRAFT
Further, Kerala Tourism Infrastructure Limited, in association with Pawan Hans Ltd had carried out a detailed study to assess the locations and feasibility of seaplane operations within the State.
Hence, in summary, India has the right framework of regulatory, operations and Government support to explore the potential for seaplane services.
CHALLENGES
Few major challenges need to be overcome before India could truly boast of a healthy seaplane operational ecosystem:
Infrastructure Development: Although the Prime Minister launched seaplane services in 2020 and GUJSAIL, the civil aviation entity of the Gujarat Government established a waterdrome at Kevadia connecting the Sabarmati river to the Statue of Unity, the aviation operations have ceased since then due to lack of commercial feasibility of aircraft operations.
Various other waterdromes construction projects were either shelved due to environmental conditions or they had to be shifted elsewhere for which detailed feasibility studies have to be carried out, that takes a lot of time. The pace of waterdrome infrastructure development needs to be undertaken with priority for the development of a healthy seaplane operations ecosystem. Operators will be interested in operating aircraft at locations that have easy and convenient entry and exit points for passengers and a place to park aircraft.
Environment and Human Factors: India has strong environmental protection laws which are necessary and in the best interest of the environment. Therefore, for each waterdrome project, a detailed environment study is required to be carried out. Due to lack of commercially viable coastal areas where waterdromes can be developed – such locations don't always offer a balance of commercial and environmental interests and hence get delayed in approvals.
Further, there is often an opposition from the local sea community for any coastal waterdrome development project as their livelihoods depend on the fishing activities. Strong opposition from fisherfolks has often delayed or derailed the development of waterdrome projects.
Lastly, the weather along the coastlines also plays a major part in the development and operations of a waterdrome. India's coastlines have rough seas and experience heavy monsoons. Hence it is unsuitable for development of waterdromes that require stable weather and smooth water surface.
Cost of Aircraft and Financing: Large commercial airlines have historically not participated in the seaplane operations market due to lack of scale and commercial viability. However, smaller operators find it prohibitive to finance, acquire and operate seaplanes on scale. For example, a pre-owned DHC-6-100 Twin Otter seaplane having a capacity of 15 passengers costs around $4,500,000 onwards. In addition, maintaining seaplanes is expensive due to corrosive nature of operations.
Local Pilot and Maintenance Training Facilities: There is a lack of pilots having experience of seaplanes. Hence operators have to choose expensive options between wet leasing of aircraft along with crew and hiring foreign pilots to begin initial operations. That creates a heavy drain on the cashflows. All Indian pilots have to be sent outside of India for flight trainings. Same would be the case of maintenance training required for skilled engineers and technicians for maintenance of aircraft.
Aircraft Maintenance: Maintaining seaplanes is expensive. As per the DGCA regulations, operators need to have access to a maintenance services provider that has the tools, equipment and certified staff to safely maintain aircraft. India has no such MROs that can cater to seaplane operations.
CONCLUSION
With its vast and diverse geography and presence of large coastline and inland lakes, India has the potential to become a large seaplane operations market. Further, there is a great amount of enthusiasm from the Government to promote seaplane operations. Ministry of Civil Aviation and Ports and Shipping are taking concrete initiatives to create the right infrastructure for creating a market in India. Select operators have also come forward to establish operations. However, there is still significant progress to be made and large scale initiatives need to be taken for India to become one of the top 10 seaplane markets globally. Overall, three major initiatives that are required are summarised as follows:
Government needs to create a stakeholder platform of operators and infrastructure consultants to create a detailed plan for developing the infrastructure for large scale seaplane operations.
Through GIFT City, financing of aircraft should be made available for operators to finance acquisition of aircraft.
UDAN schemes could be further leveraged if the commercial incentives offered are higher for seaplane operations as compared to normal regional operations. This will enable commercial feasibility of operations.
For large pooled orders, where operators can pool in their negotiating power, OEMs can be encouraged to invest or develop local training and maintenance infrastructure for pilots and maintenance professionals.
Local communities impacted by seaplane operations should be consulted and considered as partners in the seaplane infrastructure development project.