Flying Cars represent the Future of Air Transportation and development is taking place at a furious pace to make it a reality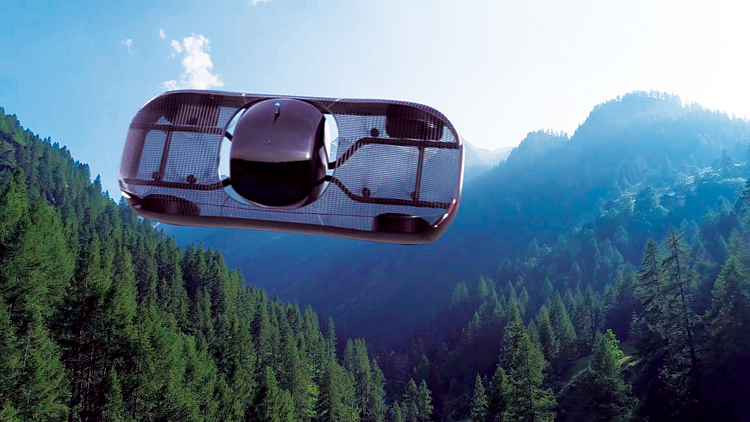 ALEF AERONAUTICS MODEL A IS THE FIRST FULLY ELECTRIC FLYING CAR THAT HAS RECEIVED APPROVAL FROM THE US GOVERNMENT TO OPERATE ON BOTH ROADS AND IN THE AIR
The era of flying cars is no longer confined to science fiction; it is poised to become a reality that will revolutionise air transportation as we know it. With increasing numbers of flying cars taking to the skies, cities will undergo a transformation, with the potential for taller buildings, rooftop landings, and air highways connecting towering structures. As ground traffic decreases, congestion may alleviate, making way for parks and green spaces. The integration of businesses and green spaces is foreseen, ultimately leading to a reduction in the footprint of metros and roads.
On June 12, 2023, a significant milestone was achieved when the Federal Aviation Administration (FAA) granted a Special Airworthiness Certificate to Alef Aeronautics, authorising their flying car model for limited flight operations in exhibitions, research, and development. This marks a pivotal moment in the advancement of Advanced Air Mobility (AAM), an overarching term encompassing highly automated aircraft capable of carrying passengers or cargo. Often referred to as air taxis or vertical take-off and landing (VTOL) aircraft, these vehicles promise faster and safer door-to-door transport, free from the constraints of ground infrastructure and traffic jams.
ALEF AERONAUTICS UNVEILS ITS REVOLUTIONARY FLYING CAR
Alef Aeronautics achieved a significant milestone when the Federal Aviation Administration (FAA) granted them a special airworthiness certificate, allowing for testing and development. Their Model A stands out as the first fully electric flying car that received approval from the US government to operate on both roads and in the air. This road-legal vehicle, designed to carry two occupants, can traverse up to 200 miles on the road and cover an impressive 110 miles in the air. What sets the Model A apart from other prototypes is its seamless transformation from a conventional car to a biplane mid-flight, a feat made possible by Alef's proprietary technology.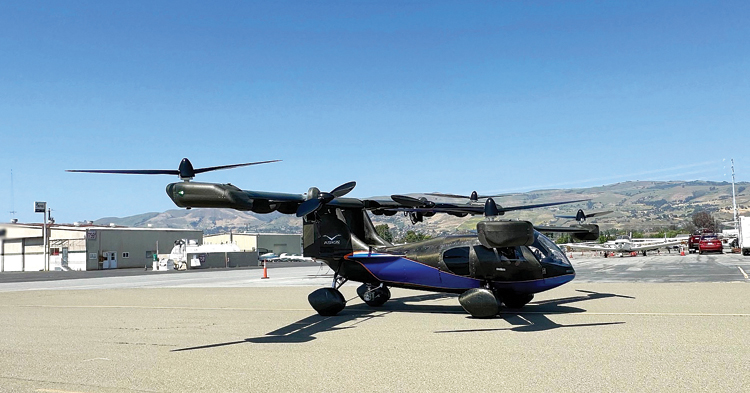 ASKA A5'S SEAMLESS TRANSFORMATION FROM ROAD TO AIR MODE IS AWE-INSPIRING, UNFOLDING ITS WINGS AND TILT-CAPABLE PROPELLERS AT THE TOUCH OF A BUTTON
The sleek design of the Model A may remind you of traditional cars, but its true marvel lies beneath its stylish exterior. The doors of the Model A ingeniously convert into wings, enabling vertical takeoff and providing a smooth transition from ground to air and back again. This groundbreaking approach promises to redefine the concept of urban mobility, offering commuters an unparalleled way to navigate bustling cities.
The company aims to commence mass production between 2025 and early 2026, and though the initial price tag stands at $3,00,000, Alef aspires to eventually make flying cars available at a more affordable $35,000 per unit. This ambition echoes the early days of automobiles, where groundbreaking technology eventually made cars accessible to the masses.
ASKA A5, TAKING TRANSPORTATION TO NEW HEIGHTS
The Aska A5 is not your ordinary flying car; it's a groundbreaking feat of engineering that merges the best of automotive and aviation design. More than just a compact aircraft, this four-seater wonder is as spacious as an SUV, capable of cruising at highway speeds while accommodating a family comfortably. The Aska A5's seamless transformation from road to air mode is awe-inspiring, unfolding its wings and tilt-capable propellers at the touch of a button. With its impressive range-extended hybrid powertrain, it can cover an astounding 250 miles at speeds of up to 150 mph, making it a true marvel of electric Vertical Takeoff and Landing (eVTOL) technology.
ASKA ENVISIONS THE ASKA A5 AS NOT JUST A MEANS OF PERSONAL TRANSPORTATION BUT A COMPREHENSIVE MOBILITY SOLUTION FOR THE FUTURE
One of the most striking features of the Aska A5 is its versatility. Unlike traditional flying cars that may appear awkward on the road, the Aska A5 exudes elegance and charm in both land and air modes. With its wings gracefully integrated into its sleek design, it glides effortlessly as a winged aircraft, enabling smooth takeoffs and landings on runways, even in tight spaces. Aska A5 has already marked its place in history as the world's first flying car to receive authorisation to drive on public roads from the United States Department of Motor Vehicles (DMV).
Aska envisions the Aska A5 as not just a means of personal transportation but a comprehensive mobility solution for the future. The company is actively developing an On-Demand ride service, set to launch in the coming years. With a fleet of Aska vehicles operating on-demand in major cities and their surroundings, this service will revolutionize urban mobility and offer a glimpse into the transportation landscape of tomorrow.
GAC UNVEILS GOVE
GAC Group, China's leading automobile manufacturer with a strong emphasis on innovation announced its GOVE (GAC On-the-Go Vertical EV), an all-electric flying vehicle. Consisting of a separable flight cabin and ADiGO PILOT-powered autonomous mobile chassis, the GOVE adopts 90 per cent lightweight composite materials, a 3DoF flight control system, and aerospacegrade high-precision docking technology. The design ensures the GOVE can operate as a smart mobility solution in ground travel, airborne flight, and air-to-ground docking scenarios.
CHALLENGES GALORE
However, amidst the excitement of this transformative technology, significant challenges, including policy changes and safety concerns, lie ahead and the road to widespread adoption of flying cars is not without its challenges. Technical hurdles, such as the need for highly specialised propeller motor systems, remain to be addressed. Additionally, the cost, size, and weight constraints of these vehicles will play a vital role in determining their availability to the public and their safety for mass usage.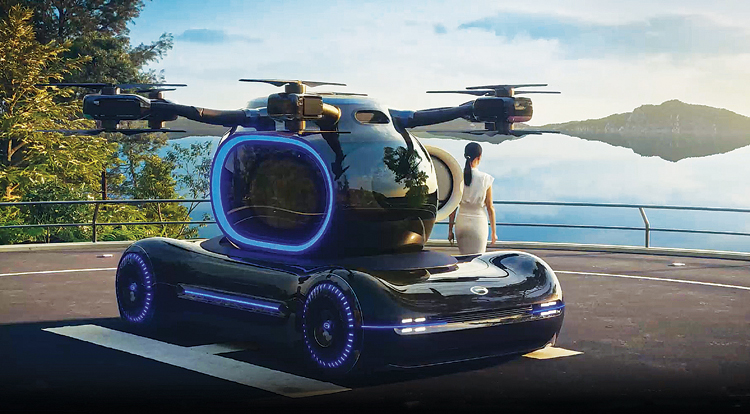 CONSISTING OF A SEPARABLE FLIGHT CABIN AND AUTONOMOUS MOBILE CHASSIS, THE GOVE ADOPTS 90 PER CENT LIGHTWEIGHT COMPOSITE MATERIALS
The responsibility of urban air mobility operations falls primarily on a country's air navigation service provider (ANSP), such as the FAA. As the authority responsible for a nation's airspace operations, the ANSP will need to certify new aircraft types after thorough safety reviews. Cities will play a vital role in ensuring safety by enforcing regulations set forth by these providers.
The FAA's blueprint report for flying car operations suggests initially leveraging existing regulatory frameworks and rules, such as visual flight rules and instrument flight rules, as a foundation for implementing greater aircraft performance and autonomy. However, concerns about noise, pollution, security, sustainability, and cost have been raised, with pertinent questions about licensing requirements, the impact on neighbourhood life, and jurisdictional responsibility in the event of a mid-air crash.
WHILE THE ERA OF FLYING CARS IS UNDOUBTEDLY ON THE HORIZON, IT IS ESSENTIAL TO RECOGNISE THE HURDLES THAT MUST BE CLEARED TO BRING THIS VISION TO FRUITION
Another pressing challenge is the possibility of mid-air collisions, either between flying cars or with buildings. Precise path and trajectory planning, guided by scientific principles, will be critical to avoiding such incidents. The FAA envisions "air taxis" operating within specific corridors connecting airports and vertiports within city centres. However, there are currently no provisions in place for trajectory route planning for flying cars.
Noise pollution is a significant concern in the development of flying cars. Designing these vehicles to be exceptionally quiet is a daunting task, especially considering the potential for hundreds of take-offs and landings per hour in large-scale commercial operations. Electric propellers and other propulsion design elements can help reduce noise, but strict government regulations may be necessary to control noise levels effectively.
THE FUTURE
As flying cars promise to reshape the urban landscape, cities are preparing to assert control through business licenses and regulatory frameworks. By setting rules around curfew hours, vertiport density, and fees, municipalities can guide the responsible operation of commercial air mobility services. Once proven viable and safe, these advanced air mobility services should become community-wide assets akin to libraries, schools, airports, and roads.
While the era of flying cars is undoubtedly on the horizon, it is essential to recognise the hurdles that must be cleared to bring this vision to fruition. Technological advancements, regulatory frameworks, noise control, safety measures, and equitable access are among the critical factors that will determine the success of this transformative technology.
In the long run, economies of scale will make flying cars more accessible to the general public, particularly if cities incentivise companies to provide services in lower-income neighbourhoods. As we embark on this exciting journey into the future of air transportation, the challenges ahead will require collaboration between innovators, policymakers, and society at large to unlock the true potential of flying cars in revolutionising urban mobility.