Gulfstream's latest and ultralong-range G800 made its continental debut in May and is rising to be the star of its illustrious portfolio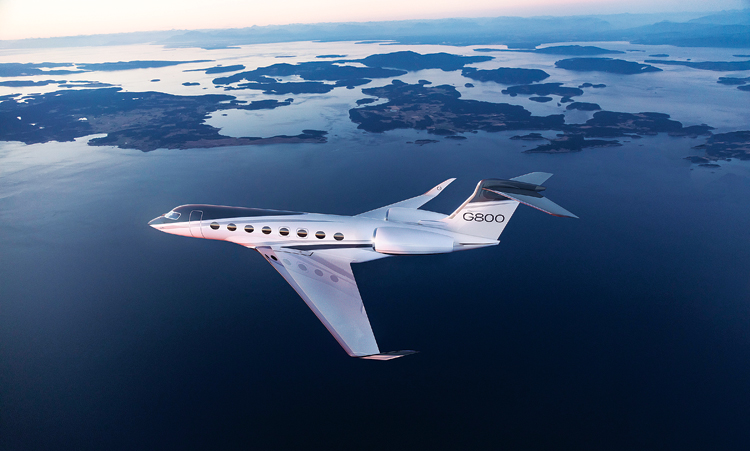 SAID TO BE THE LONGEST-RANGE BUSINESS AIRCRAFT IN THE INDUSTRY, THE G800 BOASTS OF THE ABILITY TO FLY NONSTOP TO MORE DESTINATIONS AROUND THE WORLD THAN ANY OTHER BUSINESS AIRCRAFT
"BY FLYING THE G800 TEST AIRCRAFT TO EBACE2023 THIS YEAR, WE ARE DEMONSTRATING THE MATURITY OF THIS PROGRAM. THE G800 PRESENTS A COMPELLING COMBINATION OF HIGHSPEED AERODYNAMICS AND FUEL-EFFICIENT ENGINES TO DECREASE EMISSIONS AND SAVE FLYING TIME FOR OUR CUSTOMERS."
—MARK BURNS, PRESIDENT, GULFSTREAM
Gulfstream Aerospace Corp. announced on May 21, 2023 that the all-new ultralong range Gulfstream G800 made its Continental debut, arriving in Geneva for the 2023 European Business Aviation Convention & Exhibition (EBACE2023). The aircraft, the first G800 flight test article, flew from Savannah to Geneva on a blend of sustainable aviation fuel (SAF) from Gulfstream's dedicated supply. To date, all G800 test flights originating from Gulfstream's Savannah headquarters have flown on an SAF blend.
"By flying the G800 test aircraft to EBACE2023 this year, we are demonstrating the maturity of this program," Mark Burns, President of Gulfstream had said then. "The G800 presents a compelling combination of high-speed aerodynamics and fuel-efficient engines to decrease emissions and save flying time for our customers. Equipped with our latest advancements in technology and innovation, the G800 adds the industry's longest range to our aircraft portfolio. We are pleased to display a Gulfstream for every mission in Geneva."
The G800 cabin can be configured with up to four living areas with seating for up to 19 passengers and sleeping space for up to 10. The aircraft also features 100 per cent fresh, never recirculated air; a plasma ionization purification system; and the lowest cabin altitude in the industry.
The G800 was on display at EBACE2023, alongside the Gulfstream G280, the Gulfstream G500, the Gulfstream G600, the Gulfstream G650ER, and the Gulfstream G700. In October last year, The Gulfstream G800 had marked its arrival in Orlando, Florida, for the 2022 NBAA Business Aviation Convention & Exhibition (NBAABACE). The flight test G800 was also joined by Gulfstream's full in-production fleet, the Gulfstream G280, Gulfstream G500, Gulfstream G600, and Gulfstream G650ER, as well as two fully outfitted Gulfstream G700 production test aircraft, showcasing the most spacious cabin in the industry.
The Gulfstream G800 had made its first international flight on July 15, 2022, just weeks after the aircraft's first flight. The G800 flew from Savannah to Gulfstream Customer Support's Farnborough, England, facility in support of Gulfstream's participation in the Farnborough International Airshow. The G800 made its first flight on June 28 and shortly thereafter, the Gulfstream flight test team completed additional testing requirements, including a longduration flight of more than eight hours and operations beyond the aircraft's maximum operating speed and cruise altitude of Mach 0.925 and 51,000 feet/15,545 meters, respectively.
"To take the G800 on this trans-Atlantic trip so close to first flight is extraordinary. Thanks to our strategic planning and the investments Gulfstream has made in our new aircraft programs, we are able to fly the G800 with remarkable efficiency and bring the aircraft directly to customers early in the flight test program, as we have in Farnborough. The Gulfstream Farnborough Service Center is one of our newest and most modern, and it's fitting that the G800 has made its international debut here," said Mark Burns, President, Gulfstream.
Adding to the stride, Gulfstream had announced in September 2022, the all-new Rolls-Royce Pearl 700 engines for the industry flagship Gulfstream G700 and ultralong-range Gulfstream G800 had achieved European Union Aviation Safety Agency (EASA) certification. The aircraft is powered by high-thrust Rolls-Royce Pearl 700 engines and the Gulfstream-designed wing and winglet. Next-generation Rolls-Royce Pearl 700 engines teamed up with Gulfstream's aerodynamic wing and advanced avionics to power the passengers to new destinations, faster, while delivering impressive fuel efficiency. This further strengthens Gulfstream's lead in the industry in sustainability innovation, from new aircraft technology to environmentally responsible practices.
THE G800 CABIN CAN BE CONFIGURED WITH UP TO FOUR LIVING AREAS WITH SEATING FOR UP TO 19 AND SLEEPING SPACE FOR UP TO 10 PASSENGERS
G800: SPECIFICATIONS
Performance
| | |
| --- | --- |
| Maximum Range¹ | 8,000 nm |
| High-Speed Cruise | Mach 0.90 |
| Long-Range Cruise | Mach 0.85 |
| Maximum Operating Mach Number (Mmo) | Mach 0.925 |
| Takeoff Distance (SL, ISA, MTOW) | 6,000 ft |
| Initial Cruise Altitude | 41,000 ft |
| Maximum Cruise Altitude | 51,000 ft |
¹NBAA IFR theoretical range at Mach 0.85 with 8 passengers, 4 crew and NBAA IFR reserves. Actual range will be affected by ATC routing, operating speed, weather, outfitting options and other factors. All performance is based on preliminary data and subject to change.
Said to be the longest-range business aircraft in the industry, the G800 can fly 8,000 nautical miles/14,816 kilometers at Mach 0.85 and 7,000 nm/12,964 km at Mach 0.90. The G800 boasts of the ability to link you nonstop to more destinations around the world than any other business aircraft. As you fly greater distances at top speeds, you gain time, the most precious commodity of all. Gulfstream ensures its high-speed range advantage can save you up to 1.5 hours on flights longer than 6,500 nm/12,038 km.
The G800 cabin can be configured with up to four living areas with seating for up to 19 passengers and sleeping space for up to 10. The G800 also features 100 per cent fresh, never recirculated air, a plasma ionization purification system. The G800 also features the latest in Gulfstream's cabin technology and comfort, including hand-crafted, ergonomic seats; a high-definition circadian lighting system; the lowest cabin altitude in the industry; and 16 of the largest windows in the industry. Designed to seat up to 19 passengers, the G800 offers up to four living areas, or three living areas with a crew compartment. "An elegantly appointed interior outfitted with the finest materials surrounds you in comfort and convenience," the manufacturer states.
Announced in October 2021, the G800 is the latest addition to Gulfstream's next-generation fleet to take flight and make progress toward customer deliveries. Gulfstream had announced the new aircraft before a live audience at its Savannah headquarters along with a global virtual broadcast via its website, Facebook and YouTube.
"When the first G800 test aircraft rolled out at our announcement last fall, we changed the game once again for our industry," said Mark Burns, President, Gulfstream. "At Gulfstream, working closely with our customers allows us to continuously build on our successes and develop aircraft that exceed their expectations. The G800 pushes the boundaries of performance even further with Gulfstream-designed aerodynamics and cabin technology, and we look forward to our customers benefiting from the longer range at higher speeds in our exceptional cabin environment."
The G800 is equipped with Gulfstream's next-generation Symmetry Flight Deck and dual head-up displays featuring the new Combined Vision System, which includes Enhanced Flight Vision System and Synthetic Vision System imagery, further enhancing safety and pilot situational awareness. The Gulfstream Symmetry Flight Deck featuring electronically linked active control sidesticks is an industry first — and the industry's most extensive use of touch-screen technology with 10 touch-screen displays.
Extending its reach, connecting the world, offering class apart interiors, comforts, and efficiency, Gulfstream G800 is gaining to be one aircraft the business aviation industry wanted, and can help leverage business aviation markets across the world.