From young entrepreneurs to established pioneers, EBACE2023 served the appetite of all business aviation enthusiasts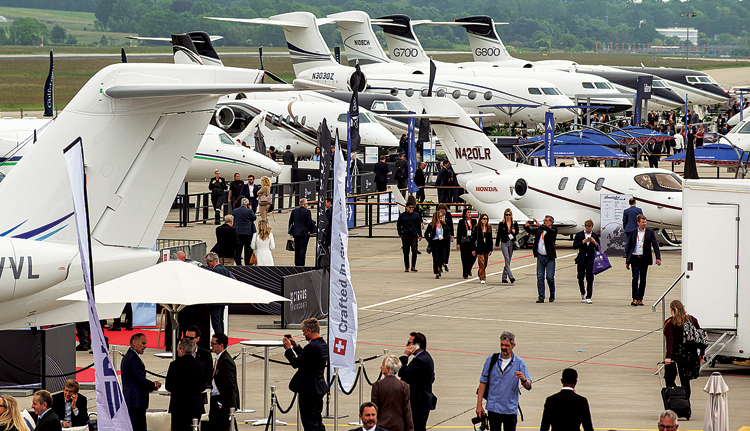 DELEGATES, VISITORS AND ATTENDEES EXPLORE THE IMPRESSIVE OUTDOOR STATIC DISPLAY OF AIRCRAFT
Business leaders, government officials, manufacturers, flight department personnel, and all stakeholders involved in nearly every aspect of business aviation from across the world came together at Europe's largest business convention. Game-changing technologies, the debut of new aircraft, groundbreaking solutions for sustainable flight, and exciting market opportunities took center stage at the European Business Aviation Convention & Exhibition (EBACE) 2023. EBACE2023 featured a full and bustling exhibit floor, a sold-out aircraft display, and packed sessions on the show floor, including in the new sustainability theater. Held from 23-25 May at the Palexpo convention center and adjacent Geneva Airport (GVA), the annual event co-hosted by National Business Aviation Association (NBAA) and European Business Aviation Association (EBAA). The annual meeting place showcased on-demand aircraft, advanced air mobility (AAM) vehicles, and the multitude of services available to operators.
"At EBACE, we saw how business aviation is reinventing the technology of flight to take on new missions, serve new customers, and connect the world sustainably. For decades, our industry has pioneered breakthroughs to fly not only further but more efficiently, and at EBACE, we accelerated our incredible pace of innovation," said EBAA Chairman Juergen Wiese.
The show opened with a blockbuster keynote with Formula One powerhouse duo Toto and Susie Wolff. The global superstars in racing, business, and philanthropy extolled the shared aims of racing and business aviation, pointing to parallels for safety, sustainability, technical excellence, diversity, and high performance.
In a first-of-its-kind panel on the show's media day, CEOs from the top aircraft manufacturers shared their investments in low-emissions technologies and united goal of decarbonising business aviation.
This year's EBACE2023 Career Day, with dozens of students in attendance, kicked off with Mack Rutherford, the youngest person to fly solo around the world. After Rutherford discussed his advice for reaching ever-higher altitudes in life, the students were provided with peer-to-peer learning opportunities and a tour of the EBACE exhibit floor and aircraft display.
A RECORD NUMBER OF EXHIBITORS SIGNED THE EBACE EXHIBITOR SUSTAINABILITY PLEDGE, MAKING THIS YEAR'S CONVENTION PERHAPS THE MOST SUSTAINABLE EVER
More than a dozen companies new to EBACE exhibited at the First Time Exhibitor Pavilion on the Palexpo show floor. The exhibitors included companies such as IFE Products, Flight Research, Flowings, Bureau Veritas, TraviPay, General Aviation Services (GAS), and others.
AIRCRAFT STATIC DISPLAY
According to organisers, nearly 50 aircraft were on display—including business jets, turboprops, and piston-engine aircraft. Airbus Corporate Jets, Avionmar, BBS Aviation, Boeing Business Jets, Bombardier, Cirrus Aircraft, Daher, Dassault, Eclipse Aerospace, Embraer, Gogo Business Aviation, Gulfstream Aerospace, Honda Aircraft, Jet HQ, Piaggio Aerospace, Pilatus Aircraft, Piper Aircraft and others showcased their aircraft on static display.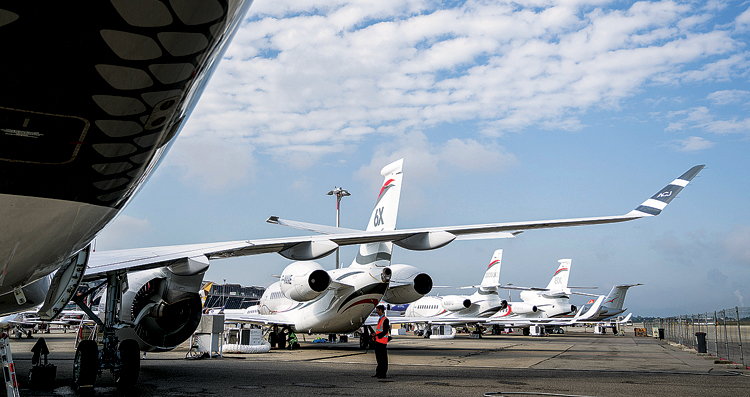 A FLEET OF FALCONS LINED UP AT THE AIRCRAFT DISPLAY. DASSAULT FALCON JET CELEBRATED ITS 60 YEARS AT EBACE2023
KEY HIGHLIGHTS
With a drumbeat of announcements from aircraft manufacturers, the show featured some of the most exciting additions to the industry.
Textron Aviation's new Cessna Citation Ascend was unveiled. EBACE attendees had access to a Citation Ascend mock-up. The aircraft is expected to enter into service in 2025.
Airbus Corporate Jets chose EBACE2023 for the first public appearance of its new ACJ TwoTwenty.
Bombardier debuted its award-winning Challenger 3500 business jet to the European market. The Challenger 3500 business jet, was on display at the European airshow. The aircraft boasts the first eco app (subject to availability) solution available in business aviation, optimising flight plans for a reduced environmental footprint.
Gulfstream's all-new ultralong-range Gulfstream G800 made its Continental debut, arriving in Geneva for the EBACE2023. The first G800 flight test article flew from Savannah to Geneva on a blend of sustainable aviation fuel (SAF) from Gulfstream's dedicated supply.
Piaggio Aerospace debuted a corporate shuttle variant of the Avanti Evo at EBACE2023. The shuttle-configured Evo, with seating for seven passengers in a high-density arrangement, is aimed at businesses and charter operators wishing to offer group transportation.
Embraer exhibited three of their newest industry-leading jets at EBACE2023 including the Phenom 300E, Embraer's best-selling jet for 11 years in a row. It is also the world's fastest and longest-ranged singlepilot jet. The Praetor 500, and the Praetor 600, each the most advanced in its category, were also present at the show.
Dassault Falcon Jet celebrated its 60 years at EBACE2023 by bringing in its new Falcon 6X prototype and the cabin mock-up for the forthcoming Falcon 10X, along with the Falcon 2000LXS twinjet and 8X trijet.
German-based, Lilium Jet and Swiss private aircraft and helicopter operator, Air-Dynamic signed an agreement for five Lilium Jet eVTOL aircraft.
Leading Italian business aviation operator Air Corporate placed a firm order for 43 helicopters from Airbus on the concluding day of EBACE2023. The helicopters include 40 single-engine helicopters (H125/H130) plus three ACH160s from Airbus Corporate Helicopters in Line configuration with the Lounge package to add to two ACH160s already on order. The latest announcement expands on 28 additional orders from Verona-based Air Corporate in recent years as part of an ongoing fleet expansion. In the past two years alone, Air Corporate has taken delivery of 17 Airbus helicopters, including the first of two twin-engine H135s.
At EBACE Leonardo presented an exclusive update on the Agusta brand exclusives initiatives, with a particular focus on the AGUSTA FOR YOU service and maintenance package dedicated to private operators. The AGUSTA FOR YOU plan is available to all the Leonardo helicopters, and it offers on-demand possibilities of annual interiors refurbishment, coverage of entertainment system (parts and troubleshooting), coverage of engines in the case of unscheduled events (with performance guaranteed) and engine loan service. Leonardo also exhibited on static display a VIP-configured AW109 GrandNew light twin helicopter. The AW109 GrandNew features a streamlined, stylish shape and unrivaled elegance in its interior finishes, in addition to advanced avionics. At EBACE2023, Sloane Helicopters, the Leonardo VIP/corporate helicopters regional distributor for the UK and Ireland, also revealed orders for two additional AW109 light twins.
Bestfly, an Angolan business jet and commercial operator, acquired MS Aviation, an Austrian company that manages aircraft assets, as part of its broader European expansion strategy.
HondaJet Elite II, which recently received type certification from the European Union Aviation Safety Agency, was on static display at EBACE for the first time.
According to Jetcraft's preowned business jet market projection presented at EBACE2023, corporate purchasers are returning to the business aviation market as a result of the coronavirus epidemic, increasing demand and raising preowned aircraft values.
Embraer attended EBACE with a new deal from NetJets worth more than $5 billion as a commitment to sustainability.
"We saw amazing new aircraft announced and debuted, designed to meet the needs of an evolving global business marketplace. We had a first-hand look at the fuels, propulsion systems, and technologies that will lead to net-zero flight. We were inspired by the trailblazers in our industry who are championing teamwork and inclusion. EBACE showed us all that is possible today, and how our shared vision will shape tomorrow," said NBAA President and CEO Ed Bolen.
SUSTAINABILITY
EBACE's three-day Sustainability Summit convened experts to detail the many ways entrepreneurs and companies are making the sector ever more sustainable on the ground and in the air.
Avfuel contributed to the supply of sustainable fuel (SAF) for aircraft that were travelling to the business aviation exhibition in Geneva because sustainability was a major topic at this year's EBACE. It worked together to deliver Neste SAF to the flight departments of three major business aircraft producers—Dassault Falcon Jet, Embraer Executive Jets, and Textron Aviation—before their transatlantic flights, with the delivery locations being Little Rock, Arkansas (KLIT), Melbourne, Florida (KMLB), and Wichita, Kansas (KICT).
Those EBACE-designated fuel loads offered a 76-tonne decrease in life cycle carbon emissions, or the emissions from utilising 176 barrels of oil, at an average 30 per cent SAF mix ratio.
EBACE2023 PROMOTED THE PRODUCTION AND USE OF SUSTAINABLE AVIATION FUEL (SAF) WITH A SOLD-OUT SUPPLY OF SAF
EBACE2023 promoted the production and use of Sustainable Aviation Fuel (SAF) with a sold-out supply of SAF at GVA for the show week, availability of the fuel at select US airports with EBACE-bound flights, and an EBACE book-and-claim option at a US airport where the fuel is not present. Carbon emissions from all attendees' travel to and from the show, and from the 22 hotels and the shuttle buses used for EBACE were offset by carbon credits provided through a partnership with 4AIR. A record number of exhibitors signed the EBACE Exhibitor Sustainability Pledge, making this year's convention perhaps the most sustainable ever.
CEOS FROM THE TOP AIRCRAFT MANUFACTURERS SHARED THEIR INVESTMENTS IN LOW-EMISSIONS TECHNOLOGIES AND UNITED GOAL OF DECARBONISING BUSINESS AVIATION
A keynote session also included Solar-Stratos CEO Raphaël Domjan, the visionary pilot whose solar-powered aircraft, capable of flights into the stratosphere, could reshape the very definition of aviation. A newsmakers series brought together leaders from government, industry, and philanthropy on transforming aviation's most pressing challenges into its most promising opportunities. In one newsmakers session on sustainable propulsion, engineers reported on testing hybridelectric and 100 per cent SAF-powered aircraft – nearly ready for commercialisation.
Industry-wide efforts to reduce carbon emissions took center stage during EBACE's two-day Sustainability Summit. Sessions included panelists from a variety of businesses with discussions evolving around electric vertical takeoff and landing vehicles (eVTOL), SAF, and carbon offset practices.
While advancements to fight climate change were being made at the organisational level, EBACE itself made a pledge to make its event a "more sustainable show." EBACE2023's Exhibitor Sustainability Pledge included managing the show's waste, water, and energy usage in an effort to reduce the event's total environmental impact. Energy usage at the convention center and hotels were tracked, and the carbon emissions were offset, including travel to and from the show, organisers said. Lighting was reduced, and HVAC systems were turned off while exhibitors set up and moved out. Nearly 80 per cent of the waste generated at the center was sorted on-site, with 48 per cent being recycled. At least 75 per cent of the carpets used for the show were also recycled, and food was sourced locally.
"The business aviation community is committed to sustainability and carbon reduction in everything we do, from the airport to the show floor and beyond," said Chris Strong, NBAA senior vice president of events. It was one of the most carbon-neutral shows to date, Strong said. "We were committed to sustainability on the ground and in the air."
Last year, in honour of EBACE2022, Jet Aviation made history by providing SAF to Geneva Airport for the first time. This year, they've done it once more. The Zurich-based service provider imported a stock of 30 per cent blended SAF in collaboration with the producer of renewable fuel TotalEnergies, and made it available to pilots flying into the company's Geneva FBO at EBACE2023.
Embraer also ensured its shift towards sustainability by primarily using SAF and investing in the development of low-to-zero emission alternative propulsion technologies. These included electrification, hybrid electric, and hydrogen. Due to their quick advancements in these technologies, they are expected to have net-zero carbon emissions by 2050.
THE INNOVATION PAVILION
The future of business aviation was displayed at the Innovation Pavilion— EBACE's center for Advanced Air Mobility (AAM), where companies such as Lilium, Honeywell, VoltAero SAS, and ARC Aerosystems shared their latest technologies. VoltAero's Cassio 330 hybrid-electric demonstrator made its debut.
Lilium Jet unveiled a full-scale mockup of the Pioneer Edition, which features a club-four seating configuration that gives more space than the standard six-seater Shuttle version. 50 Pioneer Edition aircraft are scheduled to be built by Lilium, with 25 already going to charter companies eVolare and Air-Dynamic. This all-electric Lilium Jet version, which has 30 ducted fans in its canard and wings, is anticipated to be delivered by the beginning of 2026.
LILIUM JET UNVEILED A FULL-SCALE MOCKUP OF THE PIONEER EDITION, WHICH FEATURES A CLUB-FOUR SEATING CONFIGURATION THAT GIVES MORE SPACE THAN THE STANDARD SIX-SEATER SHUTTLE VERSION
Solar Stratos, an aircraft that aimed to fly to the edge of space on solar power, was also among the sustainability-focused aircraft at the show. A mockup of the unpressurised, two-seat Mission Solar Stratos prototype was on display on the show floor.
Bombardier announced the existence of the larger EcoJet blended-wing research demonstrator at EBACE2023, one year after introducing the smaller EcoJet model. This new aircraft, which has an 18-foot wingspan and is twice as big as the previous scale model, marks the end of the first phase of the test programme and the beginning of the second. In order to achieve the industry's aim of having net-zero emissions by the year 2050, the business believes this second phase will eventually result in an aircraft design with lower carbon emissions.

(LEFT) THE LILIUM JET MOCK-UP ON EXHIBIT; (RIGHT) THE SOLARSTRATOS SIMULATOR ON EXHIBIT AT EBACE2023
In a top-billed session, Patrick Ky, the executive director of the European Union Aviation Safety Agency (EASA), and Michael Huerta, the former Federal Aviation Administration (FAA) administrator who served on the boards of Joby and Delta Air Lines, talked with advanced air mobility (AAM) developers. With leaders promising certification and the first commercial flights by 2024 – and several AAM aircraft displayed on the show floor – EBACE affirmed that the new mode of air transport would soon become a reality.
The experts at EBACE also talked about artificial intelligence (AI) as a tool for improving the automation of flight controls or even the development of fully autonomous aircraft or using AI on the ground to help improve operational efficiency.
EBACE2023 was an exceptional event that highlighted the progress and potential of the business aviation industry. With groundbreaking technologies, new aircraft introductions, sustainable solutions, and a focus on innovation, the convention provided valuable insights into the future of aviation. As the industry continues to evolve, EBACE remains a premier platform for collaboration, inspiration, and advancing the global business aviation sector."