With an estimated $150 billion worth of contracts signed, the Paris Air Show's return underlined the show's significance as a catalyst for economic growth and industry development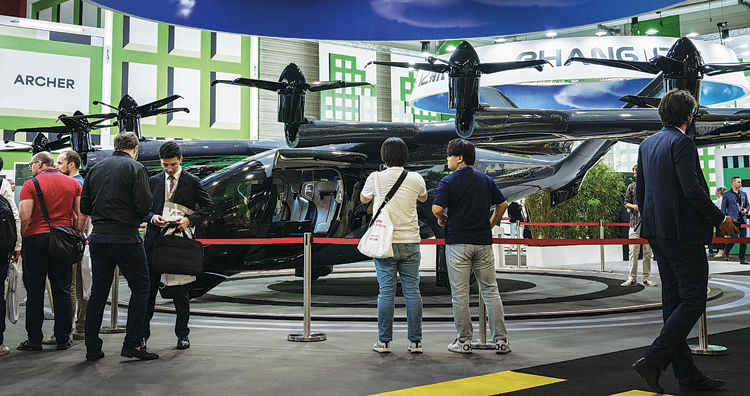 eVTOLS DREW A LOT OF ATTENTION AT THE SHOW. ARCHER AVIATION'S EVTOL (SHOWN HERE) WILL HAVE A RANGE OF 100 MILES WITH SEATING FOR FIVE (PILOT AND FOUR PASSENGERS).
After a four-year pause caused by the COVID-19 pandemic, the highly anticipated International Paris Air Show returned with a bang. This edition was the 54th in its history, marking a significant milestone as it resumes at Le Bourget Parc des Expositions from June 19 to 25, 2023. Organised by SIAE, a subsidiary of GIFAS, the French Aerospace Industries Association, the show attracted aviation enthusiasts, industry leaders, and trade visitors from around the globe.
A record-breaking 322 official delegations from over 100 countries graced the show, including an impressive lineup of ministers, secretaries of state, and chiefs of staff.
With an exhibition space spanning 1,25,000 square meters, the show had about 2,500 companies representing 46 countries. Among them were 300 innovative start-ups, showcasing cutting-edge technologies and advancements in the aerospace industry. A total of 3,00,000 visitors attended the show, including 1,30,000 unique professional visitors (with 43 per cent of them being from outside of France) from all corners of the world. The show also opened its doors to the general public, welcoming 1,70,000 enthusiastic aviation enthusiasts who marveled at the aircraft displays and enjoyed the thrilling aerobatic performances.
During the event, an estimated $150 billion worth of contracts were signed, underlining the show's significance as a catalyst for economic growth and industry development.
The Paris Air Lab, now in its third edition, drew focus on the global transition to decarbonised travel, the lab featured a vast network of programmes, research projects, and technological breakthroughs. Attendees had the opportunity to explore innovations in technology, aerial operations, alternative energy sources, and manufacturing supporting the industry's transformation. Key industry specialists presented talks on the challenging roadmap to achieving low emissions and carbon-neutral air transport by 2050.
The Paris Air Mobility event brought together key players in the advanced air mobility (AAM) ecosystem. It showcased the latest innovations and emerging technologies in electric vertical takeoff and landing (eVTOL). The event combined an exhibition area for manufacturers and start-ups to display their products and services with a conference programme featuring senior-level speakers discussing the current state of the AAM market and future industry advancements.

(Left) VOLTAERO'S HEADLINE-MAKING CASSIO 330; (Right) VOLOCITY, ELECTRIC VERTICAL TAKE-OFF AND LANDING (eVTOL) AIRCRAFT IN FLIGHT AT THE PARIS AIR SHOW.
The Show also showcased the future of the aerospace industry through the Start-Me-Up initiative. This platform welcomed French and international start-ups, creating an environment for encounters and synergies on forward-looking themes such as the environment, new technologies, digitalisation, and passenger experience. Nearly 296 start-ups from 21 countries participated, fostering a dynamic exchange of ideas.
At the Paris Air Show, a number of sustainable aviation initiatives were unveiled, demonstrating the industry's dedication to cutting carbon emissions and embracing cutting-edge technologies. These initiatives are pushing the limits of sustainable aviation, from the construction of a new sustainable aviation fuel (SAF) manufacturing facility to the research and development of hydrogen propulsion systems. Let's look at some of the major announcements made during the show.
INVOCATING INNOVATION
The electric vertical takeoff and landing (eVTOL) aircraft, received a significant spotlight at the Paris Air Show (PAS). The 2023 Paris Air Show showcased the future of air transport, including the rise of eVTOL aircraft and the industry's commitment to decarbonisation. It provided a platform for innovation, collaboration, and knowledge exchange among industry professionals, start-ups, and key stakeholders.
Volocopter's 2X model opened the daily flying display, signaling the arrival of these revolutionary vehicles. Volocopter also successfully conducted its first flight trials in Saudi Arabia, receiving special flight authorisation in the Kingdom. Other prominent eVTOL companies, including Archer, Lilium, Eve Air Mobility, and more, showcased their innovations and future plans. Volocopter partnered with Germany's ambulance group ADAC, potentially adding up to 150 VoloCity vehicles to its fleet.
THE 2023 PARIS AIR SHOW SHOWCASED THE FUTURE OF AIR TRANSPORT, INCLUDING THE RISE OF EVTOL AIRCRAFT AND THE INDUSTRY'S COMMITMENT TO DECARBONISATION
Lilium announced plans to launch eVTOL flights in China's Bao'an district and signed an agreement with Chinese operator Heli-Eastern for the purchase of up to 100 aircraft. Eve Air Mobility received orders for up to 150 new aircraft, including a letter of intent from Voar Aviation and a purchase agreement with Widerøe Zero.
The EcoPulse, a hybrid-electric technology demonstrator jointly developed by Daher, Safran, and Airbus, made its public debut. The project aims to evaluate the advantages of a hybrid-electric distributed propulsion system, including increased efficiency and reduced carbon emissions.
SkyDrive, a Japanese electric aircraft developer, announced plans to manufacture its eVTOL air taxi in a factory owned by Suzuki Motor Corporation.
French aerospace and engineering group Turgis & Gaillard unveiled a new medium-altitude, long-endurance (MALE) UAV at the Paris Air Show. VoltAero debuted the first full-scale prototype of its Cassio 330 hybrid-electric aircraft at PAS. The Cassio 330, which can be configured with either four or five seats, will be the first of three hybrid-electric aircraft that VoltAero intends to produce for cargo, air taxi, and medevac applications.

(Left) ECOPULSE – THE HYBRID-ELECTRIC DISTRIBUTED PROPULSION AIRCRAFT DEMONSTRATOR; (Right) SKYDRIVE WAS FORMALLY ESTABLISHED IN JULY 2018 WITH A VISION WHERE EVERYONE HAS ACCESS TO eVTOLS AS THEIR DAILY TRANSPORTATION.
Supernal, a Hyundai subsidiary dedicated to urban air mobility (UAM), announced two key manufacturing partners for its SA-1 eVTOL air taxi. GKN Aerospace has agreed to provide the electrical wiring interconnection system (EWIS) and lightweight aerostructures for Supernal's aircraft, while Qarbon Aerospace will use its advanced induction-welding techniques to assemble thermoplastic carboncomposite components for the SA-1. Wisk Aero will use Safran's SkyNaute inertial navigation system for the four-passenger eVTOL air taxi it intends to operate fully autonomously. The Boeing-owned advanced air mobility company displayed what calls its Generation 6 eVTOL aircraft at Le Bourget.
Brazil's Voar Aviation has signed a letter of intent to purchase 70 Eve eVTOL aircraft for operations across Brazil. Norwegian airline Widerøe's sustainability division, Widerøe Zero, has agreed to buy up to 50 Eve eVTOLs following their collaboration at the 2021 UN Climate Conference. Nordic Aviation Capital, a global aircraft lessor, has placed a firm order for 15 Eve eVTOLs, with an option for 15 more. Eve has expanded its partnership with Blade Air Mobility to promote eVTOL integration in Europe.
THE PARIS AIR MOBILITY EVENT BROUGHT TOGETHER KEY PLAYERS IN THE ADVANCED AIR MOBILITY (AAM) ECOSYSTEM
Archer's four-passenger Midnight turned heads as it made its international debut in Paris after a long trip from California. Lilium showcased a cabin mockup, demonstrating the passenger experience in its Lilium Jet capable of carrying six passengers up to 155 miles. Eve Air Mobility also presented its cabin mockup during its world tour. Other advanced air mobility companies present at the Paris Air Show included Ascendance Flight Technologies, AutoFlight, EHang, Supernal, Overair, Joby, and Wisk Aero. UrbanV and Lilium announced their collaboration to establish ground infrastructure for eVTOL operations in Italy and the south of France. Eve Air Mobility, backed by Embraer, announced new orders for up to 150 aircraft, expanding its total order backlog for the four-passenger air taxi to 2,850 aircraft.
Vertiport developer UrbanV will work with Lilium to establish ground infrastructure for eVTOL aircraft operations in Italy and the south of France.
Eve Air Mobility, an eVTOL developer backed by Brazilian aerospace group Embraer, has collected new orders for up to 150 new aircraft, bringing its total order backlog for the four-passenger air taxi up to 2,850 aircraft, the company announced Tuesday at the Paris Air Show.
Boom Aerospace's Overture supersonic airliner remains on schedule for FAA certification by the end of this decade. Boom announced aerostructures suppliers for Overture 1, the first of its commercial models, and provided an update on the airplane's homegrown Symphony engine programme, including the naming of a production partner.
DISPLAY DART
At PAS 23, the sky was filled with awe-inspiring displays as aircraft from various manufacturers took to the air, and some more stood tall at the static display. Here's a closer highlight at some of the significant performances that captivated the audience at this prestigious event.
Dassault Falcon 6X made its debut in the flying display, impressing with its fly-by-wire technology and powerful PW812D engine, while Dassault's Rafale fighter demonstrated its unmatched performance and agility, reaffirming its position as a top contender in the fighter jet market. Falcon 2000, and Falcon 8X were also part of the display along with a mock-up of Flacon 10X.
Pilatus had its aircraft PC-12, PC-21, and PC-24 on display too while Gulfstream showcased G280, G500, G700, and G800.
DEALS, AGREEMENTS AND ORDERS
MHS Aviation signed a contract with France's Dassault Aviation for a new Falcon 2000LXS, joining two 2000LX aircraft already available for charter by the German management company, which operates 15 aircraft from different OEMs and with different capabilities.
Bombardier has delivered the first Challenger 3500 for European operations, overseen by Aero-Dienst in Nuremberg, Germany. The super-midsize business jet will be operated by Aero-Dienst on behalf of Aviator Aircraft. After completing the acceptance inspection, the aircraft was ferried to Germany, registered with the Civil Aviation Authority, and added to Aero-Dienst's air operator certificate. With eight aircraft in its fleet, Aero-Dienst has over 65 years of experience in business jet operations and maintenance.
Qatar Airways, the international launch customer for Gulfstream Aerospace's G700, revealed its model during the Paris Air Show in the presence of Qatari dignitaries. Qatar Executive, the airline's private jet charter division, will operate the 10 ultra-long-range, large-cabin aircraft ordered in 2019.
Gulfstream Aerospace heads toward certification of the G700 later this year, international launch customer Qatar Airways unveiled its model in the presence of Qatari dignitaries on the opening day of the Paris Air Show. Additionally, Gulfstream announced the super-midsize Gulfstream G280 has been cleared for operations at France's Airport of the Gulf of Saint-Tropez located in La Môle. The G280 is on display alongside the Gulfstream G500, Gulfstream G700, and Gulfstream G800 at the 2023 Paris Air Show.