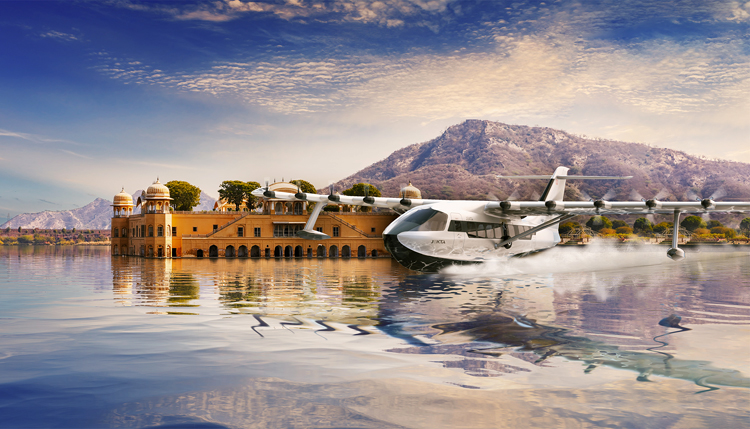 MEHAIR CONFIRMS AN ORDER FOR FIFTY JEKTA PHA-ZE 100 ELECTRICALLY POWERED AMPHIBIOUS AIRCRAFT
Mumbai based Maritime Energy Heli Air Services Pvt Ltd (MEHAIR), the pioneers of seaplane services in India since 2011 has signed an order for fifty, electrically powered regional amphibious aircraft PHA-ZE 100 with Switzerland based Jekta. (MEHAIR) has inked a deal with deposits agreed for ten firm orders and options for 40 more. With this agreement, MEHAIR will be the first customer to receive the aircraft in Asia, with initial deliveries starting in 2029. It is anticipated that the first ten aircraft will be delivered in baseline configuration for 19 passengers to support regional connectivity.
The company has made a decisive move in line with the global trends to move toward sustainable aviation by placing orders for Jekta's electrically powered aircraft. "We know the Jekta team's heritage for producing efficient amphibious aircraft, and having been introduced to its electrically powered PHA-ZE 100, we made a decisive move to acquire these aircraft early, showing our deep commitment towards greener technology. We want to be one of the first operators in the world to update its fleet with a zero emissions aircraft to support regional flights between land and water infrastructure," says Siddharth Verma, Director of MEHAIR.
MEHAIR has already successfully operated seaplane services in India across geographies helping populations travel seamlessly between cities and destinations virtually inaccessible by land infrastructure. MEHAIR has served destinations across the Andaman and Nicobar Islands and destinations across Maharashtra. The company is rescheduling its services in India, starting with Andaman & Nicobar and Goa in 2023 under the Government of India's highly successful UDAN Scheme. MEHAIR believes the 19-seat PHA-ZE 100 will come for deliveries at the ideal time to address the market's demand in 2029. The Jekta PHA-ZE 100 design meets the operating requirements at much lower costs than existing seaplanes.
"We know that the Indian government has defined multiple water routes across India and is launching many more, nearing 100 seaplane routes. Demand for regional, sustainable air travel is set to grow exponentially worldwide, and India is at the forefront of this potential. We are delighted to work with MEHAIR to cater to this new and exciting market's dynamic demands," says George Alafinov, CEO of Jekta Switzerland.
The PHA-ZE 100 flying boat will be certified to EASA CS-23 and US FAA FAR-23 standards for fixed-wing passenger aircraft. Powered by ten electric motors supplied with energy from batteries or hydrogen fuel cells, the PHA-ZE 100's initial flight endurance on battery power is projected at one hour, with a 30-minute reserve. The PHA-ZE 100 will operate from coastal waters in waves up to 1.2m high, lakes, waterways, and runways using its standard retractable wheeled landing gear. Optimised to serve coastal and island communities with flexible configurations including 19-seat, mixed economy/freight, VIP, and ambulance options, the PHA-ZE 100 is an optimal platform for sustainable and new amphibious operations.