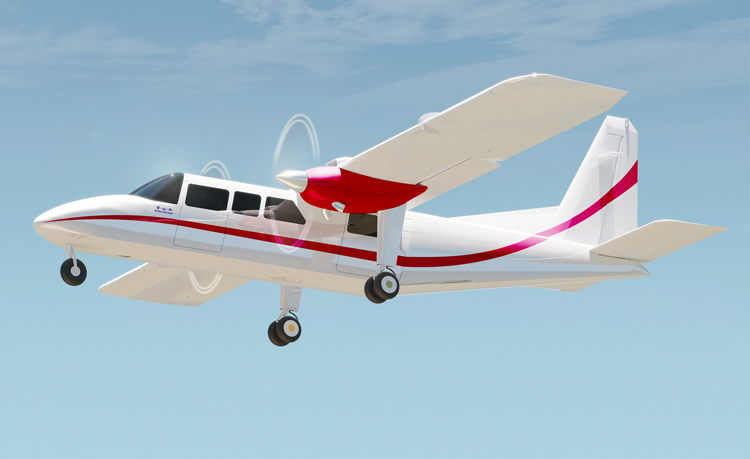 India-based domestic commuter airline Spirit Air has signed a Letter of Intent for the purchase of 6 factory new BN2T-4S turboprop Islander aircraft from UK aircraft manufacturer, Britten-Norman.
The BN2T-4S is the largest variant of the Islander. It achieved type certification with the FAA in late 2022 and has recently achieved validation in New Zealand. The type is also in the process of being validated in India, amongst other countries.
The BN2T-4S Islander is powered by twin Rolls Royce (Allison) Model 250 turboprop engines and benefits from an extended cabin, allowing one extra row of seats compared with the standard piston Islander. With its engines offering an impressive 400shp (flat rated) the aircraft has a 22 per cent increase in disposable payload, whilst maintaining impressive short-field performance. The new BN2T-4S aircraft are fully IFR capable, including FIKI. The cockpit will be equipped with the latest Garmin avionics including PFD, MFD and electronic engine instrumentation, whilst the interior and seating will be designed to meet the customer's closely defined requirements.
Whilst its new fleet of aircraft are being built at Britten-Norman's newly established UK facility, Spirit Air will initially take delivery of 4 fully factory refurbished BN2T-4S Islanders to enable it to advance its entry into service. The regional airline will operate a fleet of BN2T-4S Islander aircraft on scheduled passenger services across India. Providing vital sub-regional connectivity between remote grass airstrips and municipal sub-regional landing strips with the country's key primary airports. The carrier will operate a fleet of Britten-Norman BN2T-4S turboprop Islanders connecting short, municipal landing strips, grass airfields with key cities and across India. The airline will offer both schedule passenger and perishable cargo services. Spirit Air has received NOC from the Ministry of Civil Aviation, Govt. of India to operate Scheduled Commuter Air Transport services.