Gulfstream Aerospace's journey is marked by the milestones of continued innovation, conscious sustainability, and visionary forward-thinking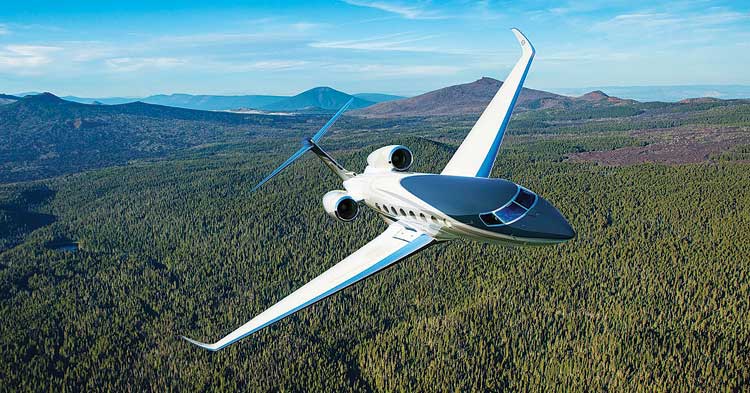 THE EXCLUSIVE G800, THE WORLD'S LONGEST-RANGE BUSINESS AIRCRAFT FROM GULFSTREAM
With over 50 years of expertise, Gulfstream Aerospace Corporation, a dominant force in the business aviation industry, boasts a remarkable history. Established in 1958, Gulfstream has not merely been a manufacturer of aircraft; it has emerged as a trailblazer, a forward-thinking visionary, and an emblem of excellence in business aviation. This narrative chronicles the tale of ambition, innovation, and an unwavering pursuit of perfection. Gulfstream's timeline showcases its evolution, demonstrating its commitment to innovation, customer service, and sustainability in the world of aviation. It ensures comforting luxury meets sustainability and advanced technology.
SPECIFICATIONS
G280
| | |
| --- | --- |
| Maximum Range | 6,667 km |
| High-Speed Cruise | Mach 0.84 |
| Long-Range Cruise | Mach 0.80 |
G400
| | |
| --- | --- |
| Maximum Range | 7,778 km |
| High-Speed Cruise | Mach 0.88 |
| Long-Range Cruise | Mach 0.85 |
G500
| | |
| --- | --- |
| Maximum Range | 9,816 km |
| High-Speed Cruise | Mach 0.90 |
| Long-Range Cruise | Mach 0.85 |
G600
| | |
| --- | --- |
| Maximum Range | 12,223 km |
| High-Speed Cruise | Mach 0.90 |
| Long-Range Cruise | Mach 0.85 |
G650
| | |
| --- | --- |
| Maximum Range | 12,964 km |
| High-Speed Cruise | Mach 0.90 |
| Long-Range Cruise | Mach 0.85 |
G650ER
| | |
| --- | --- |
| Maximum Range | 13,890 km |
| High-Speed Cruise | Mach 0.90 |
| Long-Range Cruise | Mach 0.85 |
G700
| | |
| --- | --- |
| Maximum Range | 14,353 km |
| High-Speed Cruise | Mach 0.90 |
| Long-Range Cruise | Mach 0.85 |
G800
| | |
| --- | --- |
| Maximum Range | 14,816 km |
| High-Speed Cruise | Mach 0.90 |
| Long-Range Cruise | Mach 0.85 |
HISTORICAL LEGACY
Gulfstream boasts the strongest and the most advanced fleet with an aircraft for every mission. Gulfstream ensures its portfolio is shaping the future of business aviation, building on next-generation technology and specialising to keep pace with the changing customer needs, becoming an investment in the success of BizAv leaders.
In 1958, Gulfstream's pioneering journey began when Grumman Aircraft initiated a project to create a business aircraft for executive comfort. The Gulfstream I (GI) introduced the first turboprop business aircraft, laying the foundation for Gulfstream's legacy as an aviation pioneer. In the '60s, Gulfstream introduced jet-powered aircraft, like the GIIB and GII, setting new standards for speed, range, and comfort. The '80s brought the GIV and diversification into the defence sector. The GIII showcased advanced wing design and extended range. In 1997, the Gulfstream V (GV) made history with a nonstop global flight.
The 21st century marked the arrival of the G500 and G550, featuring cutting-edge avionics and luxurious cabins. In 2012, the G650 redefined ultra-long-range travel with its spacious, quiet cabin and impressive speeds. The G650ER extended this legacy. Today, Gulfstream's fleet, including the G280, G700, and G800, revolutionises long-range travel with unmatched speed and comfort, reflecting a journey marked by innovation and excellence in aviation.
1958 – Gulfstream I Takes Flight: In August 1958, Gulfstream Aerospace embarked on its journey with the maiden flight of the Gulfstream I, the world's first purpose-built business aircraft. It boasted turboprop engines, a maximum cruise altitude of 30,000 feet, and a range of 2,000 nautical miles.
1966 – Gulfstream GII: October 1966 marked the debut of the Gulfstream GII, a jet-powered business aircraft that could perform nonstop transatlantic flights, cruising at Mach 0.85.
1968 – Transatlantic Triumph: In May 1968, the Gulfstream GII made history by becoming the first business jet to complete a nonstop flight across the Atlantic Ocean.
1967 – Savannah Relocation: Gulfstream moved its production operations to Savannah, Georgia, in September 1967, enhancing efficiency and infrastructure.
1973 – NASA Shuttle Trainers: NASA acquired two Gulfstream GIIs for training space shuttle crews, modifying them to simulate shuttle landing characteristics.
1979 – Gulfstream GIII: December 1979 saw the introduction of the Gulfstream GIII, offering increased range and a new wing design with winglets.
1985 – Gulfstream GIV Revolutionises: The Gulfstream GIV, taking its first flight on September 19, 1985, redefined business aviation with intercontinental range and advanced avionics.
1995 – Integration Test Facility: Gulfstream inaugurated its first Integration Test Facility (ITF) in February 1995, aiding avionics testing and human-factors analysis.

(LEFT AND RIGHT) GULFSTREAM, THE MARKET LEADER, HAS REDEFINED INNOVATION AND COMFORT IN BUSINESS AIRCRAFT
1995 – Gulfstream GV Ultralong Range: The Gulfstream GV made its debut flight on November 28, 1995, introducing ultralong-range capabilities to business aviation.
1997 – Collier Trophy Recognition: In May 1997, the Gulfstream GV earned the prestigious Robert J. Collier Trophy for advanced design and manufacturing techniques.
1999 – General Dynamics Acquires Gulfstream: In 1999, General Dynamics acquired Gulfstream Aerospace for $5.3 billion, bringing its expertise to the aviation giant and emphasising research and development.
2001 – Galaxy Aerospace Integration: Gulfstream expanded its fleet by acquiring Galaxy Aerospace, introducing midsize aircraft such as the Gulfstream G200 and Gulfstream G100.
2002 – Airborne Product Support Launch: Gulfstream initiated the Airborne Product Support programme, elevating customer support.
2002 – Gulfstream G550 Debut: The Gulfstream G550 made its first flight, setting aviation standards and winning the Robert J. Collier Trophy.
2003 – Gulfstream G450 Inaugural Flight: The Gulfstream G450 took flight, offering superior performance and accommodating up to 19 passengers.
2005 – Gulfstream G150 Introduction: The Gulfstream G150 redefined midsize jets with its spacious cabin, speed, and environmental certification.
2006 – Savannah R&D Center: Gulfstream expanded its Savannah headquarters with the Research and Development Center, a vital part of its growth.
2006 – Supersonic Advancements: Gulfstream's Quiet Spike technology was tested, contributing to research in supersonic flight.
2008 – Synthetic Vision Enhancement: Gulfstream introduced the Synthetic Vision-Primary Flight Display, enhancing pilot safety with artificial views.

GULFSTREAM HAS DELIVERED SPECIAL MISSION AIRCRAFT IN 40 PLUS COUNTRIES THAT CAN BE CUSTOMISED INTO FLYING AMBULANCES
EVOLVING TOWARDS EXCELLENCE
2009 – Gulfstream G650 Soars: The Gulfstream G650 took flight, revolutionising business aviation with ultralong range capabilities and advanced features.
2009 – Gulfstream G280 Takes Flight: The Gulfstream G280 set new standards for super-midsize aircraft with intercontinental range and advanced amenities.
2011 – Gulfstream FAST Customer Service: Gulfstream FAST introduced exceptional customer service through airborne product support and mobile teams.
2011 – Biofuels Milestone: The Gulfstream G450 achieved an industry milestone by crossing the Atlantic Ocean using biofuels.
2013 – G650's Record-Setting Journey: The Gulfstream G650 set a world speed record for circumnavigating the globe in just 41 hours and 7 minutes.
2014 – Gulfstream G650ER Extends Range: The Gulfstream G650ER pushed the limits of nonstop travel to 7,500 nautical miles.
2015 – G650 Family FAA Certification: The Gulfstream G650 family received FAA certification for steep approaches, expanding airport access.
GULFSTREAM HAS EARNED NBAA SUSTAINABLE FLIGHT DEPARTMENT ACCREDITATIONS IN ALL FOUR CATEGORIES INCLUDING FLIGHT, OPERATIONS, GROUND SUPPORT, AND INFRASTRUCTURE
THE NEXT GENERATION NAVIGATORS
October 14, 2014 – Airborne Product Support Launch: Gulfstream introduced its Airborne Product Support programme, setting a new standard for customer service.
May 18, 2015 – G500 Inaugural Flight: The Gulfstream G500 marked a technological leap with its maiden flight, boasting the innovative Gulfstream Symmetry Flight Deck and a range of 5,300 nautical miles/9,816 kilometers.
December 17, 2016 – G600 Takes Flight: The Gulfstream G600 redefined innovation, cabin style, and range, flying with a maximum range of 6,600 nautical miles/12,223 kilometers.
July 15, 2018 – G500 World Tour: The G500 completed an impressive world tour, covering 1,30,000 nautical miles/2,40,760 kilometers, setting 22 citypair speed records, and demonstrating its reliability.
July 20, 2018 – G500 Earns Certificates: The G500 achieved type certification and production certificates from the FAA on the same day, paving the way for customer deliveries.
September 27, 2018 – G500 Deliveries Commence: Gulfstream delivered the first G500 ahead of schedule, showcasing its commitment to innovation and design.
June 28, 2019 – G600 FAA Certification: The Gulfstream G600 earned both type and production certificates from the FAA, leading to scheduled deliveries.
August 8, 2019 – First G600 Delivery: A US customer received the first G600 delivery, marking a milestone in Gulfstream's aviation legacy.
October 21, 2019 – G700 Announcement: Gulfstream introduced the G700, the industry's flagship, boasting unmatched cabin space, range, and speed.
February 14, 2020 – G700's Maiden Flight: The G700's first flight showcased its spacious cabin, advanced technology, and luxurious features, officially launching its flight-test programme.
October 4, 2021 – Introduction of G400 and G800: Gulfstream expanded its next-generation product line with the G400 and G800, offering customers cutting-edge technology and cabin comfort.
June 28, 2022 – G800's Inaugural Flight: The G800, the industry's longest-range aircraft, completed its first flight, emphasising Gulfstream's commitment to sustainability and performance.

GULFSTREAM HAS SURPASSED 2 MILLION NAUTICAL MILES FLOWN ON SAF BLENDS, REINFORCING ITS LEADERSHIP IN SAF USE
Gulfstream has delivered 200+ special mission aircraft to support governments and militaries in 40+ countries. It has delivered 10 dedicated and 16 easily converted, highly customised multimission flying ambulances outfitted with advanced life support and surgical equipment. "Patients benefit from the low cabin altitude and freshair, whisper-quiet Gulfstream Cabin Experience," states Gulfstream.
SHOWCASING SUSTAINABILITY
Gulfstream focuses on sustainability through aircraft, fuel, operations as well as culture. Since 2014, Gulfstream states it has reduced its operational emissions by 18 per cent while growing its facilities more than 30 per cent. It also boasts of its next-generation fleet as the most fuel-efficient in the industry. Gulfstream is leading sustainability efforts in the business aviation industry, recently earning National Business Aviation Association (NBAA) Sustainable Flight Department Accreditations in all four categories including flight, operations, ground support, and infrastructure. This programme recognises Gulfstream's commitment to environmental sustainability, aligning with industry goals for carbon neutrality and net-zero CO2 emissions by 2050. Gulfstream also became the first business aircraft manufacturer to use 100 per cent Sustainable Aviation Fuel (SAF).

The SAF used in testing consists of HEFA and SAK components, offering a sustainable alternative with the potential for an 80 per cent reduction in CO2 emissions compared to conventional jet fuel. Gulfstream has reduced greenhouse gas emissions by 18 per cent since 2014 and operates over 2.2 million square feet of green buildings.
With a diverse fleet, including the G280, G650, G650ER, G400, G500, G600, G700, and G800, Gulfstream continues to invest in innovation. The Gulfstream G700 recently achieved 25 speed records during its world tour, showcasing its impressive performance and spacious cabin. The tour covered 53,882 nautical miles and included notable speed records, reinforcing strong demand for the G700. More recently, Gulfstream also achieved a speed record using SAF with the Gulfstream G700, flying from Savannah to Tokyo at an average speed of Mach 0.89 in 13 hours. This marked the G700's first visit to Japan and demonstrated Gulfstream's commitment to sustainability. Gulfstream has surpassed 2 million nautical miles flown on SAF blends, reinforcing its leadership in SAF use. As part of its sustainability efforts, Gulfstream signed the World Economic Forum's Clean Skies for Tomorrow 2030 Ambition Statement, aiming to make SAF 10 per cent of the global jet aviation fuel supply by 2030. Gulfstream was the first OEM to fly on 100 per cent SAF.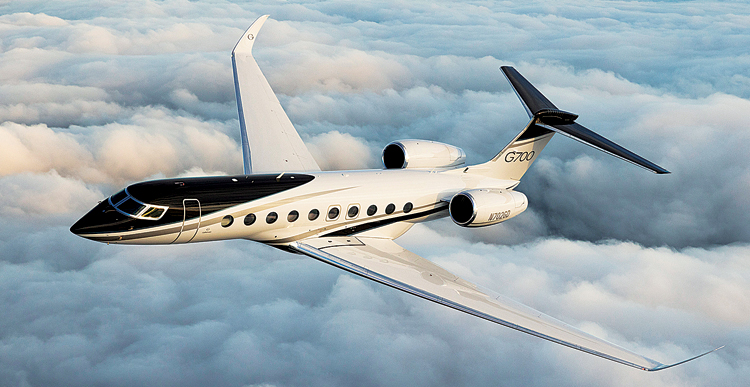 THE G700 IS A PRIME EXAMPLE OF GULFSTREAM'S CREATIVITY AND COMMITMENT TO BEING THE BEST AND MAKING AN IMPACT
Gulfstream underlines it uses internationally recognised environmental management systems such as ISO 14001 and considers key details, from incorporating advanced robotics into the production processes to drought-resistant landscaping and energy-saving light, heating, and cooling systems—all with the goal of making its global network of facilities the most energy-efficient in the industry.
The Gulfstream design team curates sustainable interior finishes from around the world. One can choose to complete the aircraft with vegetable-dyed, humanely sourced leathers and leather alternatives, natural fiber fabrics and carpets, countertops with recycled content, and elegant veneers meeting internationally recognised ecological, social, and ethical standards.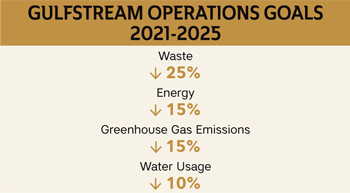 FLEET FOR THE FUTURE
Since 2008, Gulfstream has introduced eight new aircraft ensuring its customers "reach the future, faster" and it continues to be a leader in the market.
Gulfstream G800: Fly farther faster in the world's longest-range business aircraft.
Gulfstream G700: Live life to the fullest in the most spacious, innovative, and flexible cabin in the industry.
Gulfstream G650 and G650ER: Redefine expectations for performance with record-breaking high-speed range.
Gulfstream G600: Leverage tomorrow's technology today in a sophisticated, award-winning style.
Gulfstream G500: Seize the future of flight powered by ultra-efficient aerodynamic innovations.
Gulfstream G400: Reinvent 21st-century business success with a breakthrough combination of speed, efficiency, and cabin size.
Gulfstream G280: Achieve bold pursuits with trans-Atlantic range and short-field agility.
Gulfstream Aerospace's journey, from its start to its current leading position in the business aviation field, shows us how human creativity and a strong commitment to being the best can make a big impact. They have a long history of coming up with new ideas, a variety of modern planes, and a focus on being environmentally friendly. This sets Gulfstream up to continue making a difference in aviation for many years to come.