India's Online Charter Booking Platforms make their debut. BookMyCharters is a globally scalable platform and is geared to address the US$ 20 billion global opportunity
Business aviation in India is still nascent. And the concept of business aircraft aggregation is a recent phenomenon, not more than a year old. It is in its infancy but with a lot of promise. Like how Uber, Ola and others have created new taxi markets by providing affordable transportation on ground, there is a quiet revolution happening in the skies, triggered by smart entrepreneurs. These trendsetters included JetSetGo and BookMyCharters. Recently JetSmart a web portal, offering a range of innovatively priced air charter services that can be booked real-time, was launched in India.
The current issue covers BookMyCharters which is an initiative of Baron Aviation whose vision is to corporatize the general aviation industry in India by aggregating aircraft inventory and consolidating customers demand and professionalising the approach towards international quality of services. The company integrates its off-line strength with online innovation, thus revolutionising the air charter industry. Giving details of the company's plans is Rajeev Wadhwa, Chairman and CEO of Baron Group, in an exclusive interview with SP's Aviation.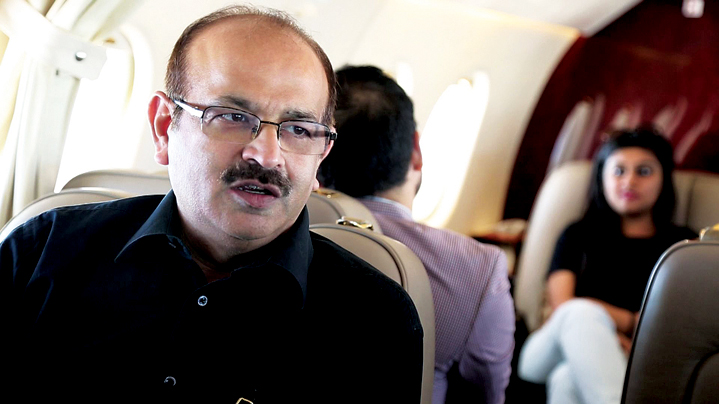 Rajeev Wadhwa is a first-generation serial entrepreneur with extensive experience in nurturing innovative business Ideas. Wadhwa is the Chairman and CEO of Baron Aviation, a 100 per cent subsidiary of Baron Luxury and Lifestyles Pvt Ltd. Wadhwa has led and mentored several successful businesses in aviation, information technology and telecom sectors. He has held senior management, Board of Directors and advisory level positions for companies in India and abroad and has over 26 years of experience of working in India and North American markets. Prior to setting up his own venture in aviation, he was the Managing Director of European Aviation Holding and founder President of Global E-Secure Ltd.
SP's: Could you briefly give the nature of your business?
Rajeev Wadhwa (Rajeev): We are a credible brand in the air charter service space in India and have launched an online platform bookmycharters.com, wherein we have contracted and aggregated aircraft inventory of 40 aircraft from 16 operators. This is the largest aircraft consolidation by any single Indian operator in Asia. We are also known as the 'Uber' of air charter market in India. While online platforms are the latest trend in charter business, BookMyCharters has a distinct advantage of building a very superior booking engine that validates aircraft availability, its feasibility and offers instant quote with itemised breakup enabling the customer to make an informed decision and book a charter online.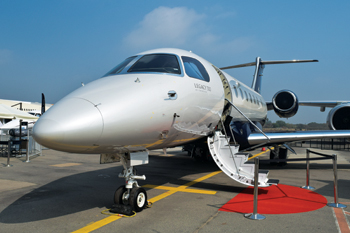 One of the favourites in India: Embraer's Legacy business jets have been one of the popular jets in India. The online booking portals have various kind of travel options including highend jets such as Legacy, Dassault Falcon, Gulfstreams' G Series
While we have built an online platform, we have equal or more investment to service the customers off-line. We operate 24x7 with finest team of professionals and focus on quality assurance so as to guarantee to the customer highest levels of safety and security. Our operations team assures our customers highest levels of professionalism and on ground support with matters related to serviceability, privacy and confidentiality at par with global standards.
SP's: Since inception what has been your company's growth and what are the drivers?
Rajeev: Baron Aviation was established in 2012 with the aim to corporatise the general aviation industry in India. It started with the effort to aggregate aircraft inventory, consolidate customer demand and professionalise the approach towards client servicing to the highest standards.
Baron launched the concept of virtual operator in India wherein it took over exclusive marketing right to promote business jets of some of the biggest corporate houses in India. In 2013 it launched India's first Jet Card Programme for the country's UHNIs (ultra high networth individuals), a substitute to the high value private jet ownership. However, the general aviation market in India was highly fragmented to major metros. The accessibility of the right aircraft was always a question. While major wealth management reports like Kotak suggested that 44 per cent of India's UHNIs were from non-metro cities and towns, the potential and the need of these markets to use air charters for comfort and convenience was highly unrecognised.
"OUR OPERATIONS TEAM ASURES OUR CUSTOMERS HIGHEST LEVELS OF PROFESIONALISM AND ON GROUND SUPORT WITH MATTERS RELATED TO SERVICEABILITY, PRIVACY AND CONFIDENTIALITY"
In its endeavour to seamlessly connect these customers with aircraft owners, on December 14, 2015, the company launched bookmycharters.com thereby, expanding its horizons to these untapped markets. In a market that is highly unorganised and driven by intermediaries, BookMyCharters simplifies the entire process of booking air charters hassle free, delivering instant and economic quotes and offers a one-stop solution for all charter booking requirements.
SP's: How many charter companies are enlisted and what is the number of aircraft that you can access? Is it in India alone or overseas too?
Rajeev: Currently, BookMyCharters has over 40 aircraft from 16 operators on the platform with a large fleet based in Delhi. We are in negotiations with operators for more aircraft from Mumbai and South of India. The next big step for us is of course global expansion with our online platform.
SP's: How many airports can you reach within India and overseas too?
Rajeev: Currently BookMyCharters enables you to book a private jet to more than 149 airports in India across 22,000 routes, based on the type, size and endurance of the aircraft chosen. Although the online booking of private jets through BookMyCharters is currently restricted to India, our off-line model facilitates our customers to book a private jet for international destinations across the globe.
SP's: What has been the general profile of your clients – industrialists, celebrities, politicians, etc?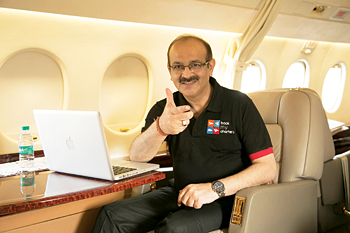 Thumbs Up: Rajeev Wadhwa is quite bullish on the success of charter business in view of anticipated demand in India
Rajeev: Corporate contribution to charter business is maximum, where 70 per cent of their usage is for official purpose and the rest is to indulge in luxury. CEOs /Chairmen of large corporations take private jets for connectivity to smaller cities and remote areas where there is no direct flight by scheduled airlines. Busy executives cannot afford to show up late for an important meeting or to feel sluggish because of the rigours of commercial travel. They know that the cost of failure far exceeds the cost of private jet travel. Sometimes they compromise in selecting an aircraft with use for its utility and not luxury. About 40 per cent of Indian airfields are good to be used only for utility flying hence you can't ignore the effective use of turboprop aircraft.
Entertainment industry also contributes to sizeable charter business in Mumbai with 80 per cent of usage for multi-city film promotions and celebrities using jets to attend events. Political parties and politicians largely use air charters for campaigning during elections or to attend special functions and events.
For the UHNIs & NRIs, private flying is all about indulging in comfort and luxury. The trend of using private jets for special occasions has been on the upward curve. Destination weddings, short haul destination holidays for celebrating birthdays and anniversaries, going to spa destinations in Kerala or a tour to the royal palaces of Rajasthan by international inbound travellers and the UHNIs are the latest emerging trends. Though we are not seeing too many women booking a private jet, we do believe that kitty parties in the air, "being 21 and above the world" will be the future trends where more women will come and engage in the use of private jets for luxury and lifestyle.
SP's: One of the problems of an aggregator could be unavailability of an aircraft to a client who has booked it. In such cases what do you do?
Rajeev: The benefit of having a large aircraft inventory is the ability to provide our customers to choose just the right aircraft based on their preferences. The availability of the aircraft reflected during the booking process is in real-time and the booking is confirmed. In the rare event that an aircraft is rendered unavailable due to technical or maintenance issues our back-end team of experienced professionals have the expertise to source a similar aircraft for the customer. The flight is coordinated with the highest level of prioritisation and the services offered are at par with global standards.
SP's: What are your plans for expansion, growth?
Rajeev: BookMyCharters is a globally scalable platform and is geared to address the $20-billion global opportunity. The platform is a substitute to high value private jet ownership and is disruptive to most popular current aircraft chartering options like fractional ownership and Jet Card Programmes. The company endeavours to be a global player in the air charter market and reach out to mature markets. Our strategic group is working on this international rollout, by negotiating affiliations with operators across Europe, Middle East and Africa. Our goal is to enable customers to charter anywhere in the world, at just one click.
SP's: The business aviation community, per se, has shown signs of strain and are said to be in the red. How is it in such a scenario that you have positive sentiments?
Rajeev: The business aviation market in general has remained stagnant in the past decade mirroring the general economic scenario of the country. However, the recent times are seeing a turnaround in the flight activity levels. Though the average annual aircraft utilisation is between 300 and 400 hours compared to 800 to 1,000 hours by European and US charter companies, government initiatives like 'Make in India', 'Smart Cities' and campaigns like 'Start-up India' are seeing rising investor confidence amongst the Indian business community.
An online platform like BookMyCharters is gaining considerable visibility. On an average, more than 150 unique customers visit the platform on a daily basis. Analysis of the data show that the portal is not only getting pan-India patronage but is also attracting unique visitors from Europe, Middle East and South East Asia. Considering the uniqueness and the niche market it addresses, the platform is getting sufficient traction. The users are fairly new, thus giving hopes of new markets in the industry.
BookMyCharters is the marketplace for owners to promote their aircraft directly to the end-users. It is an industry platform that has the capacity to convert at least 40 to 50 red balance sheets of the operators green, largely because we will add new customers, improve performance and help optimise operators' costs.
As a partner, the aircraft owners can not only leverage on the superior patented technology, but are also risk free of payment defaults as BookMyCharters guarantees the payment prior to the execution of all the flight. BookMyCharters is also focused on enhancing aircraft utilisation, which will positively impact the bottom line of all the partner aircraft operators.
SP's: What has been the most challenging aspect in this kind of business?
Rajeev: In the current off-line scenario, the customer waits for hours to get relevant aircraft options and their cost. This is due to numerous complexities and logistical issues involved with manual processes. With the launch of BookMyCharters, the customer wait has been reduced to merely 15 seconds. However, customers are used to off-line bookings and migrating them on the platform would take time.
Our patented technology at BookMyCharters takes into consideration all operational issues, checks real-time availability, calculates instant quotes and assists the customer to book online. This simplifies the work of operators but to facilitate online bookings, it is important for us to get real-time updates on aircraft availability and acceptance from operator for automation of quotes by the system. So far we have received appreciable support from all our partner operators.
The challenge, however, has been marketing the service to the end-users. At BookMyCharters, we believe only 6 per cent of our potential customers in metro cities use charter services. Interestingly, this need for quick and pleasurable travelling is not restricted to only the metros. Several people in Tier-II or Tier-III cities like Chandigarh, Ludhiana, Varanasi and Kochi are willing to pay for speedily reaching cities like Udaipur or Jodhpur or Kota which do not have daily scheduled airline connectivity.
With our customer awareness programmes and strategic initiatives to reach out to non-metro city customers, our endeavour is not only to migrate existing charter users on the platform but also bring new customers to charter market.
SP's: What needs to be done to prop up the business aviation sector in the country?
Rajeev: Between 2001 and 2007 was considered as the golden period for general aviation. Later, due to imposition of an unexplained tax regime and the economic slowdown the scenario changed. The lack of infrastructure is another impediment. Unlike mature markets, India does not have dedicated general aviation airports. Therefore, charter firms are finding it difficult to acquire hangar space and parking in metro cities.
Mumbai once boasted a parking base of 48 aircraft. Over the years a number of private owned aircraft have shifted to AAI airports like Ahmedabad, Nagpur and Aurangabad because of their relatively low parking charges. Should the government come out with public-private partnership programme for general aviation airports, 70 per cent of problems for this sector will get resolved. This will also boost the sales of private jets and helicopters in the country.
About 72 per cent of Indian operators own single aircraft and heavily depend on brokers to sell charters for them. The Indian fleet annual utilisation is between 300 and 400 hours compared to 800 to 1,000 hours by European and US charter companies.
Indian charter prices are 30 per cent less than Europe and 80 per cent of Indian air charter companies run negative profit balance sheets. About 70 per cent customers prefer to book charters through their brokers and land up paying 15 per cent more than operator price. Around 78 per cent charter users don't book charters directly and depend on their support staff. Indian charter service standards are below par when compared to mature markets.
Another factor that we should consider is the price of aviation turbine fuel (ATF). Ironically, an ATF-surplus country like India exports this commodity at international prices but provides the same to its own civil aviation industry at exorbitant price. There are also the issues of customs duty which have been raised so many times but still have not been addressed.
A number of domestic airlines continue to send their aircraft to MROs abroad, resulting in India losing out a lot of business and foreign exchange. Even though MRO manpower cost is almost 60 per cent cheaper in comparison to the West, stringent government policies have hindered the viability of MRO business in India for 50 years. However, the recent policy change will boost the aviation sector converting constraints into opportunity. This needs to be applied to many other constraints where government policies can make a difference.