The G650 performance is unmatched, backed by solid innovation and therefore it is considered the world's most advanced business aircraft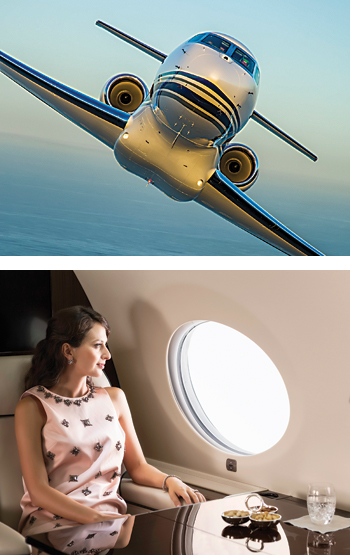 Since 1958 when the Gulfstream I, the world's first purposebuilt business aircraft made its debut, Gulfstream Aerospace has come a long way and it has led the evolution of business and personal aviation. In the nearly six decades, Gulfstream has grown from strength to strength and it now produces the world's most advanced business aircraft, with innovations from nose to tail and wingtip to wingtip, offering unmatched global product support and service. Now from the Gulfstream stable comes the Gulfstream G650, to deliver the world's finest aviation experience.
Fly-by-wire precision
The business jet flies at over 92 per cent of the speed of sound for thousands of miles with fly-by-wire precision and a quieter, roomier, more adaptable cabin teeming with advanced technology. At a long-range cruise speed of Mach 0.85, the Gulfstream G650 flies 7,000 nautical miles (12,964 km) non-stop with eight passengers. Los Angeles to London is over 30 minutes faster and New York to Tokyo almost an hour closer compared to other large-cabin aircraft. Covering such distances with ease, the G650 makes once-distant cities all part of a day's work, and with the lowest pressurised cabin altitude of any business aircraft, passengers are as fresh as morning dew. The G650 with a computer-controlled, highly redundant fly-by-wire flight system, which, working in concert with the pilot or on full automatic, provides measured, minute adjustments that create smoother flights and increase passenger comfort.
Wider and Brighter
With comfort and ambience key essentials, Gulfstream has created a cabin which is 8 foot 6 inch (2.59 metre-wide). This is the largest in its class and it can accommodate 18 passengers comfortably. And with big windows there is abundant sunlight in the aircraft. The 16 windows are each sized 28 by 20.5 inches (71 by 52 cm) and they are positioned higher on the fuselage to get the maximum viewing experience. The business jet with such comfortable interiors has a choice of 12 floor-plans, offering options of meetings, entertaining and relaxing and they all can be tailor-made.
Climb High, Breathe Easy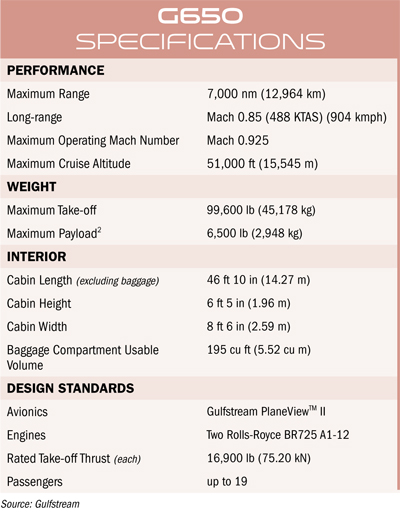 One of the highpoints of the G650 is that it has the lowest cabin altitude of any business jet and replenishes 100 per cent fresh air every two minutes. At a cruise altitude of 41,000 feet (12,497 metres), the cabin is pressurised to a comfortable 3,000 ft (914 m). Compared to a commercial airlines, this altitude is more than twice as low and significantly better than any other business jet in this class. The benefit of a lower cabin altitude is that it reduces fatigue and ensures that the passengers are fresh, as at this altitude the heart and lungs don't work as hard to oxygenate the blood, thus reducing fatigue levels.
Ofice in the sky
It is an office up in the sky with all the office paraphernalia. It gives executives various ways to stay connected. The Gulfstream broadband multi-link high-speed data system, two multichannel satellite communications systems or a wireless local network that provides onboard printing, additional Internet access and phone service are all features that go to make an efficient office. Dual media servers, high-definition video source equipment and a cabin audio system also keep business on track, even at Mach 0.925.
Comfort and more comfort
The G650 interior is top class, providing class and comfort. The Gulfstream Cabin Management System (GCMS) synchronises with Apple iOS or select Google Android smart phones and tablets to provide touch-screen control for temperature, lighting, window shades and entertainment options. Apple iPod touches or Google Android devices are provided as cabin controls, but GCMS also can be saved to a free mobile application on a passenger's iPhone, iPad or Android device, which allows a passenger to save and recall preferences for a subsequent flight. The Gulfstream-designed CabinView lets passengers track flight progress, displays points of interest and provides passenger briefings.
Pristine wings
One other highlight of the G650 is its wings. The engineers at Savannah have redefined how the wings interact with the atmosphere, which significantly reduces drag and increases speed and range. There is no vortex generators to disrupt the natural airflow over the wing, no leading-edge devices required by other aircraft to improve slow-speed handling qualities and no exposed flap hinges and flap tracks that cause drag. Added to this is the higher thrust Rolls-Royce BR725 engines which is performance at its best. The jet reaches a maximum Mach operating (MMO) speed of 0.925 and handles superbly at low speeds.
Making things easy for pilots
Flying at high speeds, the pilot has to process all the data efficiently and the PlaneView II cockpit provides layers of cuttingedge technology in streamlined displays. This helps pilots to think faster than they fly. The pilots have data at their fingertips, thanks to the Gulfstream-designed Cursor Control Devices (CCDs). The side-mounted cursor controls allow pilots to select and scroll through data on the multifunction flight displays, giving them improved information ownership and increased situational awareness.
3D images of terrain
Safety on a business jet is critical. Gulfstream has put a nosemounted infrared camera, part of the Gulfstream Enhanced Vision System (EVS) II, that allows pilots to see what the human eye cannot by providing more detailed images of airports and surrounding terrain at night and in low-visibility conditions. EVS images also can be routed to a head-up display (HUD) for the pilots to review data from a transparent screen in the pilot's forward field of vision. Synthetic Vision blends threedimensional colour images of terrain, obstacles and runways with instrument readings on the pilot's Primary Flight Display, a combination that creates a more easily visualised landing approach for pilots.
The G650 performance is unmatched, backed by solid innovation, and not for nothing it is considered the world's most advanced business aircraft.