At the moment, they are just content with a promotion here and a promotion there, nothing substantive to attract first time flyers among the rising middle class at large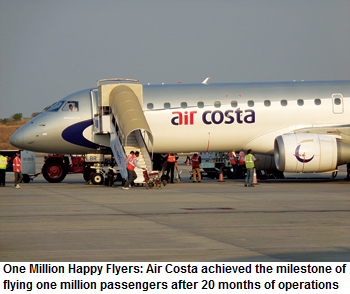 There are four regional airlines in India – Air India Regional (earlier known as Alliance Air); Vijayawada-based Air Costa; Bengaluru-based Air Pegasus and Hyderabad-based Trujet. The next big wave they say is going to be regional airlines, but the question is are they doing enough to attract passengers or are they just content connecting under-served and un-served destinations? It appears at the moment, they are not doing anything radical or totally different to get more passengers on their planes.
The last we heard was that of the defunct low cost carrier Air Deccan which offered some tickets at Rs. One and Captain Gopinath instantly became the 'father of low cost airline in India'. But the present crop of regional airlines has not done anything of that sort, to grab the attention of the growing middle class of India.
They are just content with a promotion here and a promotion there, nothing substantive to attract first time flyers among the rising middle class at large. Some of the promotions/schemes do not even get publicised properly, making them fail at the hustings. First, they need to get more and more passengers on their flights and two they need to monetise through various activities. It calls for ingenious ways of marketing and promotions.
Trujet offer to film fraternity
The youngest regional airline from Hyderabad – Trujet is trying something new by offering amazing discounts to students, senior citizens, members of South Indian Movie Association, Movie Artists Association, members of the media and Armed Forces personnel. As regards attracting the film fraternity, it was to happen as Telugu film actor Ram Charan (Chiranjeevi's son) is one of the promoters of the airline. The guess is that this move has a bearing on the passenger load factor considering that the film fraternity travels quite a bit on work and leisure.
The Managing Director of Trujet, Vankayalapati Umesh had told this writer recently that the airline was experiencing good load factors and the airline would soon be adding another 15 turboprop ATR aircraft in the near future. Trujet is expanding its network and has strategically started connecting temple destinations – Tirupati and Aurangabad (Shirdi). It has three daily flights to Tirupati from Hyderabad, while it provides free airconditioned coach service from Aurangabad to Shirdi and back. Complimentary snacks are provided on these flights.
Umesh said "Geographically, India is a huge country with a lot of potential. Last 10 years of aviation growth has been just the scratching of surface. Real unravelling of potential begins now! We believe that there is a lot of underserved and/or unserved markets in India. And a quality airline with warmth, care and efficient service is still missing fromthe Indian skies. That is where we believe Trujet fills the gap with its state-of-theart, efficient aircraft and friendly service."
We worked relentlessly to bring this airline to life and launched operations on Jul 12, 2015. We are currently flying to Hyderabad, Aurangabad, Bengaluru, Chennai, Cuddapah, Goa, Nagpur, Rajahmundry, Tirupati, and Vijayawada. Our schedule is focused on your convenience, and pricing is light on the wallet."
Be it a wedding, a corporate event, or any other special occasion, Trujet states that it caters to the client's personalized charter needs. Alongwith its sister concern Turbo Aviation, Trujet offers a variety of aircraft for large movements. And for groups of 10 or more people the airline has a dedicated team to assist them with their travel needs.
The airline recently added three destinations. Vijayawada-Hyderabad-Vijayawada service started on April 22 and Vijayawada-Cuddapah-Vijayawada service on May 3. The Vijayawada-Hyderabad and Hyderabad-Vijayawada flights are the last flights of the day on this route and provide the missing late evening connectivity on this sector. Apart from providing same plane Goa-Vijayawada (via Hyderabad) connectivity, it is also providing connections to Vijayawada from Bengaluru, and Aurangabad. "These sectors fit into our strategy of connecting under-served and unserved routes and we are proud to expand our footprint in Andhra Pradesh."
Trujet is promoted by Turbo Megha Airways Pvt. Ltd and in December 2015 celebrated its one lakh passenger milestone. The airline, as part of the celebrations, gave Rs. 1,00,000 to winners of a contest. The first week's winner was S. Suresh from Bengaluru who flew flight 2T104 Hyderabad-Bangalore on December 15. In the second week, the lucky winner was one Kavitha Avuthapalli from Hyderabad who flew on flight 2T104 Hyderabad-Bangalore on December 26. The draw was conducted at Trujet corporate office in presence of public and media. Umesh said "We congratulate Kavitha who has won Rs. 1,00,000 in luck draw. We are humbled by response to our one lakh passenger milestone celebrations, and look forward to our future journey with our esteemed passengers to cross many more such milestones in near future."
Air Pegasus, wings of change
Bengaluru-based Air Pegasus has a promotion running called 'Pegasus Picks', an initiative to provide hotel, flight and flight + hotel services to passengers. The whole objective is to cover the growing demand of people who looks for hotels and flight + hotel services during their travel, particularly in small towns. Pegasus Picks has hotel rooms in Bengaluru, Madurai, Chennai, Mangalore, Hubli and Thiruvananthapuram. These rooms are equipped with the modern amenities such as air conditioning, wifi, banquet hall, conference room, dining area, geyser, heater, in room safe, bar, parking, pool and other modern facilities, and the user can select the amenities according to his or her choice. Pegasus Picks hotel rooms are rated to be good among the users. Some of the hotel rooms are located near the Airports in the cities considering the travel time to the airport.
Other than that, Air Pegasus has not tried anything different. Air Pegasus is part of Decor Aviation which has ground handling operations in 11 major airports in India. Air Pegasus commenced operations on April 12, 2015, with its inaugural flight between Bangalore and Hubli. As of April 2016, Air Pegasus serves seven airports across South India from its main hub at the Kempegowda International Airport in Bengaluru with a fleet of ATR 72-500 aircraft. Air Pegasus took delivery of its first ATR 72 aircraft in September 2014. It received its Air Operators Permit (AOP) on March 24, 2015, and subsequently commenced operations from April 12, 2015, with its inaugural flight from Bengaluru to Hubli.
Air Costa, Happy Flying
Vijayawada-based regional carrier Air Costa has networked quite effectively some of the non-metro cities, however, it has not had any noteworthy promotions to attract passengers. The last we heard was that it gave a flat discount of Rs. 1,000 on economy and economy plus class tickets booked over five days to celebrate its one millionth passenger mark which it achieved last year. The offer was valid across its nine destinations.
The official spokesperson Pramod Mitta said: "We presently target both business and leisure travellers. We have identified the profitable business routes and have planned day-return flights for them. Our business travellers are very happy with our product and offerings. Due to the strategic fit between our aircraft (E190s with 110-seater) and the routes, we are able to offer competitive fares to our guests. However, we plan to be rational with our pricing strategy and not get emotional. We have introduced our corporate travel programme in the market which has been received very well by the target group.
"As a regional carrier, we are flashing five to seven discounted offers (average basis) per quarter connecting topical dates and festivals to make our guests get more benefits out of those connections and also considering to fill our forward loads. We run regular promotions and marketing activities".
Air India Regional, low-profile
Air India's subsidiary – Air India Regional (earlier known as Alliance Air) started operations on April 15, 1996. It operates services with a leased fleet of three CRJ (70 seater), four ATR 42-320 (48 seater) and five ATR 72-600 (70 seater) type of aircraft. Ithas its base stations at Delhi, Bengaluru, Kolkata, Hyderabad and Mumbai. Flights are operated mostly to Tier-2 and Tier-3 Cities, or those which link these cities to the metro hubs.
The flight schedules of Air India Regional are structured in a manner which enables easy connections to/from smaller cities via the hubs of Delhi, Kolkata, Mumbai, Hyderabad and Bengaluru. It operates flights to 29 (including Car Nicobar charter) destinations in India. However, the airline has not made any major promotional effort to notify to the passengers that it is operating a regional service. As all bookings are done on the Air India website, passengers are not aware of any benefit, specifically offered for regional destinations. It is for the regional airlines to make some noise but many a times such marketing/promotion efforts require deep pockets and ingenuity and these airlines seemingly are strapped for funds.