The E190, configured by JAL in dual class with genuine leather seat offering, is the third Embraer E-Jet aircraft type that is operating in Japan, in addition to the E170 and E175 that already operate in the country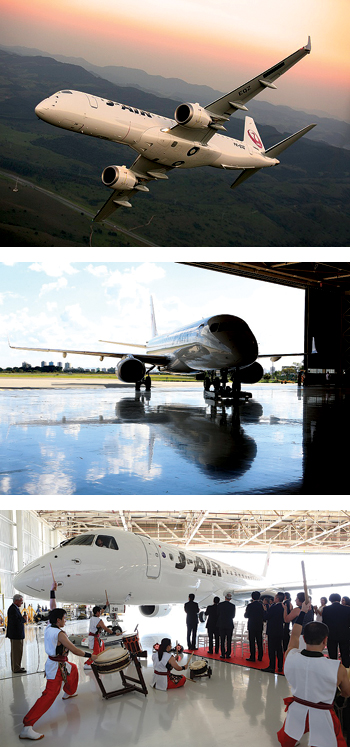 The first Brazilian Embraer aircraft that flew in Japan was the EMB 110 Banderante in 1987. Almost three decades later, the Embraer family of aircraft has grown in size in Japan and reportedly there are 28 Embraer E-Jets criss-crossing the nation. The latest family of E-Jet to make its Japan debut is the E190 which entered service with Japan Airlines subsidiary J-Air on May 10.
The E190 aircraft took off on a revenue flight between Osaka (Itami airport) and Kagoshima and with this the Brazilian aerospace major has 28 E-Jets flying in Japan with all the E-Jet family aircraft in. "The E-Jets have proven their ability to help airlines maximise yield, and sustainably enter new markets, as in the case of Japan Airlines," said Paulo Cesar Silva, President & CEO, Embraer Commercial Aviation. "The E190 configured with 95 seats complements J-Air's E170 operations. The extra capacity offered also reflects the steady growth of the domestic market. We are confident that our E-Jets will continue to add strong value to J-Air's operations, and we are grateful to Japan Airlines for their trust and for the partnership we continue to enjoy."
Class J service, refreshing change
"We are honoured to receive the first E190 in Japan," said Tetsuya Onuki, President of J-Air Corporation. "The combination of the existing E170s and new E190s in our fleet will give us greater flexibility to match our products and services to customer needs. We are confident that the E190, with our new cabin interior and the addition of Class J service, will deliver a refreshing and comfortable in-flight experience to customers."
"WE ARE HONOURED TO RECEIVE THE FIRST E190 IN JAPAN. THE COMBINATION OF THE EXISTING E170S AND NEW E190S IN OUR FLEET WILL GIVE US GREATER FLEXIBILITY TO MATCH OUR PRODUCTS AND SERVICES TO CUSTOMER NEEDS. WE ARE CONFIDENT THAT THE E190, WITH OUR NEW CABIN INTERIOR AND THE ADDITION OF CLASS J SERVICE, WILL DELIVER A REFRESHING AND COMFORTABLE IN-FLIGHT EXPERIENCE TO CUSTOMERS." —TETSUYA ONUKI, PRESIDENT OF J-AIR CORPORATION
The E190, configured by JAL in dual class with genuine leather seat offering, is the third Embraer E-Jet aircraft type that is operating in Japan, in addition to the E170 and E175 that already operate in the country. J-AIR currently operates a total of 17 E170s and Fuji Dream Airlines operates three E170s and seven E175s. The E190 is operated by 50 customers around the world. Embraer is the only manufacturer to develop a modern family of four airplanes specifically targeted for the 70- to 130-seat segment. Since the formal launch of the programme in 1999, Embraer has logged nearly 1,700 orders and over 1,200 deliveries, with the E-Jets redefining the traditional concept of regional aircraft by operating across a range of business applications, with some 70 customers from 50 countries. The first E-Jet entered revenue service in 2004. Collectively, the E-Jets have accumulated more than 15 million flight hours. E190 has been delivered since 2005 and it is one of the best-selling jets. Some 44 airlines worldwide purchased and 523 aircraft have been delivered (as of 31 December, 2015).
Expanding routes
J-Air is a 100 per cent owned regional airline subsidiary of Japan Airlines. J-Air has announced that it would be expanding the route of E190 progressively on Itami-Sendai route and Itami-Fukuoka routes. Additionally, wellreceived 'Class J' service on domestic flights will be offered in JAL's E190 fleet. Of the 95 seats, Economy will comprise 80 seats and 'Class J' service will offer 15 seats. J-Air is the first Japanese airline to introduce E190 fleet.
Under the banner 'Embrace New Challenges', JAL will further enhance on-time performance service, and strengthen its regional network, in order to deliver more convenience to customers with innovative products and high-quality services.
In 2014, JAL Group had signed a firm order with Embraer for a total of 15 E-Jets comprising the E170 and the E190 jets models, as well as for an additional 12 E-Jets family options.
E-Jets are designed from a double-bubble fuselage concept, which provide customers with more in-flight space than the other same-size jet. Additionally, E-Jets powered with the reliable GE CF34 engines that produce less noise and offer high level of operational efficiency.
Introduction of E-Jets will enable JAL to match capacity with demand on each route, as well as achieve improved ontime performance and reliability. The airline is looking forward to expanding its regional network more efficiently and strives to provide customers with better convenience.