With the support of the indigenous industry that is producing a wide range of military aerial platforms, the PLAAF is fast acquiring top-end systems and weapons of global class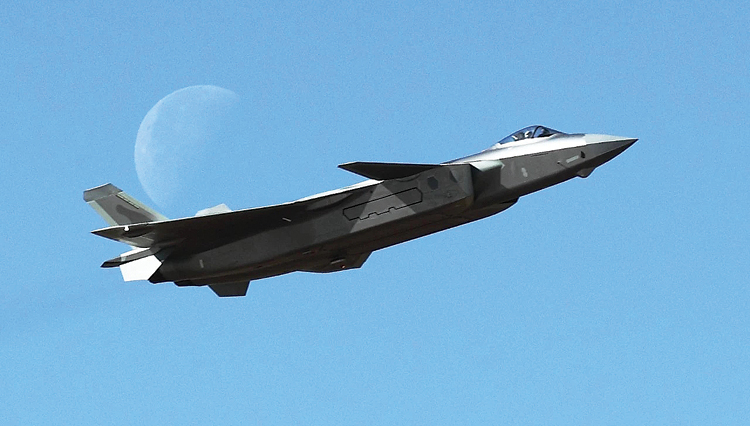 The J-20 and FC-31/J-31 are the two fifth-generation fighter aircraft programmes of the PLAAF
The People's Liberation Army Air Force (PLAAF) of China has come a long way since its first major air campaign during the Korean War fought in 1953. China began setting up factories to manufacture aircraft initially with the help of the Soviet Union and later managed to get some important technologies from the United States of America (USA). Once its economy began booming in the 1980s, China could make heavier investments in research and development. China's global ambitions in the last two decades give a much bigger flip to air and sea power. "The air force is a strategic military service that has a vital position and plays a vital role in the overall situation of national security and military strategy," said Xi Jinping in April 2014.
HIGH TECHNOLOGY AND EMPHASIS ON REALISM
With the support of the indigenous industry that is producing a wide range of aerial platforms for military use, the PLAAF is fast acquiring top-end systems and weapons of global class and reach. There is much greater emphasis on modern technologies including stealth, hypersonic flight, Artificial Intelligence (AI), cyber, electronic warfare and long range missiles. The PLAAF also reoriented its flying training and tactics and there is much higher emphasis on realistic exercises.
DOCTRINAL CHANGES
The PLAAF has made major changes in its operational doctrine based on the need for achieving global reach. Air defence of critical assets, long-range offensive precision strikes, integrated battlefield support missions, intelligence surveillance and reconnaissance (ISR), information operations and strategic airtransport reach are on priority. Integration of air and space will support both offensive and defensive operations. The PLAAF is preparing for hybrid network-centric war and is also trying to increase exposure to air exercises to compensate for the low level of exposure to actual war.
ASSETS OF THE PLAAF
With around 1,700 combat aircraft on its inventory, the PLAAF is the largest air force in the South East Asian region and the third largest in the world. As per Military Balance 2020, the PLAAF operates nearly 850 J-7 variants, 100 J-8s, 465 J-10s, 225 J-11 air superiority fighter variants, 52 Russian Su-27s, 73 Russian Su-30 MKK multi-role aircraft, 24 Russian Su-35S and 176 H-6 jet bomber variants. The PLAAF also has 20 IL-76 jet transport aircraft and around 90 Y-7, Y-8, Y-9 turboprop powered transport aircraft. It has on its inventory three IL-78 MD/TD jet powered aerial tankers of Russian origin and eight Tu-154M Jet patrol/ELINT aircraft. The AEW&C aircraft include four propeller driven KJ-200, five KJ-500 and four KJ-2000 jets. The PLAAF has nearly 350 JL-8 jet trainers and its helicopter fleet consists of 50 Z-8, Z-9 and Mi-17s. Meanwhile, newer Z-18 and Z-20 are under induction. As compared to the PLAF, the PLA has a much larger rotary wing force.
A KJ-500 airborne early warning (AEW) aircraft under the PLA Southern Theater Command taxis on a patrol mission
STRUCTURAL CHANGES
The PLAAF is closing the gap with Air Forces of Western nations across a broad spectrum of capabilities such as aircraft performance, command and control as well as electronic warfare. In 2017, China restructured its force as part of a broader plan to introduce reforms in the PLA. Brigades were created under the newly established bases by disbanding fighter and fighterbomber divisions. There are now approximately 59 fighter/ground attack brigades attached to Bases with the operational commands. In addition, another 35 brigades not subordinate to Bases were also formed. Each Brigade reportedly has 24 aircraft and each bomber regiment has 18 aircraft. The 15th Airborne Corps has been re-designated as the PLA Airborne Corps.
With around 1,700 combat aircraft on its inventory, the PLAAF is the largest air force in the South East Asian region and the third largest in the world
NEWER PLATFORMS
The J-20 and FC-31/J-31 are the two fifth-generation fighter aircraft programmes of the PLAAF. China claims to have inducted 50 J-20s that carry integral weapons and are designed with network-centric warfare technology. The extended range H-6K variant is powered by more efficient turbofan engines and can carry six ALCMs, providing long-range, standoff precision-strike capability. The PLAAF is developing new medium and long range stealth bomber H-20 to strike regional and global targets. It will probably reach initial operational capability no sooner than 2025. China has inducted 20 Y-20 large transport aircraft that can lift up to 66 tonnes. The new variants are planned to support airborne command and control, logistics, para-drop, aerial refuelling and strategic reconnaissance operations.
UNMANNED AERIAL PLATFORMS
China's has a growing high-end force consisting of indigenous military drones. These include stealthy flyingwing, VTOL platforms, micro-UAVs, unmanned airships, sailplanes and even ornithopters (flapping wings). The PLAAF's current platforms in-service are large UAVs that include the BZK-005 (Giant Eagle), the GJ-1 and GJ-2, domestic variants of Wing Loong I and II. These are claimed to be equivalents of MQ-1 and MQ-9, respectively. WZ-7, Divine Eagle is a high altitude jet-powered UAV that is capable of AEW role. The GJ-11 (Sharp Sword) that is a stealthy UCAV and the WZ-8 are supersonic reconnaissance UAVs. The GJ-11 can be used for autonomous missions, autonomous swarming, manned-unmanned-teaming (MUMT), loyal wingman and other concepts. The "Anjian" (Dark Sword) UCAV is a delta wing, twin-tail canard platform similar to the American Global Hawk class HALE UAV. The WZ-2000 is a twin-fin jet powered UCAV that can carry 80 kg payload. CH-3 is a fixedwing UCAV with canard configuration that can carry Anti-Radiation Missile (ARM) as also an Air-to-Surface Missile (ASM) with a Semi-Active Laser (SAL) seeker. The Pakistani Burraq UAV is based on CH-3 UAV and has been supported by China. Media reports have indicated that several countries including Pakistan have faced technical problems with the Chinese CH-4 UAV which is almost identical to the US General Atomics MQ-9 Reaper.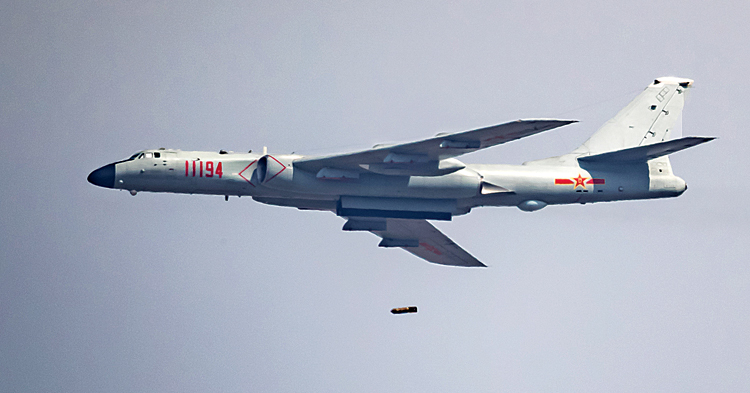 Chinese H-6K bomber aircraft that are capable of carrying nuclear weapons
PLAAF WEAPONS
The PLAAF is developing a large number of smart precision ammunitions with surgical strike capability. These include, IR/TV guided Air to Surface Missiles (ASM) and Anti-Radiation Missiles. The PLAAF has many laser-guided and satellite-guided bombs. The Beyond Visual Range (BVR) Air-to-Air missiles (AAM) include the latest PL-12 and PL-21. The PL-15, very long range AAM, is equipped with an active electronically scanned array (AESA) radar. China has around 500 DH-10 land attack cruise missiles with a 1500 km range and part of these is air launched. The PLAAF has several advanced long range SAM systems and include Russian S-300, the S-400 and domestically produced HQ-9.
The PLAAF believes in long range, offensive precision-strikes using enablers such as flight refuelling aircraft (FRA) and Airborne Warning and Control System (AWACS) Aircraft
PLAAF IN THE WESTERN THEATRE
The PLAAF's air assets opposite the Indian border across the Himalayas, include one fighter brigade each of J-11AB, J-7, J-7E and J-16 aircraft. There is a transport regiment each of Y-8/Y-9 and Y-7 aircraft. There is a regiment of helicopters and one SAM brigade at Lhasa. Deeper at Urumqi Base, there is a fighter brigade each of J-8H, J-11A/B and JH-7A. Fighters of the PLAAF carry out regular exercises in the sector. The airfields are being upgraded to host more assets. China is developing new airbase in Shakche in Xinjiang, next to the China Pakistan Economic Corridor (CPEC) and very close to Aksai Chin in Ladakh.
TACTICAL EMPHASIS OF THE PLAAF
The PLAAF believes in long range, offensive precision-strikes using enablers such as flight refuelling aircraft (FRA) and Airborne Warning and Control System (AWACS) Aircraft. There will be coordination with People's Liberation Army Rocket Force (PLARF). The PLAAF has multi-layered air defence systems. China's extensive constellation of surveillance satellites with short revisit cycles, greatly support surveillance and targeting. The PLAAF gives greater importance to information, electronic and cyber warfare. The PLAAF also coordinates closely with the PLA Strategic Support Force (PLASSF).
JOINT TRAINING AND INTERNATIONAL EXERCISES
The PLAAF has begun regular exercises that include large force engagements with the PLA and the PLA Navy and their exercises in Tibet have increased. The PLAAF has annual Shaheen series exercises with the Pakistan Air Force (PAF) since 2011. Shaheen IX was held in Pakistan in December 2020. These exercises improve interoperability as also the PAF gets exposure to the Su-30 variants. China get inputs on F-16 and Rafale jets from PAF pilots who exercise with West Asian Air Forces regularly.
CHALLENGES FOR THE IAF
The PLAAF is clearly growing both in technology and numbers. Although it still has limitations in respect of the number of airfields and infrastructure in Tibet, it is quickly building new airfields and infrastructure. The Indian Air Force (IAF) has advantage of much larger number of airfields at much closer distances from the border and lower altitude. The IAF can launch a greater number of missions across the Himalayas. However, the IAF's fighter squadron strength is very low and needs to be increased to 42 combat squadrons through acquisitions or accelerating indigenisation. The IAF also needs larger number of AWACS and FRA aircraft as also more UCAVs. India also needs to increase cyber and electronic warfare capability. Surface-to-surface missiles and cruise missile inventories have to go up too. The IAF needs a few more airfields with further improved infrastructure in the Eastern Sector. The IAF will then be a major deterrent to China's offensive designs against India.