Pratt & Whitney's partnership with India spans more than seven decades, and goes as far back as India's independence. Ashmita Sethi, President and Country Head, Pratt & Whitney talks to SP's Aviation on the company's contribution in developing India's Aerospace Ecosystem.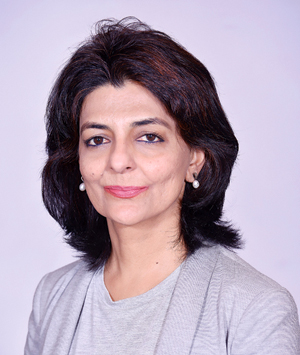 SP's Aviation (SP's): How is Pratt & Whitney helping the Indian Armed Forces in its modernisation?
Ashmita Sethi (Sethi): Pratt & Whitney has been powering tactical, strategic, mobility and rotary aircraft for 34 armed forces around the world and has more than 7,000 military engines in service around the world.
As the world's leading engine maker, Pratt & Whitney offers a diverse portfolio of advanced propulsion solutions to the Indian Air Force (IAF), including the F117 engines on the IAF's 11 C-17 Globemasters, and the PT6A on its 75 PC-7 trainers. We also look forward to powering the IAF's C295 aircraft fleet with our versatile, dependable and efficient PW127G family of engines. As the IAF selects its 114 MRFA, we also want to power India's F-15EX with our reliable, dependable and advanced F100-PW-229 engines.
Pratt & Whitney's partnership with India spans more than seven decades, and goes as far back as India's independence. Did you know: the IAF's restored 'Parshuram' Douglas DC-3 aircraft, which was a critical asset during the 1947 war, and enthralled the audience with its flying display at Aero India 2021, was powered by Pratt & Whitney engines!
SP's: The Government has recently cleared the procurement of 56 C295's which are powered by the PW-127 engine. What do you have to say on the expertise of these engines and how will they empower the C295?
Sethi: The procurement of 56 Airbus C295s doesn't just boost IAF's capabilities, but also marks significant milestone for India's self-reliance ambitions in aerospace and defence – since 40 of the C295s will be made in India. We are proud to be the engine on the program with the PW127G, and this marks a start of another great chapter in our partnership with India and the Indian Air Force.
The C295's twin PW127G engines feature low-fuel burn during cruise and enable exceptional range and endurance for time-critical missions. The PW127G is part of Pratt & Whitney's PW100/PW150 engine family, made in Canada, which powers a variety of aircraft platforms flying diverse missions – including regional commercial airlines, firefighting, aerial surveillance, cargo transport, humanitarian work and civil defence. The PW127G engines are also used in many jurisdictions for Fixed-Wing Search and Rescue (FWSAR) platforms. P&W has been providing these engines to Airbus Defence and Space (ADS) since the C295 took its first flight in 1998 and since then we have shipped across more than 400 PW127G engines to ADS.
SP's: The IAF is looking to procure 114-fighter jets for the modernisation of Indian Air Force (IAF). Do you see an opportunity to supply military engines in the 114-fighter programme?
Sethi: India is a key market for P&W, and we continue to secure new avenues and opportunities to expand presence in the country. As makers of the world's first operational fifth-generation engine, the F119 for the F-22 and the world's most advanced fighter engine F135 for the F-35, the company's history and expertise with advanced propulsion systems is unmatched.
As India selects its 114 fighters for the MRFA, we want to power India's F-15EX with our F100-PW-229 engines. The F100 engine has been entrusted by the US Air Force to power every F-15 in its operational fleet since the aircraft's first flight in 1972; and its safety, reliability, and performance record with the F-15 is second-to-none.
Pratt & Whitney's F100-PW-229 is technologically fully capable of powering the most challenging missions against any adversary – now and in the future. The engine's fully modular architecture ensures ease of maintenance and incorporates leading-edge technologies in materials, cooling, and health management including some advanced 5th generation technology. The latest upgraded F100-PW-229 is also fully capable of integrating with the F-15EX's fly-by-wire flight control system.
These superior features, along with quality and value over the entire lifecycle, make the F100-PW-229 a superior propulsion system for this critical aircraft and for the Indian Air Force's missions, now and into the future. Our engines already power critical platforms like the C-17 Globemaster, which performs essential humanitarian and military missions for India, and we are confident that the F100-PW-229 will be the engine of choice for India's future needs.
SP's: India has recently come up with a new MRO policy. What is your take on this as a foreign OEM to scale up and invest in India?
Sethi: We welcome government's focus on streamlining India's MRO policy in order to make India a global MRO hub. With continued infusion of innovation and investment over next few years, the MRO sector in the country could benefit both India and region. With over 185 aircraft with GTFTM (Geared Turbo Fan) engines in India, we established Air India Engineering Services Limited (AIESL) as a provider of maintenance services in support of GTF operators in country last year. The Taj Air facility in Mumbai services PW308 engines as well. We have strong history of collaboration with AIESL, and for over 20 years AIESL has performed overhaul services on legacy Pratt & Whitney engines such as the JT8D, JT9D, & PW4000.
P&W has been providing the PW127G engines to Airbus Defence and Space (ADS) since the C295 took its first flight in 1998 and since then we have shipped across more than 400 PW127G engines to ADS
As India ramps up to become a regional MRO hub, it is important to look at commonality between civil and defence aviation. We believe that commercial and defence MRO capabilities for India need not be taken in isolation – and only when taken together can they build the right synergy to help India meet its Atmanirbhar vision. Engine MRO is highly advanced, and specialised, and presents significant opportunities for advancement, collaboration and co-development to India, especially as it pursues its ambitions for an indigenous fighter engine.
Finally, while it builds upon the MRO infrastructure and investment, India should look at developing its training and skilling infrastructure in parallel. If we look at engine MRO, the complex expertise required has to be certified by international agencies before you can even get started on an engine. This makes skilling and training critical – and there is significant scope for synergizing civil and defence commonality here too.
For example, Pratt & Whitney's state-of-the-art India Customer Training Centre in Hyderabad is equipped with actual aircraft engines (GTF and V2500), specialised and generalpurpose tooling, as well as advanced audio-visual teaching aids including "virtual reality" based demonstration systems. The center at Hyderabad has imparted 11,500 student days of training to over 39 operators representing over 27 nationalities since its launch. The world class India CTC at Hyderabad has the capabilities to train IAF's frontline engineers on Pratt & Whitney engines. Aligned to government's 'Atmanirbhar Bharat' vision, we have the required facilities and trained instructors to support this mission, in-country.
SP's: The government is giving a significant push to Atmanirbhar Bharat initiative for the Indian defence manufacturing. How do you view this and how are you contributing?
Sethi: The Indian Government has taken multiple reforms and initiatives in the recent years to lead India on the path of selfreliance. P&W welcomes these reforms and is actively exploring new avenues to collaborate and contribute.
Pratt & Whitney has already been an integral propulsion partner for India's indigenous aircraft program such as the NAL-SARAS MKI. Pratt & Whitney and National Aeronautical Laboratory (NAL) have been working together for more than a decade on the development of NAL's multirole light transport aircraft, SARAS. Our iconic PT6A turboprop engines have been selected by CSIR-NAL to power the aircraft which will have both military and civilian application. With over 200 engines in operation in India for 50 plus operators, PT6A has a strong support network in place and brings the advantage of cost-effectiveness and reliability to the indigenous NAL-SARAS.
Our 'RTX Innovation Challenge' in partnership with T-Hub, Hyderabad is encouraging start-ups to create next-gen aerospace solutions for India and the world – while our decade old R&D center at IISc, Bengaluru is engaged in top class research in the areas of advanced materials, gas turbine technologies, combustion, & mechanical design.
As India advances its modernisation and self-reliance in aerospace and defence, it needs to build ecosystems that focus not only on manufacturing–but also supply chain, scientific & engineering institutions, MRO, training and skilling. India needs to utilise its engineering and talent advantage and finally, encourage 'commonality' between defence and commercial aerospace.
With over 800 direct and indirect employees, a world-class customer training center, an advanced R&D center, and multiple engine maintenance facilities and as a large team of field service representatives–Pratt & Whitney is committed to meaningfully collaborating with India as it charts it self-reliance path. I am confident that we will be sharing more on our expanding in-country presence soon.