As a hostile China rapidly modernises its military and Pakistan continues to needle India in new ways, the Indian Air Force needs to be vigilant on all fronts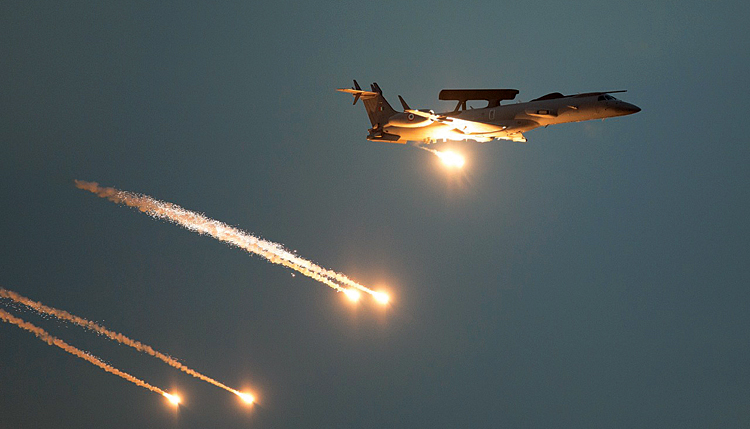 IAF needs 18 to 20 AWACS/AEW&C platforms to cover its long hostile borders and handle a possible two-front war
These are challenging times for the Indian Air Force (IAF) charged as it is with the country's air defence. Relations with China are frosty and are liable to erupt into a border conflict at any time. Analysts have also voiced fears that the Taliban, having tasted victory over a superpower in Afghanistan, will be tempted to meddle in Kashmir, egged on and abetted by the Inter-Services Intelligence of Pakistan. The strength of the fleet of combat aircraft of the IAF is down to 30 squadrons against 42 sanctioned by the Government and this is likely to reduce further. On the positive side, two of these squadrons are now equipped with one of the world's most capable fighter jets, the Rafale procured from Dassault Aviation of France. Although only two squadrons have been produced for the IAF, their impact can be enhanced with the help of force multipliers. As the name suggests, force multipliers are employed to dramatically increase the effectiveness of a military force of given size and capability. No modern air force can afford to conduct military operations without force multipliers.
Consider a formation of four IAF Rafale jets on a longrange strike mission. Their combat range of 1,850 km can be increased considerably if fuel is replenished by Flight Refuelling Aircraft (FRA). As they transit towards high-value target deep inside enemy territory, an Airborne Warning and Control System (AWACS) or an Airborne Early Warning and Control (AEW&C) aircraft will be invaluable to warn of airborne threats while itself flying over friendly territory. Unmanned Aerial Vehicles (UAVs) can provide additional surveillance even in hostile airspace. A dedicated military satellite can provide secure long range communications. Finally the Rafale itself with its array of Precision Guided Munitions, can strike the designated target with unerring accuracy. These and other means of enhancing the effectiveness of the Rafale, will quite likely achieve the impact of a much larger force.
Does the IAF have force multipliers? It does, but not in numbers commensurate with its size and responsibilities.
AWACS – A LONG WAY TO GO
AWACS aircraft are seen as the "big daddy" of force multipliers. Although the IAF needs 18 to 20 AWACS/AEW&C platforms to cover its long hostile borders and handle a possible two-front war, it has projected a requirement of 15 to the government. Its current holdings are just three Phalcon and two Netra systems. Phalcon is an advanced Israeli AWACS mounted on an Ilyushin Il-76TD jet transport and offers 360-degree coverage with over 400 km detection range. Netra mounted on an Embraer-145 aircraft is an AEW&C system developed by India's Defence Research and Development Organisation (DRDO). Although not as capable as the Phalcon, it offers a reasonable degree of coverage of around 200 km far more affordably.
In September this year, the Cabinet Committee on Security cleared a nearly 11,000 crore DRDO project to develop six new AEW&C jets for the IAF with two additional systems as options. The Airbus A321 aircraft, sourced from Air India, will be modified to carry an indigenous Active Electronically Scanned Array radar, more advanced than Netra. Once these systems become operational, perhaps seven years from now, they would boost the IAF's strength to 11 AWACS and AEW&C aircraft. This would help close the gap with China which already has over two dozen such platforms. Even Pakistan currently has seven Saab 2000 Erieye and four Shaanxi ZDK-03 Karakoram Eagle AEW&C aircraft.
FRA – FUEL FRIENDLY
Despite its size and strategic aspirations, the IAF has for long had to make do with just six Russian IL-78M FRAs. However, the IL-78M has limitations on load carrying as well as taking off with payload from high mountain bases such as Leh and Thoise. This limits the combat radius and capability of the IAF's top-notch fighters especially against potential targets in China. Efforts to acquire FRA of better capability, such as the Airbus A330 Multi Role Tanker Transport (MRTT), have thus far not borne fruit. However, the IAF has now approached the French government to lease one A330 for training purposes. It plans to acquire five more of these platforms on lease. The A330 MRTT is an excellent FRA and is also rapidly convertible to carry troops and weapons if required.
UCAV– UNSHACKLED
Each year brings new technological developments and challenges on the UAV and unmanned combat air vehicles (UCAV) front. In 2020, Azerbaijan used cheap and expendable UAVs or drones, at a fraction of the cost of fighter jets, to defeat the Armenian air defence. And June 27, 2021, sounded a loud wake-up call for India's military and political establishment when the IAF base in Jammu was attacked by a drone carrying improvised explosive devices. These drones were allegedly deployed by Pakistan-based terrorists.
Although this first such attack caused only minor damage, such attacks in future could be far more deadly. Indeed, the potential of unmanned attacks is growing by the day. China has developed a range of UCAVs and may have liberally shared these with Pakistan. The IAF, which has this capability only to a limited degree, needs to rapidly boost its unmanned strike assets.
There are welcome indications that the much-delayed 5,000 crore "Project Cheetah" may finally takeoff. Under this project, Israel will help upgrade 90 Heron UAVs of the three services with satellite navigation and specialised sensors as well as arm them with laser-guided bombs and other air-to-ground weapons. There is also some progress on a proposed $3 billion deal with the American government for India to acquire 30 MQ-9B Predator drones for long-range precision strikes against targets on land and sea. The IAF is also likely to issue a Request for Proposal to five domestic start-ups for the development of swarm drones capable of offensive action. The firms will be given all possible help to develop more complex systems and enhance swarm drone capability. Swarm attacks work on the principle of numerical strength to overwhelm the enemy's air defences and successfully inflict damage even against heavily defended targets.
AMCA–AWAITED
A fifth-generation multirole fighter is another highly-coveted force multiplier. Its features include all-aspect stealth even when armed, high-performance airframe, high-performance engine capable of supersonic cruise without afterburner and other facets. A decade of effort to co-develop a stealth fighter with Russia was abandoned in 2018 when the IAF concluded that the cost of the project was excessive and that technology transfer would not be adequate. However, 2021 brought some progress regarding the Advanced Medium Combat Aircraft (AMCA), an indigenous programme to develop a single-seat, twin-engine, all-weather fighter with fifth to sixth-generation features. The design is being undertaken by the Aeronautical Development Agency and production is expected through a public-private joint venture between DRDO, Hindustan Aeronautics Limited and a private company. Government approval is expected shortly. The first flight is expected by 2025 and serial production may begin by 2030. While the first two squadrons of AMCA Mark 1 will have GE F414 afterburning turbofan engines, the remaining four squadrons in Mark 2 configuration may be equipped with an indigenous engine.
IS THE GLASS HALF EMPTY OR HALF FULL?
Any force multiplier is most effective when the enemy does not possess it or does not have the means to defend against it. While the IAF is well endowed with another force multiplier – Electronic Warfare, so are its potential adversaries. Although the IAF has a dedicated military satellite, the GSAT-7A launched in December 2018, China already has dozens. Each new force multiplier provides an incentive to the other side to develop effective countermeasures as force multiplication is a game two can play.
As a hostile China rapidly modernises its military and Pakistan continues to needle India in new ways, such as through the Jammu attack, the IAF needs to be vigilant on all fronts. There is no denying the fact that the IAF's combat strength is way below comfort level. Fortunately, a long-awaited contract for 83 Tejas Mark-1A Light Combat Aircraft was inked in February 2021 with deliveries promised to commence in February 2024 and be completed in nine years. However, quick moves to induct additional force multipliers, especially UCAVs, will definitely boost the IAF's combat capability.
Recent progress regarding indigenous AEW&C and AMCA production as well as the efforts to lease much-needed FRAs have injected some positivity into the IAF's force multiplier assets. If the trend continues, the IAF can say with conviction that its glass is more full than empty.