Regional Connectivity Scheme (RCS) is a Golden Story of development in the North-East Region of the Country under the Government's UDAN initiative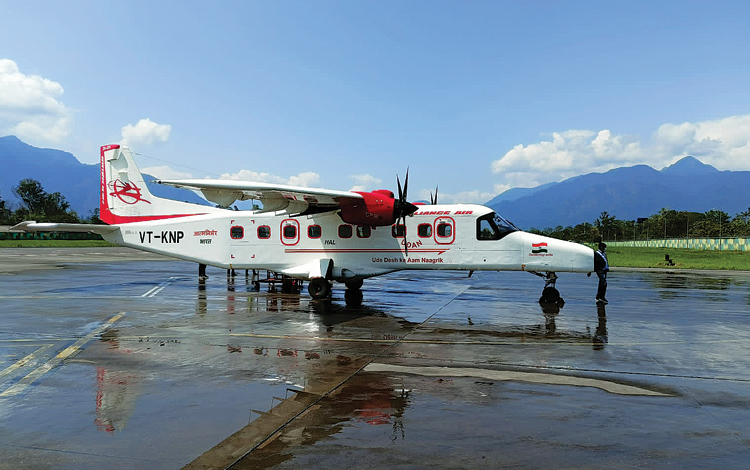 The 'Made in India' Dornier aircraft now provides air connectivity to five remote towns of Arunachal Pradesh and further boost air connectivity of North-Eastern Region with Rest of India
North-East is a distinct region. It is an ethically, culturally and geographically diverse region. The Northeastern region (NER) comprises of eight, by and large hilly states–Arunachal Pradesh, Assam, Mizoram, Meghalaya, Manipur, Tripura, Nagaland and Sikkim. The region shares international borders of 5,812 km with the neighbouring countries of China, Bangladesh, Nepal, Bhutan and Myanmar. The 60 km long and 22 wide Siliguri Corridor (called Chicken's Neck) connects the northeastern states to the rest of India. This region represents a huge untapped potential in regional connectivity in India.
The NER is endowed with rich natural resources such as oil and natural gas and agro and forest-based products. The Region is a major producer of tea and possesses one-third of the country's hydro-power potential. The scenic surroundings also provide an ideal setting for the promotion of the tourism industry. There is thus a dire need to develop economy of the region in tourism and organic produce sectors.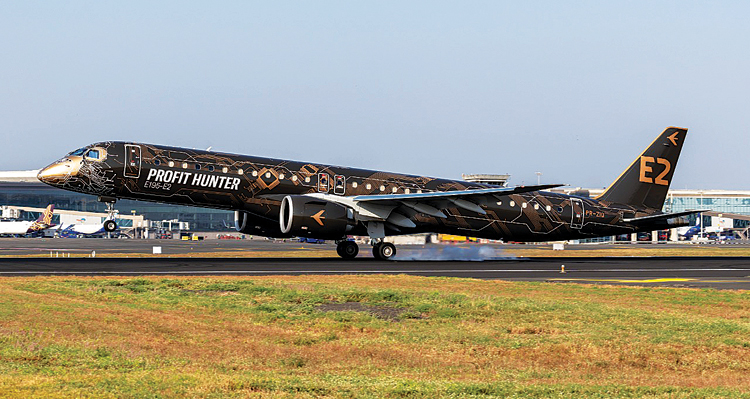 Mumbai International Airport (CSMIA) welcomed the stunning E2 which made maiden grand entry in Mumbai, recently. Embraer E2 is one of the major potential contributors in building India's regional connectivity.
RCS AIRPORTS & RCS ROUTES IN NORTH-EAST REGION (NER)
| | | |
| --- | --- | --- |
| Tripura | Nil RCS Airport | 6 RCS Routes |
| Mizoram | Nil RCS Airport | 2 RCS Routes |
| Manipur | Nil RCS Airport | 2 RCS Routes |
| Nagaland | Dimapur | 8 RCS Routes |
| Arunachal Pradesh | Passighat, Tezu | 6 RCS Routes |
| Assam | Jorhat, Lilabari, Tezpur Rupsi | 30 RCS Routes |
| Meghalaya | Shillong | 15 RCS Routes |
Improvements in connectivity and infrastructure, across the world has prodded the states into connectivity hubs, leading to fast paced development in all sectors of economy. While there are a lot of infrastructure development initiatives being progressed in the region, gestation period is very long. Work for Bogibeel Road-Railway Bridge, connecting Dhemaji district and Dibrugarh district on river Brahmaputra, started in 2002 and took nearly 200 months to complete. Airlines thus continue to be the fastest and most efficient mode to provide connectivity.
Air connectivity is critical to the North-East from a strategic and development perspective. Thus, a special boost needs to be given to improve connectivity in the North-East. The North-East's integration with the rest of the country via air links is very much part of India's look east policy.
In order to enhance air connectivity within various Tier-II and Tier-III cities, Ministry of Civil Aviation (MoCA) has launched its flagship RCS UDAN scheme. It is termed as Regional Connectivity Scheme UDAN (Ude Deshka Aam Nagrik). It has completed 5 years since the launch of it first flight by Prime Minister Narendra Modi on April 27, 2017. The scheme was initiated on October 2, 2016 with a noble objective to fulfil the aspirations of the common citizen by following the vision of 'Ude Deshka Aam Nagrik'.
RCS-UDAN was formulated based on the review of National Civil Aviation Policy (NCAP)-2016 and is planned to remain in force for a period of ten years.
New Airlines flying smaller regional aircraft are coming up in India in support of the UDAN scheme.
It has a self financing mechanism. Under the RCS UDAN Scheme, RCF was created, which caters for Viability Gap Funding (VGF) requirements of the scheme through a levy on certain domestic flights, so as to keep the fares affordable and accessible for the common people. This way, funds generated from the aviation sector themselves stimulate the growth and development of the sector. Put simply, it entices airlines to fly to un-served and under-served airports to connect all parts of the country.
Following the three successful rounds of bidding, the Ministry of Civil Aviation (MoCA) had launched the fourth round of UDAN in December 2019 with a special focus on North Eastern Regions, hilly states, and islands. The awarding of these new routes under UDAN 4 has been in line with the Act East Policy of the Government. Presently, RCS UDAN has operationalised 70 airports, against the target of 100 airports by 2024 (including 9 heliports and two water domes). At the national level 449 RCS routes are operational and as on date more than a crore passengers have flown on these routes.
The Prime Minister Narendra Modi inaugurated Donyi Polo Airport, near Itanagar (Arunachal Pradesh) on November 19, 2022. Work on the airport has been completed within a period of 32 months, despite the challenges due to the COVID-19. Prime Minister said, "Donyi Polo Airport will be the fourth operational airp ort in Arunachal Pradesh, taking the total count in the northeast region to 16".
According to published reports, NER has witnessed the highest growth rate in aircraft movement in August 2022 compared with the same month in 2017, an increase of 36 per cent from August 2017 to August 2022 (total of 7,973 flights). By comparison, growth was five per cent in the airports of the North and South regions, 14 per cent in the East and 0.5 per cent in the West. Guwahati has emerged to be the busiest airport in the region with 3,498 aircraft movements, followed by Agartala (Tripura) at 1,052. It is interesting to note that air connectivity to Shillong (Meghalaya), Dimapur (Nagaland), Dibrugarh and Lilabari (both Assam) has seen higher rate of growth than other airports in the region.
Seaplanes can be effectively used for connecting Tier-II and Tier-II cities located near waterways.
Reports indicate that Assam has gained maximum from the RCS UDAN scheme with four RCS operationalised airports at Jorhat, Lilabari, Tezpur and Rupsi and 30 RCS routes. Meghalaya with its single RCS airport at Shillong has added 14 routes. Arunachal Pradesh has operationalised Passighat and Tezu airport and a total of six RCS Routes. Nagaland has operationalised Dimapur airport and added eight RCS routes. Manipur, Mizoram and Tripura may not have added any RCS airports so far but, Manipur and Tripura have six RCS routes each and Mizoram has two RCS routes; Sikkim has its Pakyong RCS airport and six RCS routes.
The credit for progress should go to the initiative taken by major airlines and the interest that they have shown in the economic progress of the region. IndiGo, one of the largest airline by market share, considers NER to be of strategic importance. Of the total of 90 RCS routes operationalised by IndiGo across the country, 18 are in NER. Alliance Air has operationalised a total of 95 RCS routes nationally, of these 14 are in NER. Big Charter has operationalised a total of 90 RCS routes nationally, of these 16 are in NER. SpiceJet has taken the lead of operationalising all six routes from Pakyong in Sikkim. Big Carrier has also embarked upon its NER operations by taking on 16 routes in the region. These newly operationalised RCS routes provide connectivity within the NER airports as well as to cities outside the region including Kolkata and Delhi.
While the passenger traffic in the region is picking up, there is also a great amount of potential for growth of cargo traffic in the region, perishable fruits being grown in the region, viz organic produce from Sikkim and organic ginger from Tripura etc have international market. Air connectivity of cargo to Kolkata and from there to European market would provide a big boost to economy of the region. In the past five years, Imphal (Manipur) has registered a 61 per cent increase in terms of load carried.
NER as a region is strategically important to the country and is looking up to a fast paced increase in air connectivity. Considering the growth potential of economy riding on regional air connectivity, all the stakeholders- the state governments, MoCA, regional airlines and various states and local commerce bodies are actively taking initiatives towards coordinating for mutually beneficial solutions. RCS has brought NER to an interesting phase in its growth, next few years are important.