MEBAA Show 2022 is gearing up to take place in Dubai at DWC, Dubai Airshow Site from December 6-8, 2022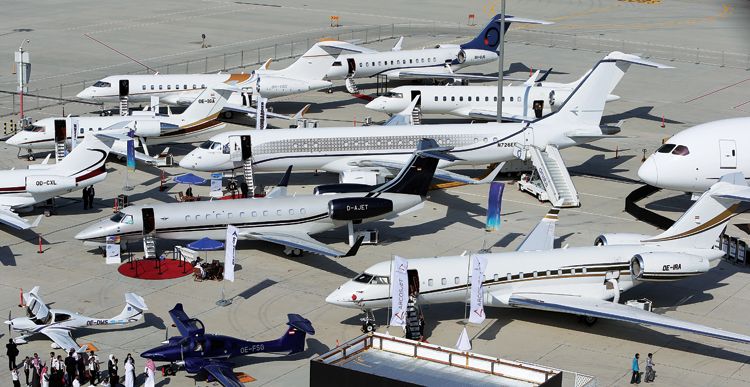 (File Photo) A line-up of business aircraft at MEBAA
Every aviation show is a melting pot of various aspects of the industry from all across the globe and before the year ends a coming together of business aviation industry is taking place in Dubai. After a halt of two years, the Middle East & North Africa Business Aviation Association (MEBAA) Show 2022 is set to take place in Dubai at DWC, Dubai Airshow Site from December 6-8, 2022, bringing together regional and global players from across the business and private aviation community. Themed "Leading the way for business aviation", the show will bring together industry operators and leaders for three days of insightful discussions, industry announcements and significant networking opportunities. This is the 9th edition of the show which will include new high-tech and ultra-luxurious jets, blockchain-based assets, eVTOL (electric Vertical Take Off & Landing) aircraft and several new and exciting features. The show is gearing up to be a key event for the region's business aviation industry and will gather industry leaders from across the globe to lay out the roadmap for business aviation in the future. With global events like Dubai Expo, FIFA World cup and extensive promotion of tourism, the Middle East region's aviation industry has seen positive activity. By 2037, the Middle East and Asia-Pacific are expected to be the fastest growing markets, with an annual RPK growth rate of 5.7 per cent, according to Embraer Market Outlook 2018. Bombardier predicts 350 deliveries to the Middle East valued at $12 billion over the next 10 years.
Ali Ahmed Alnaqbi, Founding and Executive Chairman of MEBAA, commented, "The business aviation industry has seen remarkable growth over the last few years, and this has opened up huge opportunities for innovation. With less than a few weeks to go, the entire community is looking forward to this major event in the business aviation industry that offers the ideal platform to showcase new technologies and solutions, network with industry leaders and tap into the latest trends that are shaping the future of business aviation. We look forward to welcoming representatives from across the sector and working together to take business aviation to new heights."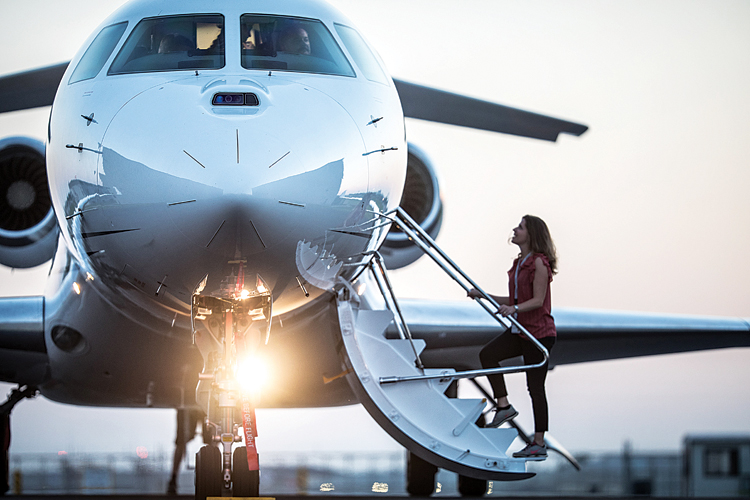 Unrivaled Comfort and Efficiency: Dassault Aviation Falcon 8X will be on display at the show
Offering a look at the facts and figures shaping the industry, Alnaqbi will present 'Emerging markets forecast - accessing the top countries who are contributing to business aviation growth', highlighting the regional trends that are vital for businesses to operate in the Middle East. There will also be a forward-thinking panel discussion on 'creating the ultimate flying experience for the elite', with a focus on how travel expectations are changing and what business aviation will look like in the next 20 years.
MEBAA 22 show will see the launch of its brand-new conference, BizAv Talks with over 20 sessions, more than 35 global industry leaders and specialists deepdive into the latest trends shaping the future of business aviation. Through a series of presentations, panel debates and interviews, elite players in their field will cover key themes including future aviation, sustainability, emerging markets and regulations, as well as reassess the dynamics of the industry and offer a new perspective on business aviation and how technology can enhance the customer experience.
Ali Ahmed Alnaqbi, Founding and Executive Chairman of MEBAA, commented, "The business aviation industry has seen remarkable growth over the last few years, and this has opened up huge opportunities for innovation."
With 'Air Mobility' and 'Sustainability' in private aviation at the top of the agenda for the industry, significant focus is expected to be on green issues and sustainability in private aviation, discussing best practices to meet green goals while protecting ROI. Dedicated sessions will also discover how eVTOLs are changing the way of flying and identify how business aviation can capitalise on Advanced Air Mobility technology, calculate ROI and accelerate investment to enable a move into Urban Air Mobility networks.Business aviation industry outlook including new business models and financial planning; alternative business models for bizav; financing, leasing, & fractional ownership; critical observation of global bizav trends will also be discussed.
WHAT TO EXPECT AT MEBAA SHOW 2022?
MEBAA Conference
The conference aims to discuss the future of private jet business models as aircraft owners are reassessing traditional business models to match this new era of aviation. As demand for private jets increase and customer expectations develop, it is paramount that business aviation stakeholders evaluate methods, product offering, value-added services and revenue sources to ensure they reach their new target customers. There has been a shift in passenger behavior as well and that demands a modification of the next-generation customer. Collaboration within the ecosystem is necessary to help streamline services and value creation, however the importance of cross-industry collaboration for tackling the biggest issues facing business aviation is critical. What technology can be used in business aviation to boost passenger confidence, how can aircraft owners diversify and tap into new opportunities, are some of the questions that the conference will aim to answer.


Best of Business Aircraft will be on display at MEBAA:
(Clockwise from Top Left) Bombardier Global 7500; Gulfstream G700; Embraer Praetor 600; Boeing Business Jet 737-700 by Royal Jet
During the MEBAA show Richard Koe, Managing Director of WINGX Advance GmbH, will be presenting the latest statistics and analysis on the Middle East business aviation market, with a specific focus on the KSA and UAE. Commenting ahead of this he said: "Business aviation demand in the Middle East and North Africa has seen an unprecedented upturn in the last few years. Particularly in the Gulf Region, the rapid policy response to the pandemic enabled an early exit from lockdown and created a haven for tourism during the pandemic in 2021. The region appears to be realising its long-term potential as a global gateway for trade, commerce and tourism between Asia, Africa and Europe, and business aviation is clearly playing its part. At WINGX we have seen a rapid acceleration in business jet connections with Africa, Asia and the CIS region, in addition to the more mature links with European cities. We look forward to discussing these trends at MEBAA in December."
As the next major event in the global business aviation calendar, the MEBAA Show 2022 will offer a platform to discuss the latest trends and showcase new aircraft and technologies shaping the business aviation industry, including eVTOLs, digitalisation, tokenisation and crypto-based payments. This year's show will also welcome more than 20 new exhibitors, with Executive Lifestyle, Tahseen, Ecommpay, VOO, Mirai Flights, Liberty Aviation, Prime Trip Support, Flight Consulting Group, AAL AG (Altenrhein Aviation) and AAS AG (Atlas Air Service) set to attend.
Putting innovation at the forefront, several new aircraft will be on display on the immersive show floor including the Boeing – 737, Dassault Aviation - Falcon 8X, Bombardier Aerospace - Global 7500, Gulfstream Aerospace Corporation - G700, Embraer - Praetor 600 and Phenom 300E and many more.
Aircraft Display
At the MEBAA show, the latest Business Aviation aircraft from major manufacturers and OEMs including Dassault Falcon, Embraer, Gulfstream, Bombardier and more on display. The 2022 edition will showcase an extensive range of small jets and bizliners to the latest electric planes and eVTOLS from leading aircraft manufacturers. Some of the aircraft on display at the show will be:
Bombardier: Global 7500
Comlux: SkyLady Boeing 767-200ER
Dassault: Falcon 8X
Gulfstream: G700 and G650ER
Embraer: Praetor 600 and Phenom 300E
Boeing: 737
Royal Jet: BBJ 737-700
Airbus: ACJ320neo
ASM FZE: Learjet 60XR