Top IAF commanders as well as independent aviation analysts believe that the Rafale gives the IAF capabilities that the Pakistan Air Force currently has no answer to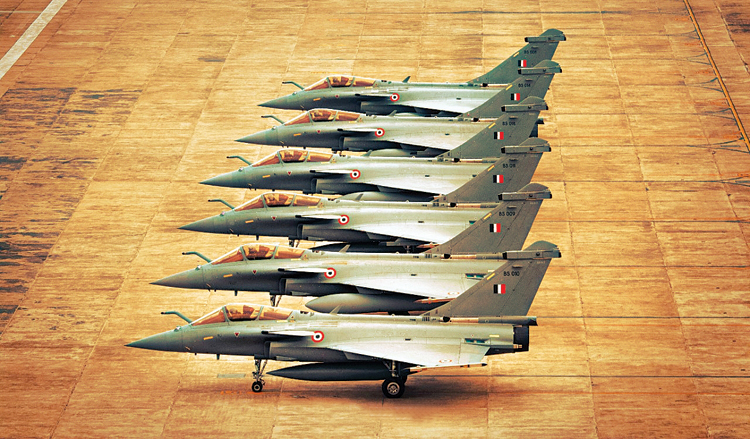 The newly inducted Rafale fighters in the IAF
This is a good time for the Indian Air Force (IAF). For over 15 agonising years the service was forced to watch its fighter fleet progressively dwindle, yet was unable to obtain urgent replacements. The tide at last seems to have turned with the welcome induction of two squadrons of Dassault Rafale fighter aircraft.
The Rafale is unquestionably a formidable beast, normally classified as a 4.5 generation combat jet. What is more, the IAF's Rafale comes with 13 India-specific enhancements (ISE) that make it the most advanced Rafale variant in the world. These enhancements are believed to include long-range Meteor air-to-air missiles, a low band frequency jammer, an advanced communication system, a more capable radio altimeter, a radar warning receiver, a flight data recorder, a high-altitude engine start-up system, a synthetic aperture radar, a ground moving target indicator and tracking system, an infra-red search and track system, a helmet-mounted display, missile approach warning systems, and very high frequency range decoys. The work of upgrading the IAF's Rafale jets to ISE standards was entrusted to the Ambala air base which has necessary maintenance-cum-repair facilities.
The Rafale is significantly superior to other fighters in the IAF's inventory. Being a relatively new aircraft (it entered service with the French Air Force in 2006) it also has a much longer operational life ahead. But what impact can just two squadrons have on the IAF's combat capability?
RENDEZVOUS WITH RAFALE
The Rafale is the IAF's first major fighter induction after the Su-30 MKI's entry into service in September 2002. The number of Su-30 MKI aircraft built for the IAF has reached 272. A planned order for another 12 jets appears somewhat uncertain due to the Ukraine conflict. Nevertheless, especially if a proposed indigenous upgrade goes through, the Su-30 MKI will remain the backbone of the fighter fleet for at least another two decades. The Rafale is unlikely to come anywhere close to these numbers.


FIGHTER FLEET OF THE IAF: (CLOCKWISE FROM TOP LEFT) SUKHOI SU-30 MKI; MIRAGE 2000; JAGUAR; LCA TEJAS.
It may be recalled that an inter-governmental agreement with France to purchase 36 Rafale jets at a cost of 59,000 crore was signed in September 2016. The first batch of five Rafales arrived in India on July 29, 2020, and were inducted into 17 Squadron 'Golden Arrows' at Ambala. Once 17 Squadron attained full strength, the IAF began equipping 101 Squadron 'Falcons' at Hasimara.
Top IAF commanders as well as independent aviation analysts believe that the Rafale gives the IAF capabilities that the Pakistan Air Force (PAF) currently has no answer to. In an attempt to counter the Rafale, Pakistan has started inducting 25 Chengdu J-10C multirole fighters from China, and more may follow. The US has also decided to upgrade Pakistan's F-16 fighter fleet. However, neither aircraft can match the Rafale. The IAF's other potential adversary, the People's Liberation Army Air Force (PLAAF), now boasts of the Chengdu J-20 twinjet. Although China classifies the J-20 as a fifth-generation fighter, its stealth characterises are suspect and its other performance parameters are just about on par with the Rafale.
HAL has set up a new assembly line to boost Tejas Mark 1A production from eight to 16 aircraft a year and delivery is due to start by February 2024
What makes the Rafale a fearsome fighter is mainly its avionics and armament suites. It was the first European combat aircraft to use an Active Electronically Scanned Array (AESA) radar. Its SPECTRA Electronic Warfare (EW) system gives it outstanding survivability against the latest airborne and ground threats. It has net-centric capability, multi-sensor data fusion software and a secure data link. It is equipped with a range of advanced air-to-air and air-to-ground weaponry, including the MBDA Meteor beyond visual range (BVR) air-to-air missile, the Scalp cruise missile and the MICA BVR interception, combat and selfdefence missile.
PARLOUS STATE OF THE IAF FIGHTER FLEET
But what counts for any air force is not just capability, but capability with numbers. The last time the IAF had its authorised 42 combat squadron strength – the assessed minimum required to deal with a collusive two-front-threat from China and Pakistan – was in 2002. Thereafter the numbers have plummeted.
Currently the IAF has just 31 fighter squadrons:
two Rafale squadrons
13 Su-30 MKI squadrons
two Tejas Mark 1 squadrons
three Mirage 2000 squadrons
five Jaguar squadrons
three MiG-29UPG squadrons
three MiG-21 Bison squadrons.
However, several legacy fighters are falling due for retirement. All MiG-21 Bison squadrons will be history by 2025 with a consequent fall in the IAF's strength to 28 squadrons. Next in line are the Jaguars and MiG-29s, a squadron or two at a time, followed by the Mirage 2000s early in the next decade. The IAF would again try and delay the demise of these fleets as long as possible, as it was constrained to do with the MiG-21s, MiG-23s and MiG-27s.
REASON FOR REASSURANCE
How will the IAF's combat strength be enhanced?
In February 2021, an order worth 46,898 was placed with Hindustan Aeronautics Limited (HAL) for 83 LCA Tejas Mark 1A jets (four squadrons) to add to the 40 Mark 1 fighters (two squadrons) already under delivery. HAL has set up a new assembly line to boost Tejas Mark 1A production from eight to 16 aircraft a year. Delivery is due to start by February 2024 and be completed by February 2029.
In September 2022, the government approved the LCA Tejas Mark 2 fighter programme and sanctioned an additional 6,500 crore for prototypes, flight testing and certification. Six squadrons are planned to be inducted into the IAF's fighter fleet, replacing the current Mirage 2000, Jaguar, and MiG-29 squadrons. Four more squadrons may follow. The 15.5 tonne Tejas Mark 2 is a Medium Weight Fighter with improved aerodynamics and greater payload carrying capacity than the Mark 1A. It will be powered by one General Electric F414-INS6 turbofan rated at 98kN with afterburner. It is expected to emerge as a 4.5-generation machine with 70 per cent indigenisation as against 62 per cent in the Mark IA. The first flight is planned for mid-2025 and series production should commence by 2027-2028.
The Multi-Role Fighter Aircraft (MRFA) proposal has been around since the turn of the century, with many twists and turns. Responses to a Request for Information (RFI) for this 114-aircraft project sent to global aerospace majors in 2018 are being processed. The jets would be acquired under the 'Make in India' initiative of DAP-2020, ensuring substantial transfer of key technologies to an Indian Production Partner (IPP). Quite likely, 18 aircraft may be purchased outright, while the remaining 96 will be produced within the country. Once this project finally fructifies, it will bring in a very welcome six squadrons in a phased manner. However, the earliest these aircraft can commence induction is towards the end of this decade.
The Aeronautical Development Agency (ADA) is also overseeing development of the Advanced Medium Combat Aircraft (AMCA) fifth-generation combat jet. The first flight is expected in the next five years and induction of the aircraft is expected to commence around 2035.
In September 2021, it was reported that the IAF would procure 24 retired French Air Force Mirage 2000 combat jets and the first two were received in November 2021. However, only 13 are in 'ready-to-fly' condition. The remaining 11 will be used for extraction of spares to maintain fleet serviceability. In July 2022, Russia made a commercial offer to deliver 21 mothballed MiG-29 fighters after upgradation. However, with the war in Ukraine dragging on, it is unlikely that a deal will be signed in the near future.
In the medium-to-long term, the entire IAF fighter fleet needs to switch to 4.5 and fifth-generation aircraft. Apart from the Rafale, and to a certain extent the Su-30 MKI, the rest of the fleet clearly has a 20th century appearance
According to a statement by the Chief of the Air Staff, Air Chief Marshal V.R. Chaudhari, in September 2022, "With inductions of around six squadrons of LCA Mark 2, AMCA, and MRFA, we will be at 35 to 36 squadrons by the middle of the next decade."
AIMING FOR THE 21ST CENTURY
With China periodically making aggressive moves on the border and the PLAAF rapidly modernising, there is no room for complacency. Pakistan is also unlikely to turn friendly – a tiger cannot change its stripes. Should there be a sudden skirmish with either adversary, the Rafale would prove invaluable.
However, in the medium-to-long term, the entire IAF fighter fleet needs to switch to 4.5 and fifth-generation aircraft. Apart from the Rafale, and to a certain extent the Su-30 MKI, the rest of the fleet clearly has a 20th century appearance. It is likely to be found wanting in an all-out air war. Consequently, any rejoicing over the acquisition of just two Rafale squadrons may be premature unless it is followed by speedy sanction of the MRFA and rapid progress of the Tejas Mark 2 and AMCA. For the MRFA project, the Rafale is probably the best bet because the IAF would not like to operate many different types of fighters. The IAF's two Rafale squadrons are therefore only the first step towards its transformation into a 21st century force.