The former national carrier has placed bulk orders with aircraft manufacturers Airbus and Boeing for aircraft as well as for engines with Rolls-Royce, GE Aerospace & CFM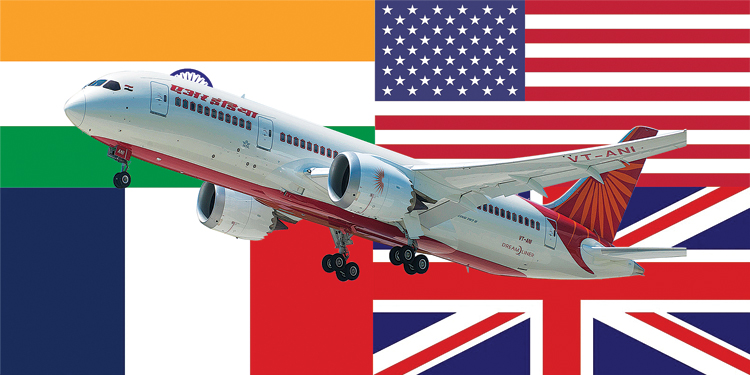 Air India's acquisition of 470 wide-body and narrow-body aircraft is valued at $70 Billion
Air India, India's former national carrier, has been on fire lately, going out and about its transformation phase. On February 14, 2023, Air India announced signing letters of intent with two of the largest global aircraft manufacturers, Airbus and Boeing, to acquire both widebody and single-aisle aircraft.
On January 27, Air India completed one year under the Tata Group. In a government-led strategic divestment programme, the Tatas purchased a 100 per cent stake in Air India and Air India Express.
On January 27, Air India completed one year under the Tata Group. In a government-led strategic divestment programme, the Tatas purchased a 100 per cent stake in Air India and Air India Express.
THE FLEET
Air India is trying to extend its future fleet and advance its fleet strategy in the hope to service South Asia's fast developing domestic and international air transport industry in a sustainable manner.
Air India plans to add more than 90 planes to its fleet by 2025, including 56 planes from mega-orders inked with Airbus and Boeing. They will be in addition to the airline's previously planned leases of 36 planes in 2022.
Tata Sons and Air India Chairman, N. Chandrasekaran, said, "Air India is on a large transformation journey across safety, customer service, technology, engineering, network and human resources. Modern, efficient fleet is a fundamental component of this transformation. This order is an important step in realising Air India's ambition, articulated in its Vihaan.AI transformation programme, to offer a world class proposition serving global travellers with an Indian heart."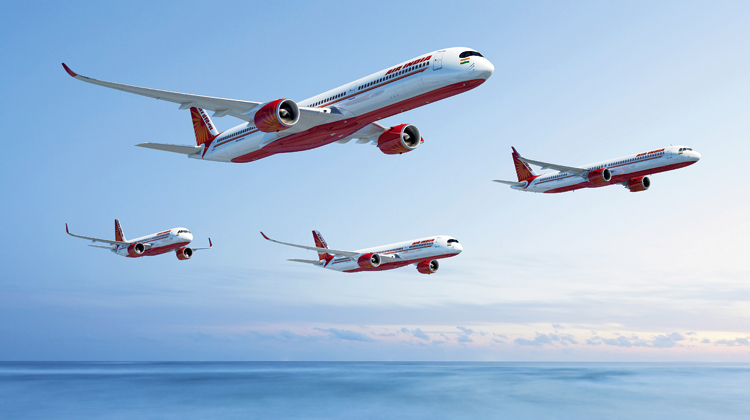 UNDER THE OWNERSHIP OF THE GOVERNMENT, AIR INDIA HAD NOT PURCHASED A SINGLE AIRCRAFT SINCE 2005
Vihaan.AI is Air India's transformational roadmap over five years with clear milestones. It will be focussing on dramatically growing both its network and fleet, developing a completely revamped customer proposition, improving reliability and ontime performance. The airline will also be taking a leadership position in technology, sustainability, and innovation, while aggressively investing in the best industry talent. Vihaan.AI is aimed at putting Air India on a path to sustained growth, profitability and market leadership.
"These new aircraft will modernise the Airline's fleet and onboard product, and dramatically expand its global network. The growth enabled by this order will also provide unparalleled career opportunities for Indian aviation professionals and catalyse accelerated development of the Indian aviation ecosystem," added Chandrasekaran.
Air India ordered 250 Airbus aircraft that includes 140 A320neo and 70 A321neo single-aisle aircraft as well as 34 A350-1000 and six A350-900 wide-body jets
The first new aircraft will enter service in late-2023, with the majority arriving by mid-2025. In the meantime, Air India has begun taking possession of 11 leased B777 and 25 A320 aircraft in order to speed fleet and network expansion. The airline emphasised that the new aircraft, which would have a totally new cabin interior, will complement Air India's previously announced intention to retrofit its existing widebody B787 and B777 aircraft with new seats and in-flight entertainment systems. The first of these refurbished planes will go into service in mid-2024.
Under the ownership of the government, Air India had not purchased a single aircraft since 2005 and the last order was for 111 aircraft -- 68 with Boeing Co and remaining 43 with Airbus -- and that deal was worth $10.8 billion.
The Air India group currently consists of full-service Air India and two low-cost subsidiaries, Air India Express and AirAsia India, which are merging. Tata Sons also recently announced the merger of Vistara, a 51:49 joint venture between Tata Sons and Singapore Airlines, with Air India, with Singapore Airlines holding a 25.1 per cent share in the merged firm.
Vistara and Air India, both owned by Tata Sons, have begun their integration process in order to finalise the merger as soon as possible. A team of senior executives from Air India and Vistara, along with consultancy firm Deloitte, have reportedly begun the process of human resource integration, while law firm AZB Partners is working on legal and regulatory compliance.
AIRBUS
Air India ordered 250 Airbus aircraft that includes 140 A320neo and 70 A321neo single-aisle aircraft as well as 34 A350-1000 and six A350-900 widebody jets that envisions to mark a new era for the country as the all-new, longrange aircraft celebrates its debut in the Indian market. Deliveries are set to commence with the first A350-900 arriving by late-2023.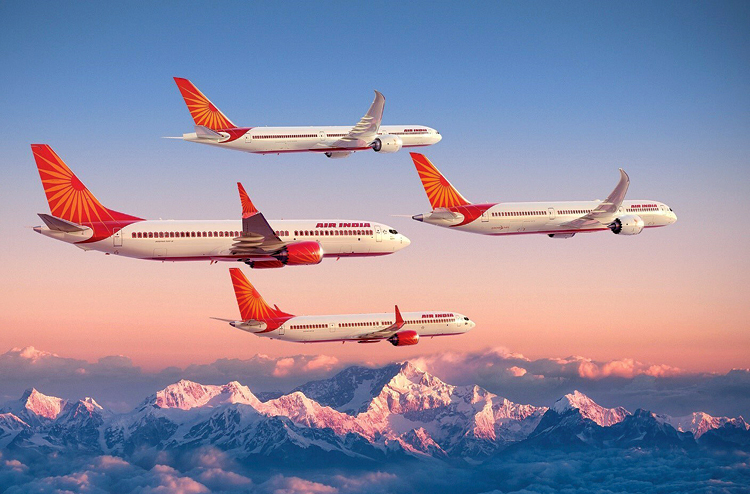 AIR INDIA PLANS TO ADD MORE THAN 90 PLANES TO ITS FLEET BY 2025
"This is a historic moment for Airbus and for Air India. India is on the verge of an international air travel revolution and we are honoured that our partnership with the Tatas and our aircraft solutions will write that new chapter for the country's airconnectivity," says Christian Scherer, Airbus Chief Commercial Officer and Head of International. "The A350's unique capability will unlock the pent-up potential of India's long-haul market, its technology, long reach and second to none comfort will enable new routes and passenger experience with better economics and enhanced sustainability. Alongside the A350s, the A320 Family fleets will be the efficient, versatile asset to continue democratising and decarbonising air travel in the country – from domestic, regional, up to international levels. We salute Air India for its visionary strategy, picking the two reference aircraft types in each of their categories. We are thrilled and humbled to see these aircraft become the cornerstones of Air India's renaissance. This fleet will propel the airline globally where it deserves to be - with the best," he added.
The A350 is among the world's most modern and efficient wide-body aircraft in the 300-410 seater category. The A350's clean sheet design includes state-of-the-art technologies and aerodynamics delivering unmatched standards of efficiency and comfort. Its new generation engines and use of lightweight materials bring a 25 per cent advantage in fuel burn, operating costs and carbon dioxide (CO2) emissions, compared to previous generation competitor aircraft.
Air India also announced the selection of up to 290 Boeing jets to expand its future fleet with plans to invest in 190 737 MAX, 20 787 Dreamliner and 10 777X airplanes
The aircraft offers a 3-class configuration cabin that holds the promise of being the quietest of any twin-aisle and offers passengers and crew the most modern in-flight products for the most comfortable long-range flying experience.
The A321neo is the longest-fuselage member of Airbus' best-selling, single-aisle A320 Family, comfortably seating 180 to 220 passengers in a typical two-class layout, and as many as 244 in a higher-density arrangement. The A320neo has already set the standards as the world's most comfortable short-to-medium-haul aircraft that typically accommodates from 140 to 170 passengers, with a maximum capacity of up to 180 travellers. Its environmental performance allows for at least 20 per cent less fuel burn and CO2 emissions as well as 50 per cent noise reduction, compared to previous generation aircraft.
BOEING
Apart from Airbus, Air India also announced the selection of up to 290 Boeing jets to expand its future fleet with plans to invest in 190 737 MAX, 20 787 Dreamliner and 10 777X airplanes.
"This acquisition of nearly 300, highly advanced Boeing jets is a core element of Vihaan.AI, the comprehensive transformation and growth strategy we are pursuing at Air India. These new airplanes will enable us to dramatically expand our network, both domestically and internationally, and will come with a completely new, world-class onboard product enabling passengers to travel in the highest levels of comfort and safety. With this order, we are delighted to take our long relationship with Boeing to a new level," said Campbell Wilson, CEO and MD, Air India.
The agreement between Boeing and Air India includes options for 50 additional 737 MAXs and 20 787-9s. This will be the largest Boeing order in South Asia and a historic milestone in the aerospace company's nearly 90-year partnership with the carrier. The 737 MAX is likely to make way for flexibility across Air India's domestic and international network while reducing fuel use and emissions by 20 per cent compared to the airplanes it replaces.
"Air India's selection of Boeing's family of passenger jets shows their confidence in our products and services in the world's fastest growing aviation market, and their decision will support engineering and manufacturing jobs at Boeing factories in Washington state, South Carolina and across our supply base," said Stan Deal, President and CEO of Boeing Commercial Airplanes. "With the industry-leading fuel efficiency of the 737 MAX, 787 Dreamliner and 777X, Air India is well positioned to achieve its expansion plans and become a world-class global airline with an Indian heart."
The White House, in a separate release, also confirmed the signing of the Air India-Boeing pact. "This announcement reflects the strength of the US-India economic partnership," it quoted US President Joe Biden as saying.
Air India has also contracted with Boeing Global Services for lifecycle support services, including digital solutions, spare parts and landing gear exchange programs, pilot and maintenance technician training, aircraft modifications and other services.
With a fleet of 27 787-8s, Air India has profited from the efficiency and flexibility of the 787 Dreamliner series. The larger 787-9 will have more capacity, a longer range, and 25 per cent higher fuel efficiency than previous generations of planes. The 737-8, which can seat 162 to 210 passengers depending on configuration and has a range of 3,500 nautical miles, is the most adaptable single-aisle airliner, capable of operating successfully on short- and medium-haul routes. The flagship 777-9 will be Air India's largest plane, allowing it to fly passengers nonstop and in greater comfort to practically any long-haul destination. The 777X has a roomy cabin, unique bespoke architecture, and 787 improvements. With revolutionary aerodynamic and engine advancements, the 777-9 promises to use 10 per cent less fuel, emit 10 per cent less pollution, and have 10 per cent lower operating expenses than the competition.
ENGINES
CFM
Air India signed the agreement for the largest ever CFM LEAP engine order, placing a record order of more than 800 CFM LEAP engines. CFM will exclusively power all single-aisle aircraft i.e. the airline's newly announced fleet of 210 Airbus A320/A321neo and 190 Boeing 737 MAX family aircraft. Air India's firm order includes 420 LEAP-1A, 380 LEAP-1B, plus spares. Air India also signed a multi-year CFM services contract.
GE Aerospace
Air India also signed a firm order with GE Aerospace for 40 GEnx-1B and 20 GE9X engines, plus a multi-year TrueChoice engine services agreement. The deal was signed in coordination with the airline's firm order for 20 Boeing 787 and 10 Boeing 777X aircraft. The latest announcement includes GE and CFM's most technically advanced commercial engines. The GE9X engine offers the lowest NOx emissions in its class, 55 per cent below current regulatory requirements. It also boasts to be the quietest GE engine ever produced on a pounds of thrust per decibel basis. The GEnx, has an innovative lean burning twin-annular pre-swirl (TAPS) combustor that dramatically reduces NOx and other regulated gases below today's regulatory limits, offering 15 per cent better fuel burn than the CF6 engine. Like all GE and CFM engines, the GEnx, GE9X and LEAP are compatible with all approved Sustainable Aviation Fuel (SAF) blends.

(LEFT) CFM LEAP-1B ENGINE; (RIGHT) GENERAL ELECTRIC GE9X ENGINE.
GE Aerospace also provides multiple systems for the Boeing 777X. This includes the Enhanced Airborne Flight Recorder (EAFR), the Electrical Load Management System (ELMS) and the Backup Generator, Backup Converter (BUG/BUC) and the Common Core System (CCS). The CCS is often referred to as the "central nervous system and brain" of the airplane and hosts the aircraft's avionics and utilities functions, eliminating several boxes and reducing hundreds of pounds of wire. GE Aerospace also supplies the CCS and EAFR for the Boeing 787. Engineers at the John F. Welch Technology Centre (JFWTC) in Bengaluru, India, GE's research and development center, have played a key role in the technology development of the GE9X, GEnx, and CFM LEAP engines by providing analysis and test validation support. The center has close to 1,000 engineers working to support next-gen technologies to reduce CO2 emissions.
GE Aerospace has powered Air India since 1982, when the airline took delivery of its first CF6-powered Airbus A300. The airline currently operates a fleet of more than 150 aircraft, including GE90-powered Boeing 777s and GEnx-powered Boeing 787s.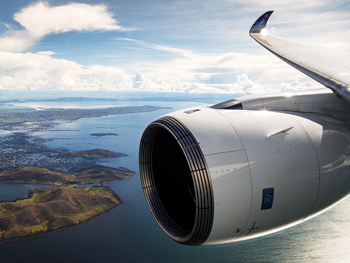 ROLLS-ROYCE TRENT XWB-97 ENGINE
Rolls-Royce
Rolls-Royce announced it has received an order from Air India for 68 Trent XWB-97 engines, plus options for 20 more. This is the biggest ever order for the Trent XWB-97, which exclusively powers the Airbus A350-1000. Air India has also ordered 12 Trent XWB-84 engines, the sole engine option for the Airbus A350-900.
This is the first time that an Indian airline has ordered the Trent XWB and the deal will make Air India the largest operator of the Trent XWB-97 in the world, Rolls-Royce stated.
The Trent XWB aims to support Tata Group and Air India's ambitious growth plans for the airline, providing reliability, flexibility and efficiency to its fleet as well as the vision to become the world's most technologically advanced airline. With a 15 per cent fuel consumption advantage over the first generation of Trent engine, the Trent XWB goes further on less fuel, and offers leading performance and noise levels. It is also ready to operate on a 50 per cent SAF blend.
"Air India is on a large transformation journey across safety, customer service, technology, engineering, network and human resources. This order is an important step in realising Air India's ambition, articulated in its Vihaan. AI transformation programme, to offer a world class proposition serving global travellers with an Indian heart."
—N. Chandrasekaran, Chairman, Tata Sons and Air India
CABIN CREW
Air India also recently announced plans to hire over 4,200 cabin crew trainees and 900 pilots in 2023. The cabin crew, who will be recruited from around the country, will undergo a 15-week programme imparting safety and service skills. The training programme will include extensive classroom and inflight training at the airline's training facility in Mumbai as well as familiarisation flights. Notably, between May 2022-February 2023, Air India has hired over 1,900 cabin crew. Over 1,100 cabin crew have been trained in the last seven months (between July'22- January'23), and in the past three months, approximately 500 cabin crew have been released for flying by the airline.
Commenting on the hiring plans, Sandeep Verma, Head - Inflight Services said, "With a sizeable aircraft order, more flights on international and domestic networks, and re-alignment of domestic routes with AIX connect, cabin crew will play a decisive role in shaping the present and future of the Air India group. Addition of fresh talent will also accelerate the pace of cultural transformation at Air India, which is an integral part of our Vihaan.AI transformation programme. We are also looking to step up hiring of more pilots and maintenance engineers."
INDIAN AIRLINES
According to CAPA, Indian airlines are set to put orders for up to 1,700 planes within the next two years. Apart from Air India's large order, IndiGo is said to have ordered roughly 500 jets for its development strategy, while Vistara would receive 17 more Boeing planes. In the 2022 December quarter, IndiGo added 22 passenger aircraft (net of deliveries) to reach the 300 aircraft mark. Akasa Air, which launched services in August last year, has placed an order for 72 Boeing 737 Max planes. Air India, IndiGo, Akasa Air, Go First, and Vistara have together placed orders for at least 1,115 planes. Prime Minister Narendra Modi had also said the country's growing aviation sector would need over 2,000 aircraft in the next 15 years. Presently, the country has roughly 700 commercial aircraft, the vast majority of which are narrow-body or single-aisle planes. In India, approximately 470 Airbus jets and approximately 159 Boeing planes are in commercial service.
India is one of the world's fastest expanding aviation markets, and Boeing forecasted that the country will require roughly 2,210 new planes over the next two decades, with annual domestic air traffic growth of nearly seven per cent until 2041. According to CAPA's report, the overall commercial Indian fleet of roughly 700 aircraft is smaller than some of the world's largest individual airlines, and given the vast potential, it stands to reason that more aircraft are needed.