India's aviation sector has played a pivotal role in nation building by facilitating rapid connectivity across diverse regions, promoting economic growth through trade and tourism, and enhancing national security through efficient air transportation and defence capabilities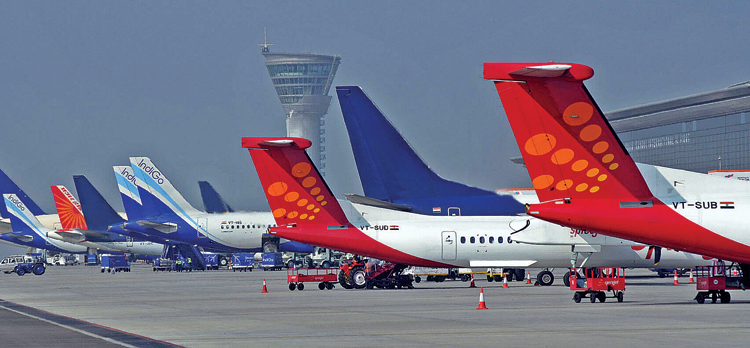 AVIATION IN INDIA HAS ENABLED SWIFT AND EFFICIENT MOVEMENT OF PEOPLE, GOODS, AND RESOURCES ACROSS VAST DISTANCES, BRIDGING REMOTE REGIONS, BOOSTING TRADE, TOURISM, AND ECONOMIC DEVELOPMENT IN THE COUNTRY
PEEK INTO HISTORY
Jehangir Ratanji Dadabhoy, the 'Father of Indian Aviation', established India's first licensed commercial carrier, Tata Airlines in 1932. It was based out of Mumbai and transported both mail and passengers across India. In 1946 it changed its name to Air India. Pursuant to the Air Corporations Act, 1953 the Indian Government acquired 49 per cent of the company, and fully nationalised the airline. This law not only allowed the Government to gain control over the erstwhile Tata Airlines, but also nationalised the entire sector. All existing airlines were merged into either Indian Airlines Corporation or Air India International. This monopoly continued for the next forty years till the Indian economic liberalisation of the 1990's that the aviation sector was again opened to private participation. In a full circle of events Tata Group took over the operations of Air India on January 27, 2022, marking the beginning of a new chapter for Air India.
The aviation sector developed sluggishly in India, mainly because air transportation had traditionally been for the elite and not the masses. However, in the last decade the sector has experienced exponential growth due to structural reforms, airport modernisation, entry of private airlines, adoption of the low-cost models and improvements in service standards. The government has also played a big role in supporting growth in aviation by encouraging the private sector to become more involved in the construction of airports through Public Private Partnership models and by providing state support in concessional land allotment, financing, tax holidays and other incentives.
The civil aviation sector consists of several segments; however, the sector's health is primarily identified with the growth of scheduled airline and public airport activity. The civil aviation industry in India has emerged as one of the fastest growing industries in the country and is expected to continue well into the future. The International Air Transport Association (IATA) has stated that the total annual passengers in India will increase to 367 million by 2034, this means not only a surge in aviation services but also an increase in demand for maintenance, repair, and overhaul (MRO) services, airport and customer support services, skilled manpower including pilots, cabin crew and maintenance engineers.
Indian combat aviation was born on October 8, 1932, when the Indian Air Force came into existence. Today with sustained efforts over the last 75 years the major components of military aviation are the IAF along with the aviation wings of the Army and the Navy, the Indian Aerospace Industry and the Research & Development establishments engaged in aerospace research, including the design and development of aviation related hardware and software.
Aviation Industry in India traces back to Hindustan Aeronautics Limited (HAL) which was established as Hindustan Aircraft in Bangalore in 1940 by Seth Walchand Hirachand to produce military aircraft for the Royal Indian Air Force. In 1943 the Bangalore factory was handed over to the United States Army Air Forces and became the 84th Air Depot for major overhaul & repair of American aircraft. After India gained independence in 1947, the management of the company was passed over to the Government of India.
The rising middle-income households, healthy competition amongst Low-Cost Carriers, infrastructure build-up at leading airports and supportive policy framework has given a positive push to the aviation sector
HAL was formed on October 1, 1964 when it joined the consortium formed by the IAF Aircraft Manufacturing Depot, Kanpur (at the time manufacturing HS748 under licence). HAL over the last six decades has established 11 dedicated Research and development (R&D) centres and 21 manufacturing divisions under 4 production units spread across India. It is now designing and manufacturing fighter jets, helicopters, jet engine & marine gas turbine engine, avionics, software development, spares supply, overhauling and upgrading of Indian military aircraft. It is one of the largest aerospace companies in Asia and has annual turnover of over 26,500 crore.
ECONOMIC ACTIVITY
Discussing the Indian Aviation Industry, it has become the essential link for national and International travel and trade, which was once the elitist activity. It is important for the economic development of the Nation because of the ability to augment business activity. Globalisation is the key in the development of tourism, which has permeated in all areas like promotion of products, job enhancement, health sector and tourism. Thanks to globalisation we are now witnessing a huge connectivity of India in the International markets.
The linkage between civil aviation sector and economic activity with its catalytic impact on general development is well recognised. The ICAO estimated that $100 spent on air transport produce benefits worth $325 for the economy and 100 additional jobs in air transport result in 610 new economy wide jobs. The ICAO study attributes over 4.5 per cent of global GDP to the air transport component of civil aviation. An efficient aviation sector is therefore essential to support tourism, an industry with immense employment opportunity. With middle-class people taking to the skies against the backdrop of economical air fares, the Indian aviation market has grown at an average rate of 16 per cent over the last decade. India is expected to overtake China and the United States as the world's third-largest air passenger market by 2030. Further, the rising demand in the sector has pushed the number of airplanes operating and are expected to reach 1,100 by 2027. There have been occasional dips due to economic recessions, epidemics, natural disasters and political upheavals which reflect the extreme sensitivity of the sector to external global factors.
The government has allowed 100 per cent FDI under the automatic route in scheduled air transport service, regional air transport service, and domestic scheduled passenger airlines. AAI and other airport developers have targeted a capital outlay of approximately 98,000 crores in the airport sector in the next five years. The number of PPP airports is likely to increase from five in 2014 to 24 in 2024. India aims to have 220 new airports by 2025. Cargo flights for perishable food items will also be increased to 30 per cent with 133 new flights in the coming years. The rising middle-income households, healthy competition amongst Low-Cost Carriers, infrastructure build-up at leading airports and supportive policy framework has given a positive push over the years to the aviation sector. The rise in demand for air travel in India has necessitated the development of a robust ecosystem and supportive government policies.
POLICY REFORMS
Through the National Civil Aviation Policy 2016 (NCAP) the government plans to take flying to the masses by enhancing affordability and connectivity. It promotes ease of doing business, deregulation, simplified procedures, and e-governance. The Regional Connectivity Scheme or UDAN ('Ude Desh ka Aam Nagrik') is a vital part of NCAP 2016. The scheme plans to enhance connectivity to India's unserved and under-served airports and envisions to make air travel affordable and widespread. The Government has set a target to operationalise 1,000 UDAN routes and to revive/develop 100 unserved & underserved airports/heliports/water aerodromes, including 68 aerodromes by 2024.
MoCA has released Krishi UDAN 2.0 which lays out the vision of improving value realisation through better integration and optimisation of Agri-harvesting, air transportation, contributing to the value chain sustainability and resilience under diverse conditions. After a 6-month successful trial of Krishi Udan 2.0 five new airports namely Belagavi, Jharsuguda, Jabalpur, Darbhanga and Bhopal were added to the existing 53 airports.
The National Air Sport Policy was launched in June 2022. It lays out the vision of making India as one of the top sports nations by 2030, by providing a safe, affordable, accessible, enjoyable, and sustainable air sports ecosystem in India, that include air-racing, aerobatics, aero modelling, hang gliding, paragliding, para motoring and skydiving etc.
The Central Government has approved the PLI scheme as a follow-through of the liberalised Drone Rules, 2021 released on August 25, 2021. These initiatives will catalyse growth in the emerging drone sector. Drone market is projected to reach up to 2,95,000 crore by 2030. India is now a green zone where no permission is required to operate a drone.
JOB CREATION
There are two kinds of jobs that are created with the growth of aviation sector, direct and indirect employment. Direct Employment include those who are directly employed by the airline, for example, pilots, cabin crew, all technical and non-technical staff, this is around 175 for a narrow-body aircraft. And, adding indirect people i.e. external to the company, supporting the aircraft including airport staff, air traffic controllers, transport vendors, service providers, and others, this number comes up to 400 for a narrow body plane. Direct employment in case of widebody is around 250 to 300 and after including indirect employment, this number can go up to 600 to 700. That's the magnitude of the creation of jobs in the Indian aviation sector which has around 700 commercial aircraft, a majority of them being narrow-body and poised for expansion to more than 1,100 planes comprising wide-body and narrow-body aircraft. In India, narrow-body aircraft currently account for 82.5 per cent of the current fleet of major commercial Indian airlines, whereas wide-body aircraft are at seven per cent.
India's aviation regulator, the DGCA, also needs to increase its workforce to keep up with the gruelling demand of monitoring the country's expanding fleet. It is believed that DGCA also plans to hire 1,000 employees by the end of this decade. Air traffic controllers are also in high demand, particularly as new airports are being built nationwide.
The airline industry also gives back to the community through its support to charitable organisations. Every major airline has contributed substantially to charities and philanthropic activities. Multi-skill Development Centre (MSDC) for Aviation Skilling has been set up at Chandigarh under the Corporate Social Responsibility (CSR) scheme funded by Airports Authority of India (AAI). Aviation Skill Development Centre has been set up at Mumbai by LearnNet Skills as training implementation partner for CSR project of AAI.
SKILLING INDIA
In the hierarchy of skills relevant to Aviation, the demand for skilled cockpit crew is top priority. The DGCA has officially approved 31 flying training organisations in India of which, the Indira Gandhi Rashtriya Udaan Academy (IGRUA), is run by the Central Government and enjoys a very good professional reputation. The next skill-set is related to maintaining the aircraft. The list of DGCA-approved Aircraft Maintenance Engineering (AME) Training Institutes is 51 but the general level of satisfaction is low and some of these lack access to an actual aircraft for proper training. While the airlines have larger aircraft with well-established training facilities set up by Original Equipment Manufacturers (OEMs), the same is not true for business aircraft which are small and held in small numbers by Indian entities. Cabin crew skills are also critical as they are not just for courtesies extended to passengers but also for cabin safety, especially under emergency conditions.
Under Skill India, the NSDC has set up an Aerospace and Aviation Sector Skill Council (AASSC) which is expected to work as the apex body for skill development in the rapidly developing aviation sector. Its promoters are HAL, the Bangalore Chamber of Industries and Commerce (BCIC) and the Society of Indian Aerospace Technologies & Industries (SIATI). These are the fruits of labour of the aviation industry stalwarts.
AVIATION INDUSTRY
The Indian MRO market is currently estimated to be around $800 million and is growing at about eight per cent annually against a four per cent world average. The Indian MRO Market has just begun to grow. Indian aerospace industry today is on the threshold of entering into a new era with self-reliance in defence production. The Indian manufacturing sector is internationally competitive with international quality standards, efficiency and manufacturing facilities. Indian government is promoting domestic manufacturing of aircraft and aircraft financing and leasing activities to make India's aviation market self-reliant. The aircraft leasing and financing businesses are now operated from the International Financial Services Centre (IFSC) and Gujarat International Finance Tec-City (GIFT City) that provides the world-class financial centre in India.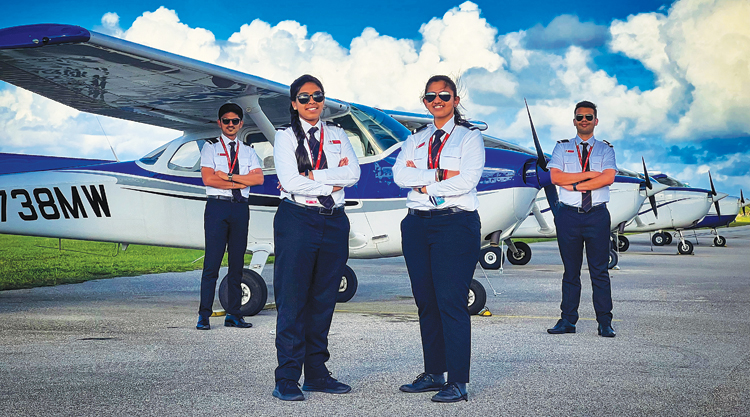 THE DEMAND FOR SKILLED COCKPIT CREW IS VERY HIGH AND DGCA HAS OFFICIALLY APPROVED 31 FLYING TRAINING ORGANISATIONS IN INDIA
The IAF has fully supported indigenisation and setting up of MRO facilities over the last 75 years. The highest MRO revenue comes from defence aircraft and a close second from commercial aircraft MRO. The revenue generated from Engine Overhaul is the highest for civil sector. India GMR facility at Hyderabad will be Safrans a overhaul outside of France with a capacity to service 300 engine by 2035. Convergence between Civil MROs and the Defence sector should now create economies of scale and long-term benefits, which the government needs to always factor in its policy-making & reforms for the A&D Sector, including MRO/Manufacturing.
The military MRO is primarily based on Base Repair Depots (BRDs) and the associated eco system of local vendors. The closed-door policy adopted by HAL till now did not open the MRO possibilities with the civil sector and no third-party MRO for these aircraft have emerged. It is only recently that HAL has started outsourcing some airframe structures of the Su-30 and Tejas aircraft to Indian private entities. A beginning of collaboration which needs to find more avenues in the long run. With HAL now moving to become an integrator of outsourced manufacture it will be only appropriate to undertake MRO of these platforms to a third-party Indian firm. What must be appreciated is that both the civil and military MRO is a National Air Power asset and needs to in sync to enhance the combat potential of air power. There is a necessity to co-operate and collaborate in this endeavour to exploit and take advantage of the combined skill sets, infrastructure for optimum and economic utilisation of infrastructure of the country.
A&D ATMANIRBHARTA
The Aerospace and Defence (A&D) sector in India is at an inflection point, given the modernisation and indigenisation programmes being undertaken by all the three services. India has also identified the A&D sector as a focus area for the Aatmanirbhar Bharat programme and has taken considerable steps to establish indigenous manufacturing infrastructure supported by requisite research and development ecosystem. The establishment of two defence corridors at Uttar Pradesh and Tamil Nadu will focus on the development of indigenous manufacturing capabilities and in turn become the springboard for all development activities undertaken by the government in the aviation sector.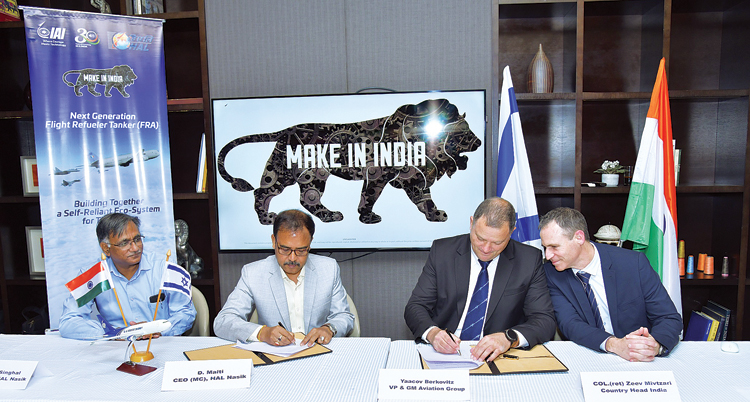 INDIA HAS IDENTIFIED THE A&D SECTOR AS A FOCUS AREA AND HAS TAKEN CONSIDERABLE STEPS TO ESTABLISH INDIGENOUS MANUFACTURING INFRASTRUCTURE
General Electric (GE) Aerospace has signed a Memorandum of Understanding (MoU) with HAL to produce fighter jet engines for the Indian Air Force. The IAF will be the key beneficiary as it would have a family of indigenous state-of-the-art aero-engines and fighter jets which would not be dependent on foreign vendors. The IAF's combat capability will be enhanced further as the same engines will be used for the twin-engine Advanced Multi-role Combat Aircraft (AMCA-I) and naval carrier-based jet. This would act as a catalyst for transforming the Indian aerospace manufacturing ecosystem into a vibrant Aatmanirbhar self-sustaining ecosystem.
INDIAN SPACE SECTOR
The space activities in India started with the setting up of Indian National Committee for Space Research (INCOSPAR) in 1962. Initial years saw the work on atmospheric studies with the establishment of Thumba Equatorial Rocket Launching Station (TERLS) near Thiruvananthapuram. The Indian Space Research Organisation (ISRO) established in 1969, took the space programme to altogether new level with programmes aimed at exploiting the benefits of space technology for the national and societal development. The Indian Space programme is characterised by a vision to use space technology for national development with a primary objective to establish operational space services in a self-reliant manner. India is now globally recognised for building low-cost satellites and launch vehicles. In terms of technological capabilities India ranks among the top five space faring nations of the world.
An independent nodal agency under Department of Space, the Indian National Space Promotion and Authorization Centre (IN-SPACe) has been created on June 24, 2020, to boost the dissemination of space technology for Space Economy for Aatmanirbhar Bharat. These give a major fillip to private sector space industry, including the start-ups and enable commercialisation of space technology, boost private investments, preparing the youth as space leaders, innovations in the sector for the progress of humanity. In March 2019, Cabinet approved creation of new company NewSpace India Limited (NSIL) to enhance ISRO-Industry interface & carry out commercialisation of ISRO's space products & services.
Over the last five decades, ISRO has been successful in the development of indigenous end-to-end capability in space technology and space activities. This has also led to the growth in Indian industries, with more than 500 MSMEs, PSUs and large private industries contributing significantly to the Indian space programme. The involvement of industries in space activities has created jobs for around 45,000 people in the country. Many sectors like defence production, telecom, materials, chemicals and precision engineering have benefitted from this exercise.
Indian Remote Sensing satellite fleet, communication and high throughput satellites of GSAT series, NavIC (NAVigation with Indian Constellation), the operational launch vehicles PSLV (Polar Satellite Launch Vehicle), GSLV (Geosynchronous Satellite Launch Vehicle) and GSLV Mk-III provide assured access to space for launching satellites for earth observation, communication, navigation and space exploration. SSLV, a dedicated small launcher which will cater to the global shift towards small satellites is under development. ISRO's two launchpads at the spaceport of Sriharikota near Chennai, provide space launch capability for the country.
The Indian space science exploration programme is engaged in developments for its future space science mission like the next mission to Moon Chandrayaan-3, solar exploration mission Aditya-L1 and space observatory XpoSat. The Gaganyaan programme aims at realising human spaceflight capability by undertaking a mission to convey humans to Low Earth Orbit and return them safely back to earth, using an Indian Orbital Module and Indian human-rated launch vehicle. ISROs sustained efforts over the last six decades has ensured that sky is not the limit, it's the world beyond, making India proud.
RESILIENT FUTURE OF AVIATION SECTOR
Aviation sector is now accepted as a fundamental pillar of our Indian society, as indispensable to our daily lives as medicine & telecommunications and essential for social progress & economic prosperity. The growing availability of affordable air travel has considerably widened aviation's role in our sustainable society and is no longer a luxury. The air transport industry has not only reinforced wealth creation, but has also brought enormous benefits to Indian economy by unlocking their potential in various related sectors including trade and tourism. With a responsive government the A&D sector is bound to grow in Atmanirbhar Bharat.