Witness the renaissance of India's aviation industry as it takes flight towards a Century of Prosperity unlocking extraordinary opportunities in India's aviation sector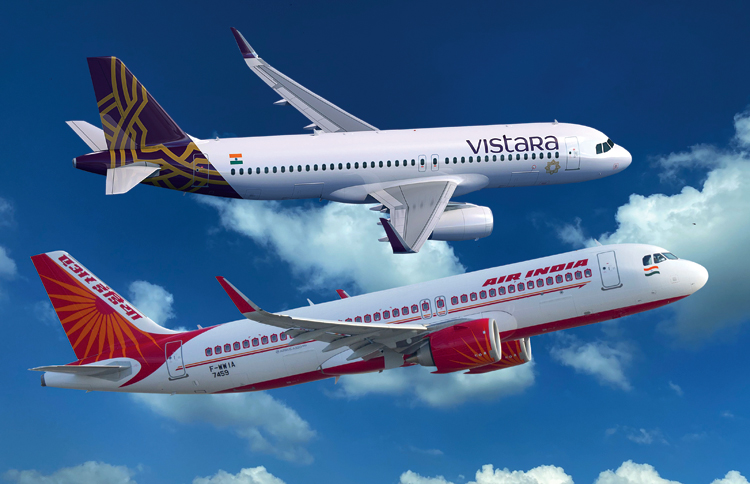 ONGOING METAMORPHOSIS: AIR INDIA'S CURRENT EVOLUTION INTO A GLOBAL CARRIER WITH ITS MERGERS, NEW PLANES, FRESH BRANDING IS REPRESENTATIVE OF INDIA'S GROWING AVIATION SECTOR AND ITS IMPORTANCE FOR THE GLOBAL AVIATION INDUSTRY
The Indian economy is experiencing a remarkable expansion, with a GDP growth rate of 8.7 per cent in FY 2022, placing it among the highest in the world. Bob Sternfels, Global Partner at McKinsey, boldly declared that it is not just India's decade but India's century. As the economy flourishes, the aviation industry closely follows suit. The growth prospects for Indian aviation are staggering, and international investors are taking notice. Despite lingering concerns, India has made significant strides in addressing these issues, paving the way for a prosperous future in civil aviation.
INDIAN AVIATION GROWTH: A GLOBAL STANDOUT
The growth potential of Indian aviation is undeniable, and the numbers speak for themselves. Asian aviation is projected to grow at a compound annual growth rate (CAGR) of 5.1 per cent over the next 20 years, outpacing America's 2.7 per cent and Europe's 2.3 per cent. Specifically, Indian aviation is projected to grow at a CAGR of 6.3 per cent over the next two decades, surpassing the 4.9 per cent growth rate for the rest of Asia.
India's geographical advantage further solidifies its potential as a major aviation hub. With 50 per cent of the world's population residing within a 6-hour flight time and 65 per cent within a 10-hour flight time, India becomes an attractive destination for airlines. Additionally, the country boasts the world's third-largest domestic civil aviation market, further enhancing its appeal.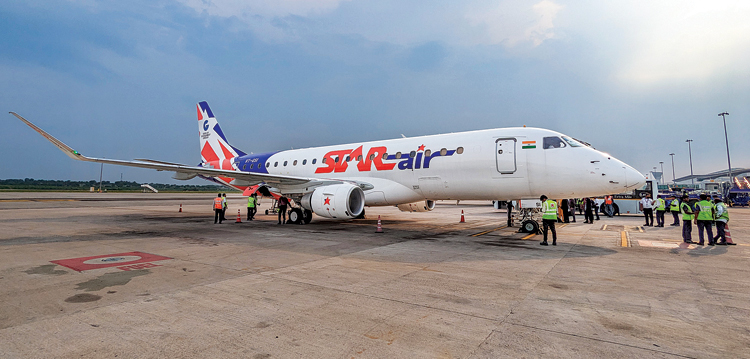 MANY REGIONAL AIRLINES LIKE STAR AIR HAVE STARTED THE CONNECTIVITY OF TIER-2 AND TIER-3 CITIES THROUGH UDAN SCHEME, THAT HAS HELPED CONNECT EVEN THE REMOTE AREAS OF THE COUNTRY
There has also been an increase in the number of business aircraft. In 2021 and 2022, approximately 90 registration/deregistration entries were recorded, compared to approximately 40 in 20 and 35 in 2020. The United States has approximately 600 billionaires and more than 10,000 private jets. India has approximately 166 billionaires and around 132 private jets. Every year, about 34 billionaires are added to the list. The number of millionaires will be rising by 63 per cent over the next five years. Thus, there is sufficient and even greater potential for the growth of civil aviation including Business Aviation, in India over the next 20 years and beyond.
EXPANDING INFRASTRUCTURE: LAYING THE FOUNDATION FOR GROWTH
India has recognised the importance of infrastructure development in fostering a thriving aviation industry. Through the UDAN scheme, the number of operational airports has expanded significantly, growing from 74 in 2014 to 140 in 2022, including 31 international airports. This number is set to exceed 200 in the next five years. Furthermore, 21 Greenfield airports have been approved, with 11 already operational and 11 more scheduled for development, backed by substantial investments from the government and the private sector.
EXPLOITING TECHNOLOGY
The government's commitment to technology and passenger facilitation is evident in the release of the "Digi Yatra" policy, which leverages biometric-based digital processing to enhance the travel experience and security measures at airports.
WORLD CLASS FBOS AND GENERAL AVIATION TERMINALS
Establishment of General Aviation terminals, such as those in Mumbai, Delhi, Ahmedabad, and Kochi, demonstrates the focus on catering to the growing demand in the Business Aviation sector.
Global players are making a beeline to partner with domestic companies in India's aviation sector to seize unprecedented opportunities
Three years ago, there was only one full-fledged General Aviation Terminal at Mumbai. Delhi had a General Aviation terminal for only the domestic sector. Even there, aeroplanes were parked far away, often on the opposite side of the runway. Not only does Delhi now have a distinct General Aviation terminal for all flights, but it also has specialised hangars and an apron for general aviation and business aviation aircraft. Ahmedabad and Kochi have also opened General Aviation terminals.
THRIVING MRO AND MANUFACTURING INDUSTRY
India's potential as an MRO (Maintenance, Repair, and Overhaul) and manufacturing hub is on the rise. With a large English-speaking technical workforce and the support of skill development councils, the country is poised for exponential growth in the MRO industry. Two skill development councils, the Aviation Multi Skill Development Centre in Chandigarh and the Aerospace and Aviation Skill Sector Council (AASC), are working around the clock to build joint ventures with domestic and global partners to train vital aviation personnel. With the current order book of India, an exponential rise in the MRO industry is anticipated. Growth in the MRO industry is expected to be highest in the world. Expect many more mergers and acquisitions in the MRO industry.
KRISHI UDAN 2.0
| | | |
| --- | --- | --- |
| Cargo related infrastructure to be built in airports for transporting agricultural produce | To be implemented at 53 airports, focusing on Northeast and tribal regions | Full waiver on airport charges at select airports |
The government has taken steps to remove tax and regulatory barriers, facilitating the establishment of MRO facilities and attracting investment. The recent reduction in GST (Goods and Services Tax) for MRO services and the removal of customs duty on tools and spares further enhance the sector's viability.
SUSTAINABILITY: A KEY PRIORITY
India recognises the importance of sustainable aviation and has revised its National Green Policy accordingly. The goal of achieving carbon neutrality for 90 airports by 2024 and sourcing 50 per cent of energy from renewable sources by 2030 reflects India's determination to reduce its environmental footprint.
To further promote sustainable practices, India aims to reduce the GST on sustainable aviation fuel to five per cent and plans to waive airport fees for flights using sustainable aviation fuel. These initiatives not only contribute to environmental protection but also create a favourable environment for investments in sustainable aviation technologies.
SAFER SKIES
The focus on flight safety and the implementation of the National Aviation Policy have positioned India as one of the world's best regulators. Recent initiatives like the Krishi UDAN scheme, GIFT City leasing, and fractional ownership strategy showcase the government's commitment to sustainable growth and attracting further investment.
LEASING AND FINANCING: UNLOCKING OPPORTUNITIES
The government of India has taken proactive measures to attract leasing and financing companies to the country. The aviation leasing sector, valued at $290 billion USD, offers significant opportunities for investors. With 80 per cent of Indian airline fleets being leased, the government's focus on maintaining leasing revenue is evident through initiatives like GIFT City leasing.
To instill confidence in lessors and financiers, the government has introduced several measures. These include a threemonth CAP on airport fee payment, a forward mechanism for GST payments, access to low-cost asset management firms, escrow payment of lease rentals, and the provision for New York or English legislation for aircraft leasing in India. The government has also taken steps to address concerns over insolvency by signing most clauses of the Cape Town Convention and ensuring effective repossession processes. In addition, the government is currently focusing on aircraft funding. It is in the process of identifying banks to provide aviation funding. It recognises that the leasing sector will only be successful if more Indian and foreign banks begin to support these GIFT City Companies.
The GIFT City has already registered 16 businesses in its brief history. 26 leases, including some with foreign lessees, have been impacted. There has also been a lot of interest from foreign leasing companies who want to now set up shop in GIFT City. Tax benefits are only available if the company is registered before March 31, 2024.
INVESTMENT SUCCESS STORIES: A TESTAMENT TO INDIA'S POTENTIAL
The commitment of foreign investors to the Indian aviation industry is evident, with major OEMs (Original Equipment Manufacturers) establishing their presence in the country.
GMR: The partnership between GMR and Boeing, aimed at converting a Boeing 737 into a freighter aircraft, is a prime example of the investment opportunities available. Similarly, the collaboration between GMR and Airbus to offer a fouryear AME license degree and the partnership between GMR and Spirit Aero Repair for Nacelle components and radome repairs demonstrates the confidence international players have in India's aviation sector.
AIESL: Air India Engineering Services Limited has partnered with Boeing to maintain VIP Boeing 777s and the Indian Navy's P-81 landing gears.
Air Works: Air Works has joined forces with Boeing to open an MRO facility for Indian Navy P-8Is for conducting heavy maintenance on these Aircrafts. Further it has been doing heavy maintenance and upgrades on VVIP 737s. It has also tied up with Embraer to maintain its VIP fleet with IAF in India.
Tata: Tata, a leading conglomerate, has become the world's largest Trent XWB operator and partnered with Rolls-Royce to supply Trent XWB engines and additional RR engine components. Furthermore, Tata Engineering Services will provide assistance to digital engineering and data innovation teams. The list of successful investments continues with Tata's partnership with Sikorsky to deliver S-92 cabins and their manufacturing facility in Vadodara, which will produce military aircraft components for Airbus. Additionally, Tata has joined forces with Lockheed Martin to provide extensive maintenance services for C-130Js in India. Tata Boeing's Hyderabad factory manufactures the fuselage for AH-64 helicopters.
Mahindra: Mahindra Aerospace is developing aero structures for Airbus.
Dynamatic Technologies: Dynamatic Technologies has become a component supplier for Airbus and Boeing products.
Indamer: Indamer and AAR have collaborated to establish a new airframe MRO plant in Nagpur.
Reliance ADA: Reliance ADA and Dassault have an agreement for the production of Falcon 2000 components.
HAL: Hindustan Aeronautics Limited (HAL) is playing a crucial role in manufacturing various helicopters and fixed-wing aircraft for both the Indian Defence and foreign countries. HAL is also in talks with Sukhoi about producing Sukhoi aircraft in India and collaborating with other civil aviation manufacturing and design firms to build a 90-seater regional aircraft.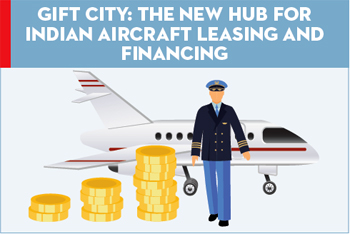 Boeing India currently helps its parent source supplies worth $1 billion per year from India of which 66 per cent is actual manufacturing and the remaining is software and services. GE's global research centre in Bengaluru plays a vital role in developing engines such as the GE9X, GEnx, and CFM Leap. Safran, a leading aerospace company, will open its largest MRO facility in Hyderabad.
These success stories illustrate the confidence of foreign investors in India's aviation industry and the vast potential that awaits those who seize the opportunities available.
UDAN SCHEME REACHES MORE LOCATIONS ACROSS INDIA

78 new routes were approved under the 4th round of Regional Connectivity Scheme (RCS) - Ude Desh Ka Aam Nagrik (UDAN)
3 Successful Rounds of bidding were conducted by the Union Ministry of Civil Aviation
766 Routes have been sanctioned under the UDAN scheme so far
274 UDAN routes have been operationalized by the Ministry of Civil Aviation since its inception, connecting 45 airports and 3 heliports
GOVERNMENT ENGAGEMENT WITH INVESTORS: SHAPING PERCEPTIONS
To dispel concerns and attract more foreign investment, Indian officials and regulators must actively engage with investors. They should participate in debates, seminars, conferences and Air Shows worldwide to share success stories and showcase the tremendous potential of the Indian aviation industry.
CONCLUSION: INDIA'S CENTURY UNVEILED
Foreign investors are already making significant investments in India's aviation industry, positioning themselves to reap the rewards of its growth. With the opening of all sectors of civil aviation to Foreign Direct Investment, the time is ripe now for even the more conservative and safe investors to enter the market. The foundations for growth have been laid, and India's ascent in the global aviation arena is well underway.
Some of the industries where first movers can still benefit include:
East and Northeast India have no aviation expansion.
Aircraft Management Companies, such as NetJets and VistaJet, can have a major presence in the General Aviation sector, further benefitting from the upcoming Fractional Ownership regulation. Last year, many popular aircraft have logged more than 100 hours per month in the domestic charter sector.
There are hardly any seaplane activities.
Training companies, both on the ground and in the air, are scarce and investment in this sector would be a low-hanging fruit.
The MRO industry has the greatest potential in the world. Overhauls of engines and heavy components are basically non-existent.
Aircraft assembly lines and completion centres have yet to be established.
Financial and leasing services. The groundwork has been laid for foreign aircraft leasing businesses and banks.
India's remarkable economic expansion, coupled with the thriving aviation industry, presents unprecedented opportunities. The country's impressive infrastructure development, commitment to flight safety, sustainability initiatives, and proactive measures to attract leasing and financing companies demonstrate its determination to create a conducive environment for investment.
As India's century unfolds, the aviation industry stands at the forefront of this transformative journey. With ongoing reforms, robust growth projections, and an unwavering commitment to excellence, India is set to become a global aviation powerhouse. The potential for growth in civil aviation is immense, and those who recognize and embrace this potential will undoubtedly shape the future of aviation in India and beyond. The time to invest in Indian aviation is now, as delaying further may mean missing the bus to extraordinary opportunities.