The new multi-media advocacy campaign was launched at the annual National Business Aviation Association's (NBAA's) 2023 Business Aviation Convention and Exhibition (NBAA-BACE) in Las Vegas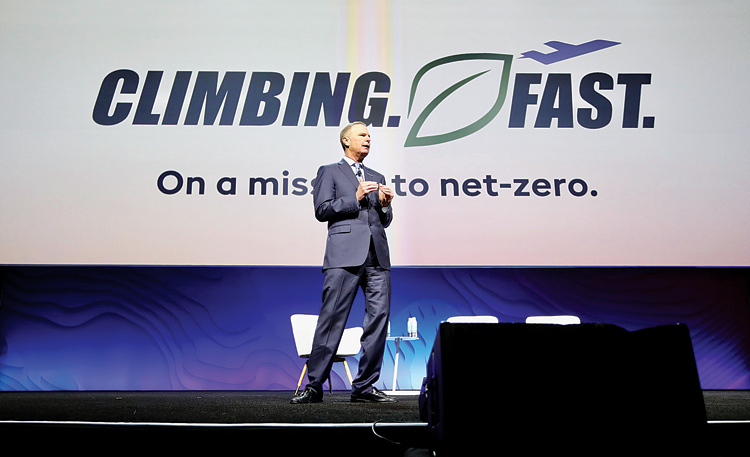 NBAA PRESIDENT AND CEO EDWARD BOLEN INTRODUCED THE 'CLIMBING. FAST.' INITIATIVE, HIGHLIGHTING BUSINESS AVIATION'S SUSTAINABILITY LEADERSHIP, TO ATTENDEES AT NBAA 2023
Business aviation leaders gathered to unveil 'Climbing. Fast.', a new advocacy campaign aimed at setting the record straight on the industry's many societal benefits, including its leadership role in sustainability, underscored by a sharp focus on achieving net-zero carbon emissions from flight in the years to come. The new multi-media advocacy campaign – intended to coordinate and elevate a message about the game-changing technologies that are fostering business aviation sustainability on the ground and in the air – was launched during the annual Media Kick-off Breakfast held at the National Business Aviation Association's (NBAA's) 2023 Business Aviation Convention and Exhibition (NBAA-BACE) in Las Vegas.
"The business aviation industry has long been essential in providing economic opportunities for a next-generation workforce, helping companies of all sizes succeed, connecting America's communities and delivering humanitarian assistance for those in need," said NBAA President and CEO Ed Bolen. "Equally important, our industry has long made an ambitious commitment to sustainability, with measurable results. Our new, branded 'Climbing. Fast.' initiative will take this message to policymakers, opinion leaders and other key audiences, informing perceptions about the industry's sustainability record and value."
"Business aviation is the technology incubator for the aviation industry, as we lead the way in advancing safety and sustainability," said General Aviation Manufacturers Association (GAMA) President and CEO, Pete Bunce. "Our industry supports over 1.2 million total jobs and over $247 billion in total economic output in the United States. When you look at our industry, 'Climbing. Fast.' truly describes the work we have been doing to foster aviation's sustainability and technology, advance safety, strengthen economic growth and provide valuable services to communities."
The 'Climbing. Fast.' campaign aims to highlight the numerous societal benefits of business aviation, including economic opportunities, connecting communities, and delivering humanitarian assistance
As a cross-platform public affairs campaign, the 'Climbing. Fast.' programme utilise a strategic approach to spreading the industry's message on sustainability, through a dedicated new website ClimbingFast.com, which will serve as a promotional vehicle and advocacy resource for the industry, a multi-channel social media presence, focused on building engagement around the industry's sustainability commitment and a targeted media-relations programme that serves as an authoritative source for news coverage about the industry's sustainability leadership.
The 'Climbing. Fast.' campaign emphasise business aviation's value as an incubator for innovation. Thanks to investments in airplane winglets, light-weight airframe composites, satellite-based navigation systems and other carbon-cutting technologies, emissions from business aircraft have been slashed by 40 per cent in just four decades, and new business aircraft are up to 35 per cent more efficient than the previous generation.
The 'Climbing. Fast.' initiative will also highlight the pioneering work to make its net-zero carbon emissions goal a reality, through the development of eco-friendly aircraft that use ultraefficient engines, including hybrid, electric and even hydrogen-powered propulsion; the production of sustainable aviation fuels (SAF), which can reduce net-carbon emissions by 80 per cent; and, the use of smarter, faster, more efficient routing that requires less energy.
The unified industry campaign already counts 10 stakeholder organisations in its ranks, whose leaders stated their enthusiastic support for the new initiative.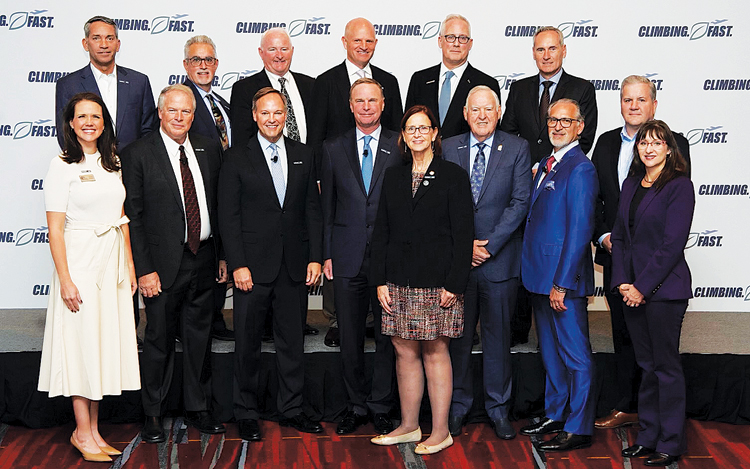 BUSINESS AND GENERAL AVIATION LEADERS CAME TOGETHER TO UNVEIL 'CLIMBING. FAST.', A NEW ADVOCACY CAMPAIGN AIMED AT SETTING THE RECORD STRAIGHT ON THE INDUSTRY'S MANY SOCIETAL BENEFITS
"What business aviation contributes to society is immeasurable and its commitment to sustainability unmatched," said Aircraft Owners and Pilots Association (AOPA) President and CEO Mark Baker. "The 'Climbing. Fast.' initiative will help showcase the industry's resolve toward positive change through sustainable programmes, and AOPA is pleased to support this admirable campaign."
"As new technologies are developed, it opens more possibilities to incorporate sustainable energy innovations to maintain and expand the worldwide benefits of aviation," said Jack J. Pelton, CEO and Chairman of the Board with the Experimental Aircraft Association (EAA). "EAA members have always been at the forefront of imagination and innovation for flight, so we're excited for programmes such as 'Climbing. Fast.' and others to bring opportunities for aviation's future that were not even imagined just a short time ago."
"The movement toward environmentally friendly Vertical Take-Off and Landing (VTOL) aircraft is already underway, with both new entrants and existing manufacturers utilising alternative fuels," said Helicopter Association International President (HAI) and CEO James Viola. "This evolution toward sustainability is the right direction for the aviation industry. 'Climbing. Fast.' is necessary for the public and policymakers to fully understand how vertical aviation and all aviation is working towards a greener tomorrow."
"IADA proudly supports the business aviation industry's new 'Climbing. Fast.' advocacy campaign," said International Aircraft Dealers Association (IADA) Executive Director Wayne Starling. "We are pleased to be a part of this comprehensive industry initiative to promote business aviation's measurable, sustainable and ongoing progress to improve our environment."
"'Climbing. Fast.' gives voice to the remarkable sustainability progress business aviation has made to achieve net-zero carbon emissions by 2050, while meeting diverse economic and societal needs," International Business Aviation Council (IBAC) Executive Director Kurt Edwards said. "The campaign has a globally relevant message, and IBAC will work with our members and other industry partners to elevate it with policymakers around the world, underscoring business aviation's commitment to sustainability and broader societal benefits."
"NAFA is proud to support the 'Climbing. Fast.' initiative," said National Aircraft Finance Association (NAFA) President Ed Medici. "We recognise the importance of a sustainable approach to business aviation operations. NAFA members provide the capital that allows the industry to realise a more sustainable future through advancements in technology, efficiencies and investments in the next generation workforce."
The initiative showcases Business aviation industry's pioneering work in developing eco-friendly aircraft with ultraefficient engines, the production of sustainable aviation fuels, and the implementation of smarter, more efficient routing, all contributing to the goal of net-zero carbon emissions by 2050
"The industry's collective environmental commitment compels us all to climb faster and aim higher in achieving carbon reduction goals," stated National Air Transportation Association (NATA) President and CEO Curt Castagna. "We stand proudly beside our association members and partners in relaying their meaningful stories through 'Climbing. Fast.', and providing pathways for continuous sustainability improvements."
"In business aviation, we move the world's businesses safely, efficiently and sustainably. Our members are committed to supporting the 'Climbing. Fast.' effort, which underscores the industry-wide commitment to a healthy and sustainable world for all," said Elizabeth A. Clark, Executive Director of Women in Corporate Aviation (WCA). "Women in Corporate Aviation will continue to focus on the many benefits of the industry's sustainability commitment, including its role in driving workforce development and fostering solution-driven innovations that will benefit everyone, for generations to come."
Can Business Aviation and Sustainability coexist, is the question from skeptics? The fact is that BA/GA industry are doing their best already to do some amazing technological, sustainment-aimed objectives. One of the easiest ones, and the first ones that they're all doing is proving that they can operate on 100 per cent Sustainable Aviation Fuel. Also, Business aviation has been an incubator for technological developments, whether it be the use of GPS or winglets; Bombardier flying the EcoJet, an 18-foot wingspan, blended wing body model; or GE Passport, which powers the high-end Global models and Rolls-Royce's Pearl, both being used for hydrogen research as part of the European Union's Clean Aviation program. Business aviation is at the forefront of developing and certifying electric, hybrid and hydrogen propulsion systems that will enable aircraft to fly carbon-free.'Climbing. Fast.' is on a mission to net-zero by championing the production and distribution of Sustainable Aviation Fuel, which can reduce net carbon emissions by up to 80 per cent and by producing business aircraft that are 30 per cent more fuel efficient than the previous generation.
Now, NBAA along with eight other aviation associations has released a new campaign called "Climbing Fast", designed to educate policymakers and opinion makers on what the industry is doing to get to its net-zero goal by 2050. It is aimed at the policymakers to show that the industry is uniting on this advocacy campaign and it's climbing fast and it's doing a lot of things. 'Climbing. Fast.' is an initiative to showcase business aviation's many societal benefits, from driving opportunities for today's workforce, to leading sustainability innovations to achieve a commitment to reach net-zero carbon emissions by 2050. Business Aviation is on a mission to net-zero and is 'Climbing. Fast.'