Empower Indian Aviation Regulators, to propel growth and ensure safety for a thriving Industry future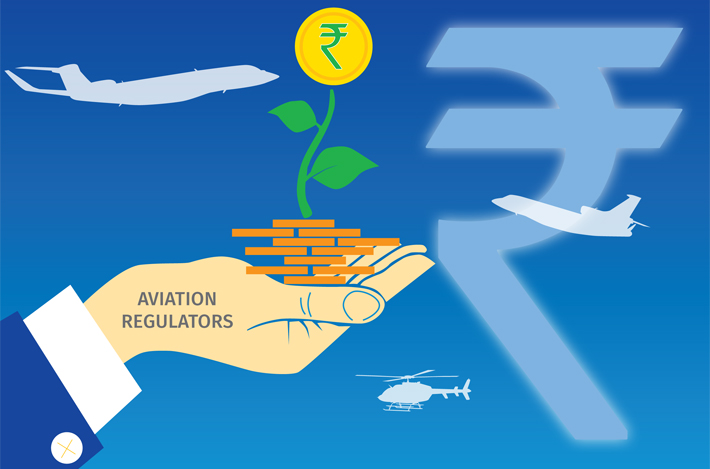 AVIATION REGULATORS SHOULD BENCHMARK WITH GLOBAL STANDARDS AND ALIGN INDIAN AVIATION REGULATIONS WITH US AND EU STANDARDS TO ENSURE GROWTH OF THE SECTOR
The Indian economy and aviation industry are currently going through the Golden Age. A social media viral post shows the aviation industry is one of the top ten things growing in India. Following phrases and figures have been floating around in various publications over the last year:
Indian aviation growth is anticipated to be 6.3 per cent CAGR over the next 20 years, compared to 4.9 per cent for the rest of Asia (Airbus Forecast Global Market 2022-2041). More than 100 aircraft per year are expected to be added to India's inventory.
The third largest domestic civil aviation market in the world (IATA DD5).
India's location favours the growth of a big aviation hub: 50 per cent of the world's population lives within a 6-hour travel time, and 65 per cent of the population does so within a 10-hour flight time (IATA DD5).
Approximately 90 registration/deregistration entries of Business aircraft were registered in 2021 and 2022 as opposed to 40 and 35 respectively in 2020 and 2021 (dgca.nic.in).
There are more than 10,000 Business Jets for 600 Billionaires in the US. India is home to 132 Business Jets for about 166 billionaires. An average of 34 Billionaires are added to the list each year. India thus has to move from 132 Business Jets to even beyond 10,000 Business Jets.
The number of operational airports has increased from 74 (in 2014) to 140 (in 2022) since the UDAN system was implemented, including 31 international airports. Within the next five years, this number will reach more than 200.
The MRO sector is predicted to experience the biggest growth globally.
The value of the aviation leasing market is $290 billion. Leasing accounts for over 80 per cent of Indian airlines fleet. Given that the order book is getting close to four figures, the government intends to keep generating money from leasing in India. The government as a result has established GIFT city leasing.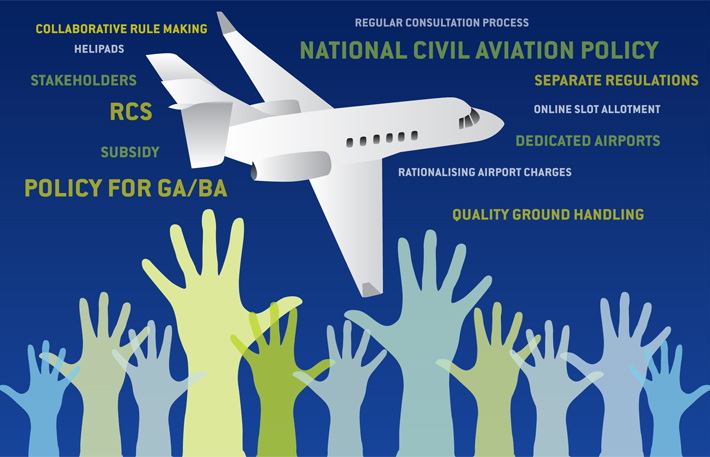 IT IS TIME FOR INDIAN AVIATION REGULATORS TO BOOST GA AND BA INDUSTRY IN INDIA
Such mammoth growth would require infrastructural and institutional support, of the magnitude that has never been witnessed before. Each of the following verticals of aviation would need to be planned and implemented meticulously:
Pilots
Engineers
Managers
Airports, parking spaces and hangars
Training Infrastructure
MROs
Paint and Interior hangars
Regulators
Colleges
FBOs
Handling Agencies
Above all, a Competitive Aviation Tax and regulatory environment, comparable, if not better than the world.
THE IMPORTANCE OF TAX AND REGULATORY ENVIRONMENT
The above growth would be largely determined by the environment. We need changes, ideally disruptive changes, to surpass our goals. We must at the very least adapt to international best practices. Since the FAA has the best aviation understanding and is the industry leader in aviation, one would personally advise adhering to FAA policies. At the very least, our policies should be in line with EASA if not FAA.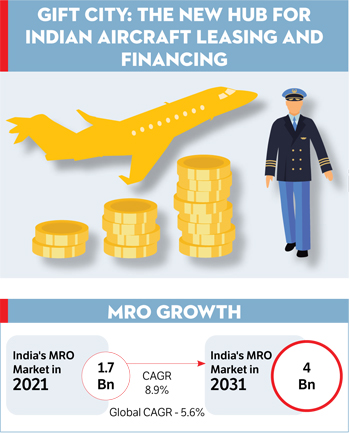 RECOGNISING IMPEDIMENTS IN THE ENVIRONMENT
There are numerous growth barriers that India needs to solve immediately. From more than two decades, these have been existing, noticed, discussed, debated and put under the carpet. Now, these impediments must be removed. Otherwise, the above opportunity would be lost. Aviation being a communication industry, an opportunity lost in Aviation has a spiral effect on the economy of the country.
Customs Duty on Private Aircraft: There was a period when the Business Aircraft Operator's Association (BAOA) every year, approached Ministry of Civil Aviation (MOCA), who in turn approached the Ministry of Finance, to seek that this tax be removed, since it obviously impeded the expansion of Business Aviation in India. BAOA highlighted the amount of money lost as a result of this retrogressive tax, in its first industry report in 2016. The amount contributed to GDP as a result of fewer private aircraft inducted into India, far surpassed the amount collected by the government in customs tax on private aircraft. Successive governments have been turning a blind eye to this monstrous tax in order to avoid appearing to be favoring the uber rich.

The aviation industry is a communication industry. You put Business Aviation on the ground first, and then you build an industry around it. First comes a small business plane, then a larger business plane, then the small commuter plane and finally the large commuter plane. The town progressed as Aviation evolved in Raigarh, India. This is how a village grows into a town, towns grow into cities, and cities grow into metropolises. That is how the economy expands and how India would rise to third place in the world economy. The example of Raigarh or other towns like Wichita in USA, must be explained to the nation, paving the way for India's tax and regulatory environment to be comparable, if not better, than that of the developed world.

Fractional Ownership: In USA and Europe, an individual can purchase even a 1/16th stake of an airplane. Fractional ownership facilitates the maximum usage of a capital asset, in this case an aircraft. The government would have to make some bold decisions regarding the owner-operator idea, i.e. approve having a separate owner of a business aircraft and a separate operator, in order to introduce this to India. In order to reap the best dividends from this concept, for another reason, the government must abolish customs duty on all aircraft.
Other Taxes in Aviation: Unlike other industries, Indian Aviation competes with airlines from surrounding nations. Therefore taxes and regulations in aviation, have a much higher impact on 'foreign competition'. Consider that your washing machine needs to be repaired. It would not be practical to send the washing machine abroad for repairs, regardless of the GST and taxes charged in India. On the other hand, due to the ability of aircraft to fly internationally, Indian aircraft can easily fly abroad for maintenance or a foreign aircraft can easily fly in and pick up Indian pax. At times, it is less expensive to charter an airplane out of Dubai (where fuel is more affordable) and fly it into India and then leave for abroad than it is to hire an aircraft based in India. Using the same analogy, the aviation MRO sector has been able to impress upon the Government and has got the GST on foreign aircraft repair or on parts imported into India, exempted. The Same principle needs to be followed for all other verticals of aviation.
Crew Having More Flight Time Requirements than other Nations: In India, if an experienced pilot decides to switch to a new type of aircraft, he does his type training on simulator, come back to India, then fly approx 100 hours with an instructor, and only after this does he get to fly as pilot in command of the new type of aircraft. The FAA and EASA do not mandate these 100h, and the pilot is regarded as competent as soon as the type training for the new type is finished on the simulator. If 100 aircraft are going to be added to India each year and 100 pilots are to retire, there would be two seasoned and experienced captains in the cockpit for 20,000 hours of flight time each year. In contrast to this, in developed countries the aircraft would be piloted for 20,000 hours by one experienced captain and one less experienced co-pilot. This anomaly needs to be removed. A wasteful and a cautious approach would create shortage of pilots and foreign pilots would need to be inducted. Besides increasing cost of operations, induction of foreign pilots is often found detrimental to flight safety.
Dual Captaincy: All over the Business Aviation world of developed nations, there is a practice of a pilot flying two to three different type of aircraft. The DGCA also permits dual captaincy, but because of its excessive caution, barely approves this. In some charter businesses and private airlines, the pilots fly barely 200 hours a year, although their best use would be about 1,000 hours a year. As explained in the previous paragraph, the significant underutilisation of pilots leads to pilot shortages and related effects. Thus, it is necessary to promote dual captaincy without inhibitions.
18-Year-Old Minimum Age to Import Aircraft: The FAA, EASA, and several advanced registries do not maintain an 18-year minimum age restriction for aircraft import. This is due to the aircraft's design, which allows it to sustain pressure cycles sometimes equal to 50 years of operation. In India, we forbid the induction of aircraft that are older than 18 years. Businesses gets affected. Entrepreneurship in aviation is impacted. Growth is hampered. If we are not discarding existing aircraft in the country that are older than 18 years, then there is no logical reasoning to keep this restriction.
The Helicopter Industry is Grossly Underutilised: State of Alaska alone has 9,000 helicopters. In contrast, India as a whole have about 275 civil helicopters. Helicopters are versatile vehicles. In addition to passenger transport, they can be used for a wide range of tasks such as rescue operations, law enforcement, heavy lift missions, power line repair, helitourism, off-shore oil rigs, photography, surveys, and more. India requires help from the State Governments to build helipads across the state and to fund the hours and underwrite seats for medical or emergency relief operations or for promoting any of the roles described above. Under utilisation of the helicopter's next-generation avionics and instrumentation is a further issue that needs to be addressed. The fundamental reason for which helicopters are created is defeated by our antiquated night flight regulations for helicopters and our insistence on Heli runways for IFR operations.
Filing of Differences in ICAO: We are reluctant to use this provision; instead, we enforce ICAO directives verbatim without considering how they might hinder the development of aviation in the country. Many developed countries regularly submit these differences because the ICAO allows for such filing. Insisting on FDR Type 1A for aircraft being imported into India is an illustration of this. While the developed nation filed differences and adopted this as a prospective requirement on aircraft being manufactured, India adopted this verbatim insisted on retro fitment of FDRs on existing aircraft, despite this being a prohibitively expensive and sometimes very complex modification. This has stalled the induction of some lightweight aircraft into the country totally or created difficulties for the same.
The RBI's Restrictions to Remit Money Overseas: While the rest of the world uses credit cards and fast bank transfers for payments, our regulations call for RBI permission prior to remitting foreign exchange abroad. Often this permission is given only after the DGCA gives permission or other pre-requisites are fulfilled. Good market transactions are consequently lost, which has a negative impact on businesses.
Fully Signatory to Cape Town Convention: The government did a good job by setting up GIFT city finance provisions to promote aircraft leasing. However, recently, lessors were unable to repossess their aircraft from Go Air and Spice Jet. This has discouraged lessors from leasing into India. Aircraft leasing in India is destined to suffer until the conditions of lessee failure are aligned to the world standard practice or developed country practice, i.e., in favour of lessors. India therefore needs to be a full signatory to the Cape Town Convention.
Boost in the MRO Sector: We must stop the money from leaving the nation. While starting to manufacture aircraft in India will bring about a significant transformation, we must at least make sure that the foreign remittance in aviation MRO is decreased. India would need to have capable workshops equipped to handle component design, engineering, major repair, and overhaul of components. Establishing a requirement that OEMs construct a base workshop in India and hire and train local labour before introducing any new aircraft into the nation is an excellent strategy to ensure this. Even otherwise, the government must hold hands with businessmen who want to invest in MRO by negotiating with OEMs and obtain the capabilities desired by these investors.
Exploit Technology and leverage innovation for an efficient and competitive Aviation sector
ARE THESE IMPEDIMENTS DIFFICULT TO BE REMOVED?
Above changes are a justified ask by the airline operators and other stake holders. These are all followed by developed nations. The Government has been maintaining a standard, non-committal response for more than a decade that 'Indian flying conditions are not yet ready for a change' and would begin comparing data with developing nations rather than developed countries. So, what exactly are these Indian flying conditions? Unfortunately, no one has been able to specify or point them out. And, if we don't know these conditions that prevail, how will we know when they no longer exist? Here are some facts that imply that there are no such India specific conditions that justify maintaining these antiquated restrictions that impede progress:
According to recent ICAO and FAA flight safety ratings, Indian performance has been very good. India has some of the lowest rates of accidents and incidents worldwide.
Indians are in top positions all across the world, with some even being Prime Ministers and some running for President of Developed Nations. If they are doing this in such large numbers, how can we dismiss caliber of Indians in India?
In USA, the top notch or the cream of a batch does not become a pilot. Invariably the pilots in US are paid much below what the top notch of a batch are paid. In contrast, our pilots and Engineers are paid as much as the top notch. So, if Indians are competent (last Para) and amongst them, if the top notches are pilots and engineers, then what is creating the fear of failure?
We have risen to fifth place in the economies of the world, after dislodging some of Europe's most advanced nations. So, at the very least, our limits today should not be more stringent than those imposed by the four nations above us.
At the forefront of affairs is a very youthful and active minister. We will never be able to implement world-class techniques if we do not do it now. Time has come for the Regulators to believe in change and face these growth challenges head on.
CONCLUSION
No Venture, no gain! Success will not come if we are afraid of failure. Similarly, Indian Aviation regulators need to be proactive and take prompt decisions that are believed to be in national interest. These highly required changes should not be questioned as long as the regulations match those of the United States or the European Union. The system would always have some spoilers. Strong laws must be used to deal with them. Exploit technology. Have the harshest penalties for noncompliance and violations of flight safety. Operators do not want the regulator to be lenient on them. They only want decision-makers to provide the best tax and regulatory environment so as to keep pace with the world, if not outpace them.