India's Commercial Aviation Sector is firmly on the fast track for a record-breaking growth despite facing some robust challenges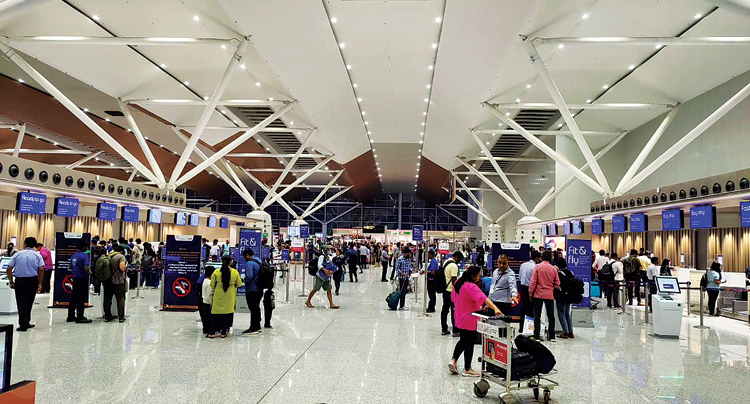 AMID INCREASING DEMAND FOR AIR TRAVEL, INDIA IS EXPECTED TO REQUIRE 2,380 NEW COMMERCIAL AIRPLANES BY 2038
The civil aviation industry in India has emerged as one of the fastest-growing industries in the country. According to the India Brand Equity Foundation (IBEF), the Indian aviation industry has recovered fully from the COVID-19 pandemic shock as indicated by the air traffic movement which stood at 327.28 million in FY23 compared to 188.89 million in FY22. India is expected to come behind China and the United States as the world's third-largest air passenger market in the next ten years, by 2030, according to the International Air Transport Association (IATA).
Both government and private sectors are investing significantly in infrastructure development to facilitate this growth. Key drivers of this growth include rising household incomes, the emergence of low-cost carriers, increased FDI inflows, and a growing GDP. The market size of the industry right now is at an impressive scale, the passenger growth has witnessed a significant increase, and a large number of plane orders have emerged alongside the merger of AirAsia India and Air Vistara into Air India and a new number of regional airlines coming into the picture are some of the positive sides of Indian aviation industry's landscape.
Air India had this February ordered 470 aircraft from Boeing and Airbus with 400 single aisles and 70 wide bodies including A350s, Boeing 787s and B777X. This order has options and purchase rights for 370 additional aircraft to be procured from Airbus and Boeing over the next decade.
IndiGo made history by placing the largest order ever by an Indian airline — for 500 Airbus A320 family single aisle aircraft. IndiGo's order book, comprising a mix of A320neo (new engine option), A321neo and A321XLRs, has almost a 1,000 aircraft yet to be delivered well into the next decade.
Akasa Air has ordered additional Boeing 737 MAX jets, taking its total order to 76 aircraft. The airline is also on course to announce another significant three-digit aircraft order by the end of 2023.
However, while there are many such growth symbols, there are also certain challenges that prevail as certain airlines look on the verge of shutting down as GoAir has filed for bankruptcy, SpiceJet is facing huge financial issues, Jet Airways is still unable to come back, Akasa encountering manpower issues, ATF prices are skyrocketing, supply chain issues, wafer-thin operating margins, delays in deliveries of aircraft by the OEMs, etc still hold down the industry.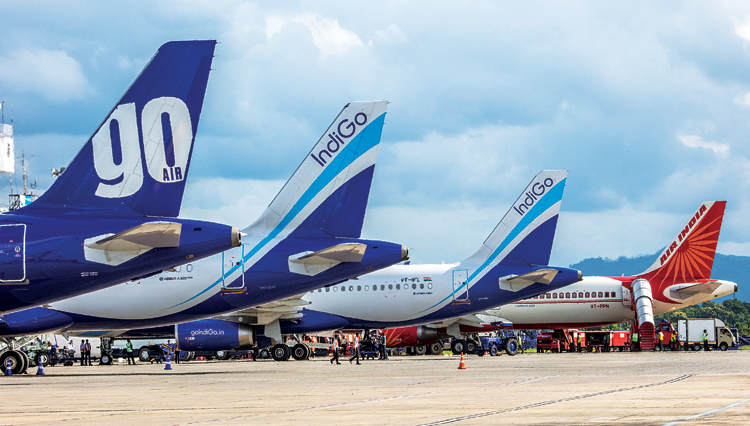 MINISTRY OF CIVIL AVIATION IS WORKING TO ESTABLISH SIX 'TWIN CITY' AIRPORTS BY 2030 TO DECONGEST MAJOR CITY AIRPORTS AND EXPAND INFRASTRUCTURE
Recent developments in the Indian aviation sector have been transformative, exemplified by record-breaking aircraft orders by major airlines. Air India and IndiGo secured remarkable orders for 470 and 500 aircraft, respectively, in early 2023, signaling growing industry confidence. IndiGo's market share in September 2023 increased by 10 basis points to 63.4 per cent, following three consecutive months of growth after GoFirst's cessation of operations. Vistara surpassed Air India to become the second- largest domestic carrier in September, claiming a 10 per cent market share. Air India maintained a 9.8 per cent market share. AirAsia India retained its fourth position. Akasa Air faced market share challenges due to pilot shortages and carried 5.17 lakh passengers in September, securing a 4.2 per cent market share. The UDAN scheme has facilitated the entry of new players in the aviation industry, including StarAir, IndiaOne Air, and FlyBig, further expanding the Indian aviation industry. Amid increasing demand for air travel, India is expected to require 2,380 new commercial airplanes by 2038, and the Indian travel market, estimated at ∼ $75 billion in FY20, is projected to exceed $125 billion by FY27.
AIR TRAFFIC SITUATION
September marks the seventh consecutive month of domestic air traffic surpassing pre-COVID levels in India. Domestic air traffic in September grew by 18.3 per cent year-on-year, with approximately 1.23 crore passengers carried. Air traffic for January-September increased by 29.1 per cent compared to the previous year. However, there were a few challenges in the H1 of FY24 in the shape of GoFirst stopping operations in early May and IndiGo seeing some grounding of aircraft due to engine issues. The industry managed to maintain its capacity despite these challenges, resulting in the highest-ever Q2 passenger numbers, illustrating the sector's resilience. While the first ten days of October have shown improvement compared to the previous month, a stellar quarter has yet to be confirmed, with the holiday season, including Dussehra, Diwali, Christmas, and New Year holidays, just beginning.
AIRPORT INFRASTRUCTURE EXPANSION
India's airport capacity is on track to accommodate one billion trips annually by 2023, bolstered by the UDAN scheme's expansion of routes and airports. Challenges in airport infrastructure involve the need for more modern facilities and increased runway capacity to manage escalating flight and passenger numbers. In line with that, many new Greenfield International Airports are also coming up in India. These airports coming up with adequate facilities is crucial because one of the main infrastructure challenges faced by the aviation industry in India is the need for adequate airport facilities. Another challenge is the need for more runway capacity. As the number of flights and passengers continues to grow, there is a need for more runways to accommodate the increased traffic.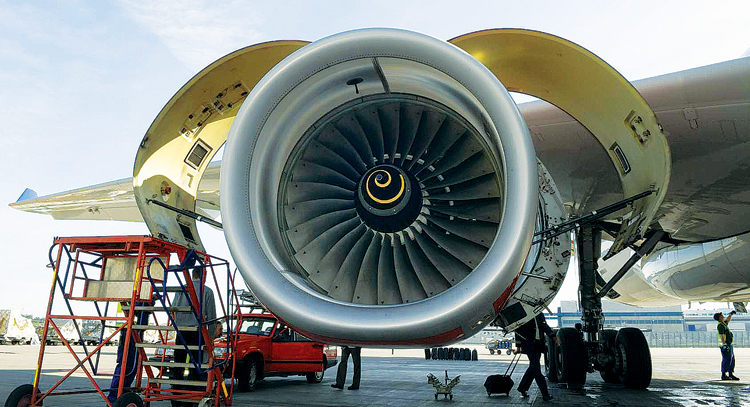 INDIAN GOVERNMENT AND DOMESTIC MRO STAKEHOLDERS HAVE INITIATED THE DEVELOPMENT OF MRO HUBS IN VARIOUS REGIONS
The Ministry of Civil Aviation (MoCA) is working to establish six 'Twin City' airports by 2030 to decongest major city airports and expand infrastructure to meet surging air travel demand. The government aims to develop 100 airports by 2024 under the UDAN Scheme, investing an anticipated $1.83 billion in airport infrastructure by 2026. As of 2023, India has 148 operational airports, with plans to increase this number to 220 by 2025. Alongside airport expansion, enhancing the existing air traffic management system and improving connectivity between airports and other transportation modes are essential.
WORKFORCE CHALLENGES
The aviation sector's demand for a highly skilled workforce, encompassing roles like pilots, aircraft maintenance engineers, air traffic controllers, and ground handling staff, faces the significant hurdle of expensive training costs. Aviation training necessitates substantial investments in infrastructure and equipment, with many training facilities in India requiring upgrades to meet international standards. Addressing this challenge involves enhancing the affordability and quality of training, developing adequate training facilities, fostering collaboration between industry stakeholders and educational institutions, and tackling attrition issues. Resolving this requires substantial investments and commitments from industry players, the government, and educational institutions.
According to CAPA India research, Indian scheduled operators are projected to require an additional 10,900 pilots by FY30. Although the DGCA asserts that India produces an adequate number of pilots annually, airlines present a different perspective. Air India's Chief, Campbell Wilson, acknowledges the need to rely on expatriate pilots and has announced a reduction in flights to certain US routes due to crew shortages. Recent incidents, such as Akasa Air initiating legal action against former pilots for leaving without notice resulting in significant flight cancellations, have highlighted the core issue of pilot shortage. While many pilots are being recruited, a significant mismatch exists between aircraft and the availability of experienced crew.
MRO MARKET GROWTH
The projected surge in air travel in India is poised to amplify the demand for Maintenance, Repair & Overhaul (MRO) services. Currently valued at around $900 million, the Indian Civil Aviation MRO market is expected to reach $4.33 billion by 2025, reflecting a compound annual growth rate (CAGR) of approximately 14-15 per cent. In parallel, the Indian drone industry anticipates a total turnover of up to $1.8 billion by 2026.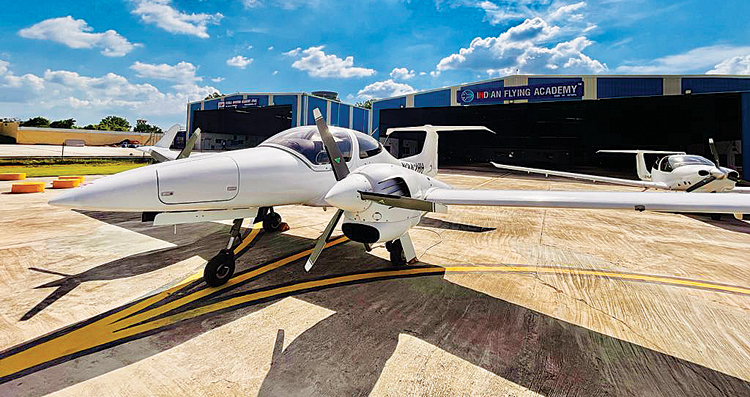 THE ESTABLISHMENT OF FLIGHT TRAINING ORGANISATION (FTO) IN KHAJURAHO SIGNIFIES THE REGION'S EMERGENCE AS A HUB FOR AVIATION EDUCATION AND TRAINING, OFFERING STATE-OF-THE-ART FACILITIES AND TOP-NOTCH INSTRUCTION TO FUTURE AVIATORS
The allocation of land for MRO facilities in India was extended to 30 years in September 2021, signifying India's aspiration to become a 'Global MRO Hub.' The US has also committed to creating a global hub for MRO for high-end drones in India. The Indian government and domestic MRO stakeholders have initiated the development of MRO hubs in various regions, including a project at the twin airport facility in Noida. Uttar Pradesh plans to establish an MRO hub near Noida International Airport, offering land-related subsidies and other incentives. Additionally, South Indian states, such as Karnataka, Hyderabad, and Tamil Nadu, have also introduced specific MRO policies and increased efforts to develop MRO hubs in urban locations.
REGULATIONS, FRAMEWORKS, AND POLICY
Government interventions significantly influence the growth of India's aviation industry. The introduction of schemes like UDAN in June 2016 aimed to offer half of the flights at subsidised fares, supporting aviation development. However, the regulatory framework governing the industry is complex and often challenging to navigate due to multiple government agencies involved, including MoCA, DGCA, the Airports Authority of India (AAI), and the Bureau of Civil Aviation Security (BCAS). Key challenges in this regulatory framework include the need for greater clarity and consistency in policies, a slow pace of regulatory reform, and a requirement for enhanced transparency and accountability in the regulatory process. A more streamlined, clearer, and efficient regulatory framework is necessary for the industry's growth and development.
SUPPLY CHAIN
To ease the supply chain issues that continue to arise due to the lack of spares in India, Air India has commissioned the construction of an engineering warehouse to store more than one million spare parts. The 54,000 ft.2 centralised warehouse will consolidate 16 locations throughout Delhi and Mumbai into a single facility and will house parts for maintenance, checks, and repairs of its aircraft and ground support equipment. In a statement, the airline said the facility will support its growing fleet and boost its operational reliability as a "one-stop solution" for engineering requirements.
Aviation training necessitates substantial investments in infrastructure and equipment, with many training facilities in India requiring upgrades to meet international standards
The facility will be located near Delhi Indira Gandhi International Airport's Air Cargo Logistics division, with the aim of significantly speeding up turnarounds of the airline's flights operating out of Delhi. It is also strategically positioned to support maintenance operations for Air India, Air India Express, and AIX Connect. Air India will use the warehouse to store aircraft spares, tools, and ground support equipment ranging from hardware to more complex avionics, hydraulics, structural, pneumatic, and mechanical components. Many more such facilities are required to manage the large supply chain discrepancies.
THE COST BURDEN
The aviation industry in India faces substantial costs associated with aircraft acquisition, maintenance, fuel, labor, regulatory fees, and airport charges. The high cost of aviation turbine fuel (ATF), largely due to high taxes and levies, remains a significant challenge. Variability in airport charges adds to the overall cost structure, demanding greater transparency and consistency. To address cost issues, the industry needs to focus on reducing ATF costs, improving transparency in airport charges, investing in modern technology and equipment, and addressing overcapacity concerns.
In 2022, the contribution of India's travel and tourism sector to India's economy was worth $190 billion. By the end of this year, it would be worth $200 billion, as per the data released by the World Travel & Tourism Council (WTTC). The forecast for the next ten years is worth an enormous almost $450 billion and this rise in demand for air travel in India has necessitated the development of a robust ecosystem and supportive government policies to ensure that the targets are matched sustainably.