With the GSLV Mk III launching 36 broadband satellites of OneWeb in October, ISRO and the NSIL are on a roll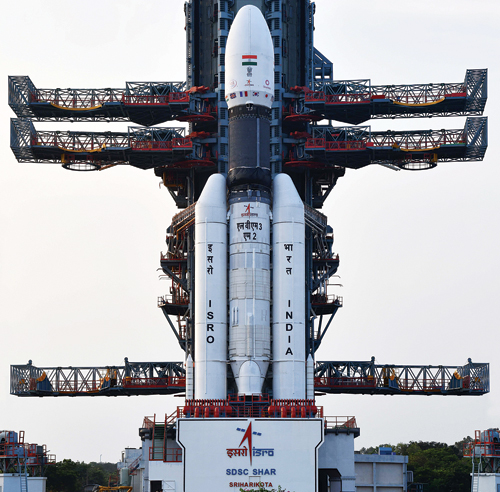 Launch of GSLV Mk III
The Indian Space Research Organisation (ISRO) launched its newest and heaviest rocket GSLV Mk III from the Sriharkota spaceport on October 23. The rocket launched 36 broadband satellites of OneWeb, which is a British startup. The GSLV Mk III rocket is capable of launching a four-tonne class of satellite into Geosynchronous Transfer Orbit (GTO). The GSLV Mk III is also referred to as Launch Vehicle Mark 3 (LVM3). It is a three-stage vehicle with two solid motor strap-on, a liquid propellant core stage and a cryogenic stage.
NewSpace India Limited (NSIL), ISRO's commercial arm had signed a contract with OneWeb for this earlier. The NSIL had announced on October 4 that two solid strap-on boosters and liquid core stage of LVM3 have been fully integrated at the second launch pad at Satish Dhawan Space Centre, SHAR, in Sriharikota and that in coming days integration of the cryogenic upper stage of the launch vehicle and integration of payload fairing with 36 satellites will take place. Concurrently, ISRO had tweeted, "ISRO to launch 36 satellites of of OneWeb onboard LVM3, nominally during the second half of October 2022. With this 'LVM3 M2/ OneWeb India-1 Mission', the 1st LVM3 dedicated commercial launch on demand through NSIL, LVM3 enters the Global commercial launch service market. @OneWeb"
Significantly, ISRO has influenced educational institutions by its activities like making satellites for communication, remote sensing and astronomy. The launch of Chandrayaan-1 increased the interest of universities and institutions towards making experimental student satellites. Capable Universities and institution can venture into space technology on-orbit with guidance and support from ISRO in 'Development of Payload by Universities/Institutions' as also 'Satellite Design and Fabrication by Universities/Institutions'.
On July 27, 2022, Union Minister Jitendra Singh told Lok Sabha that ISRO, through its commercial arms, has earned $279 million in foreign exchange by launching satellites for global clients. In a written reply to a question, he said that ISRO in association with its commercial arms has successfully launched 345 foreign satellites from 34 countries on-board Polar Satellite Launch Vehicle (PSLV). "Total foreign exchange revenue earned through launching of foreign satellites amounts to $56 million and Euro 220 million approximately," he said, without mentioning any time-frame for such launches. As per current exchange rates, 220 million euros are equivalent to 223 million dollars.
The latest PSLV mission was on June 30, 2022, when ISRO's PSLV-C53 mission successfully launched three Singapore customer satellites into orbit – namely, DS-EO, NeuSAR and SCOOB-1. The PSLV-C53 launch was the second dedicated commercial mission for the NSIL.
With the GSLV Mk III launching 36 broadband satellites of OneWeb with the GSLV Mk III launching 36 broadband satellites of OneWeb, ISRO and the NSIL are on a roll. Major upcoming space missions of ISRO include the 'Gaganyaan', 'Aditya L1' and 'Chandrayaan 3'. The 'Gaganyaan' mission, with a budget of 9,023 crores, would lead to significant advancement in science, technology and industry, plus help in developing a sustained and affordable programme to explore the solar system.
Gaganyaan will be India's first manned mission to space, for which, ISRO will first launch two unmanned missions into space ahead of the manned launch. The purpose of launching the unmanned missions is to demonstrate and test the technology, safety, and reliability of systems before the crewed flight, to demonstrate an indigenous capability to undertake human space flight mission to Low Earth Orbit (LEO). The manned mission is likely to be in 2023.
With a budget of 378.53 crore, Aditya L1 will enable studying and predicting the variation in the Solar Weather System which can lead to changes in satellites' orbits, damage onboard electronics, and also lead to power cut-offs on Earth. The launch of Aditya L1 was delayed due to the COVID pandemic. It is now planned to be launched in the first quarter of 2023.
ISRO's Chandrayaan-2 did not succeed in 2019; the lunar orbiter was successful, but the Vikram lander failed to make a soft landing and the Pragyan rover couldn't be deployed. If the Vikram lander had performed as intended, India would have become the first nation to have successfully landed on the moon in its very first attempt.
Chandrayaan-3 is ISRO's third lunar exploration mission, the objective of which is soft-landing on the Moon. In February 2022, Union Minister Jitendra Singh had said that based on the learning from the failure of Chandrayaan-2 and suggestions made by some national level experts, the realisation of Chandrayaan-3 is in progress. He further informed that many related hardware and their special tests had been successfully completed. The launch of Chandrayaan-3 is reportedly scheduled in the first quarter of 2023.
ISRO was established on August 15, 1969. Its achievements since then have been tremendous, perhaps because it is under the Department of Space and has the indulgence of the Prime Minister's Office; making the organisation free from bureaucratic red tape. The dedicated team of ISRO scientists has consistently worked to develop space technologies and applications of these technologies to meet various needs of the nation.