NBAA-BACE has emerged as the melting point of Business Aviation leaders, entrepreneurs, services, products, discussions, displays, and deals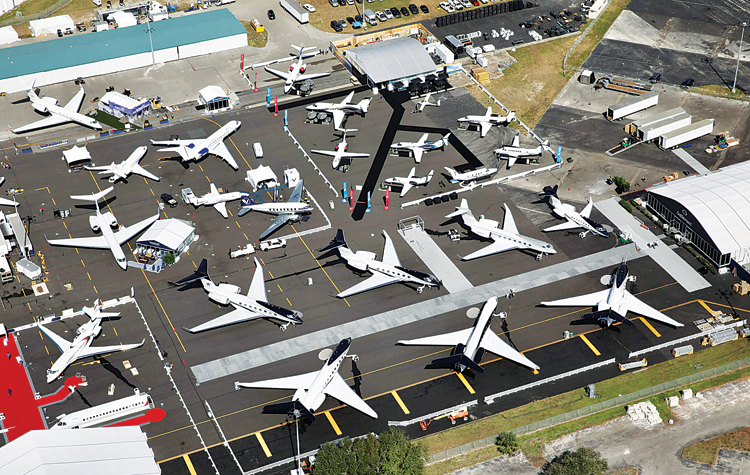 Aerial views showing dozens of business aircraft assembled at Orlando Executive Airport for 2022 NBAA-BACE
The National Business Aviation Association (NBAA) concluded a forward-looking week at its 2022 NBAA Business Aviation Convention & Exhibition (NBAA-BACE), held from October 18-20, 2022. Marking the 75th anniversary of its founding at the show, the convention spotlighted the pioneers, new technologies and dynamic companies that will power business aviation over the next 75 years. The agenda was filled with standing-room-only sessions, including an expanded programme in the NBAA Innovation Zone and two Education Theaters on the show floor. The exhibit floor showcased new products and services, including the largest-ever footprint for advanced air mobility (AAM) vehicles, many of which are already in flight testing, stated NBAA.
NBAA-BACE has emerged as the melting point of leaders, entrepreneurs, services, products, discussions, displays, and deals. From safety to taxation, sustainability to innovation, policies to possibilities, space to aviation, a plethora of subjects were discussed, charting out how the aviation community is innovating to meet technological, environmental and geopolitical challenges. Aviation training center to provide innovative technical and professional education, practices for fostering diversity, equity and inclusion in business aviation also surfaced to focus on industry's global growth.
The business aviation market could see as many as 8,500 new jet deliveries worth $274 billion over the next decade, according to the recent results from Honeywell Aerospace's 31st annual Global Business Aviation Outlook. NBAA-BACE 22 proved to be an assurance for these results. The report also calls for 700 business jet deliveries this year, and a 17 per cent increase next year, along with a 20 per cent boost in 2022 billings. Based on the results of this year's survey and airframer backlogs, business aviation's growth trend will continue through the next decade.

(Clockwise from Top Left) An impressive array of Business Jets from Gulfstream; Corporate Jets from Embraer on display; Innovative financing solutions for private aircraft from Global Jet Capital; Dassault Falcon 6x making its debut.
This year's National Safety Forum focused on the top four preventable accident categories: loss of control inflight, runway excursions, controlled flight into terrain, and ground operations and maintenance accidents, as well as two contemporary safety hot topics – aviation mental health and safety management systems.
Now in its seventh year, NBAA's Small Operators Symposium traditionally addressed safety concerns for managers and pilots of smaller flight departments. Workforce retention is a concern throughout business aviation, but can hit smaller flight operations particularly hard.
A panel discussion titled "Let's Talk: Aviation Mental Health" brought the underreported and untreated issues to light at the NBAA-BACE as part of the seven-part National Safety Forum series. FAA Federal Air Surgeon Dr Susan Northrup explained the FAA's chief concern regarding health is a sudden incapacitation, but in reality, mental health issues and stress are a continuum. Twenty-five years ago, a pilot with a mental health diagnosis would have a hard time obtaining a medical. Today, clear guidance exists for aviation medical examiners to issue medicals for mild mental health conditions.
Another roundtable conference underlined the importance of FDM (Flight Data Monitoring), flight data recorders and FOQA to potentially identify risky practices and behaviors before they cause loss of life as well as look into concerns among pilots about privacy or off-nominal behaviors.
BEHOLDING SIGHTS
NBAA-BACE is known for its aircraft – it's one of the biggest draws of the show. From the latest Business Aviation aircraft on display from major manufacturers and OEMs such as Bombardier, Dassault, Embraer, Textron, Boeing, Airbus and many more! The indoor and outdoor aircraft displays feature an exciting mix of the latest business aircraft and near-future aerial concepts. Some of the major aircraft on display have been listed below:
Gulfstream G800 was a key highlight from Gulfstream during the NBAA-BACE. The flight test G800 was joined by Gulfstream's full in-production fleet, the Gulfstream G280, Gulfstream G500, Gulfstream G600 and Gulfstream G650ER, as well as two fully outfitted Gulfstream G700 production test aircraft, showcasing the most spacious cabin in the industry. Gulfstream's 2022 NBAA-BACE display also included the full-size Gulfstream G400 cabin mock-up to highlight the features and cabin comfort of this large-cabin business aircraft.
Dassault Aviation's latest Falcon 6X made its debut at the NBAA-BACE this year. In addition to that, the largest falcon 10X was also on display in a 1:1 scale mock-up. Alongside these, a Falcon 8X and a Falcon 2000LXS were also put on display. Falcon 6X is ready for a mid-2023 entry into service and the 10X in 2025.
Daher Aircraft showcased its two new flagship single-engine turboprops: the TBM 960, an upgraded replacement for the TBM 940; and the Kodiak 900. The TBM 960's FAA and EASA certifications are in hand and dozens of the model have been delivered to customers in the US and Europe. Meanwhile, the Kodiak 900, already FAA certified, is slated to start deliveries in January. Daher expects EASA validation for the 900 shortly. Daher also highlighted its sustainability and innovation initiatives.
Leonardo's AW609 civil tiltrotor made its NBAA-BACE debut alongside a VIP interior mockup for the aircraft. The move comes as the first flight of the initial production aircraft is "imminent," according to Leonardo.
Airbus came to NBAA-BACE 2022 with fresh optimism over the US business jet market and particularly for the ACJ TwoTwenty—the company's large-cabin business jet offering based on the Pratt & Whitney PW1500G-powered A220 airliner. Scheduled for delivery from sole completions center Comlux in Indianapolis early next year, the first ACJ TwoTwenty marks the start of a production run for which Airbus will set aside between four and six delivery slots in the coming years, according to Airbus Corporate Jets president Benoit Deorge. Marking the fifth anniversary of its launch at NBAA-BACE 2017, Airbus Corporate Helicopters eschewed the exhibition hall at this year's show.
Bombardier unveiled a spacious new executive cabin for its Global 7500 and 8000 ultra long-range jets at NBAA-BACE 2022. The new executive cabin features three 12-foot-long workspaces designed to facilitate collaboration, productivity, and networking among passengers. Bombardier originally designed the Global 7500 to have four zones, but the company has re-engineered the aircraft's bulkheads to over three larger sections as an available option. Bombardier held a ceremony at the show to deliver the first production Challenger 3500 business jet to its customer. The Challenger 3500 is an upgrade to the 350 platform and offers a host of new features for the pilot and passenger, as well as a nod to sustainability.

(Left) Evia Aero is focused on developing a sustainable airline for the business traveler; (Right) VIP interior design by Lufthansa Technik
Bombardier closed a historic chapter on March 28 earlier this year, when the final Learjet 75 rolled out of its hangar at the company's facilities marking the end of 60 years of Learjet production.
Bombardier and Signature Aviation signed a landmark multi-year agreement at NBAA-BACE 2022 that will see the airframer convert all of its flight activity to sustainable aviation fuel through the Signature Renew book-and-claim system. The deal will cover all of Bombardier's flight operations starting on January 1, 2023.
Pratt & Whitney Canada launched its Services at NBAA-BACE as a new self-serve digital tool designed to guide customers online through the process of selecting the right P&WC maintenance services and solutions for their engine, aircraft model, and lifecycle stage.
Embraer unveiled a concept aircraft that includes several technologies that it considers essential in the new market scenario, including autonomous flight, sustainable propulsion, the extensive use of Artificial Intelligence (AI) and a new manufacturing process based on "Industry 4.0". It also exhibited the Praetor 500, Praetor 600 and Phenom 300E jets in Orlando, Florida.
At the show, the OEM also revealed that FlightSafety will produce a new full-flight simulator for the Praetor 500 and 600 to meet the growing demand for training in those models. The device will be located in Orlando, Florida.
Fly Alliance placed an order for up to 20 new Cessna Citation midsize and super-midsize business jets—12 XLS Gen2s, six Latitudes, and two Longitudes—at NBAA-BACE 2022. Based on list prices, the deal—which calls for four firm aircraft and the remaining optional—has an estimated value of more than $360 million. Fly Alliance plans to receive the first aircraft from Textron Aviation, an XLS Gen2, in 2023. Based in Orlando, the company specialises in private jet charter, jet card membership, maintenance, parts sales, and aircraft sales and management.
Fly Exclusive Charter and fractional provider will bolster its floating aircraft fleet of more than 90 jets with the purchase of 14 midsize Citation XLS Gen2 and super-midsize Longitude business jets from Textron Aviation, the Kinston, North Carolina-based company announced at NBAA-BACE 2022.
BAE Systems to design and develop the flight control computer for Supernal's five-passenger eVTOL. The aerospace group said it will define the requirements and architecture for a lightweight, fly-by-wire system in partnership with Hyundai Motor Group's advanced air mobility subsidiary.
Evia Aero has committed to ordering 25 all-electric Alice commuter airplanes from electric aircraft developer Eviation, the companies announced at NBAA-BACE 2022. The new German regional airline signed a letter of intent with Eviation just three weeks after the Washington state-based electric aircraft developer kicked off Alice's flight testing campaign with a successful first flight on September 27. Evia Aero, which is focused on developing a sustainable airline for the business traveler market, plans to use the nine-passenger electric aircraft as its primary vessel for point-to-point travel within Germany, Denmark, Belgium, Austria, and the Netherlands.
Rolls-Royce signed a memorandum of understanding to test Alder Fuels' Greencrude SAF. Greencrude utilises sustainable biomass, including regenerative grasses, forest residues, and agricultural waste products, and can be converted into a drop-in fuel using existing bio and petroleum refinery infrastructure. It yields a greenhouse gas reduction of more than 80 per cent compared with straight jet-A fuel.