Since 1996, Airshow China has successfully taken place, becoming one of the most influential international aviation and aerospace exhibitions in the world. The air show is a great opportunity to display China's latest achievements in military modernisation to the world.


Chinese military might on Display: (Clockwise from top left) J-20 stealth fighter jet; J-10 fighter jet; H-6K fighter bomber; AEW KJ-500
The 14th China International Aviation and Aerospace Exhibition (Airshow China) is about to take off. Airshow China is the only international aerospace trade show approved by the Chinese central government, and supported by Chinese aerospace industries. Featuring the display of actual products, trade talks, technological exchange flying display, and ground equipment manoeuvre demonstration, the show takes place biennially in Zhuhai, Guangdong, China. Airshow China is the premier platform for global partnership and cooperation between China and aerospace enterprises from around the world. As an aerospace powerhouse with an opening-up market, China has maintained a steady growth momentum in the post-covid era. The 14th Airshow China is taking place in Zhuhai, November 8-13, 2022.
This year's show has registered a better-than-expected number of exhibitors - more than 740 companies from 43 countries and regions - with state-of-the-art exhibits that cover land, sea, air, aerospace, electronics and cyber applications. An estimated 100 airplane types will be on display at the airshow, and countries including the US, France, Germany, Italy and Saudi Arabia will participate in the event. The show will stage aerobatic flying displays and ground static displays, as well as high-profile conferences and seminars.
EQUIPMENT TO REFLECT 'CHINESE ACHIEVEMENTS'
Airshow China 2022 will have many new weapons and types of equipment on display that cover all fields of combat in addition to aviation and aerospace. It shows that China's armed forces and its arms industries have formed a whole and complete system. The air show will not only display the Chinese military's and arms industry's achievements in the air, but also on the ground and at sea, with equipment in all fields to be represented.
In the static display area, the Chinese People's Liberation Army (PLA) Air Force for the first time display a vehicle-mounted laser weapon system that targets small drones, a new and thinner missile of the HQ-9B air defence system, as well as the HQ-11 universal terminal defence system, which includes a vehicle equipped with vertically launched missiles and another vehicle equipped with a close-in gun. Also, it is the first time that the PLA Air Force will reveal the WZ-10 electronic reconnaissance drone and the KJ-500A, which is a KJ-500 early warning aircraft with an added aerial refuelling probe. This means the new KJ-500 likely can receive aerial refuelling, which can greatly enhance the early warning aircraft's range and endurance for extended missions.
A bomber of the Chinese People's Liberation Army (PLA) Air Force carrying two new-type missiles also arrived for the Airshow. This is the first time the bomber has displayed what seems to be its air-launched ballistic missiles to the public. Previously, the H-6K had displayed its capabilities to carry subsonic and supersonic cruise missiles. A stealth air-to-surface cruise missile carried by a JH-7A2 fighter bomber also arrived at the site a few days ago.
Aircraft to deliver flight performances have been holding rehearsals above the event site, including four J-20s and a YU-20 aerial tanker. In a rehearsal, two J-20s landed and took off for the first time in Zhuhai and a YU-20 rehearsed with three aerial refuelling baskets released. A civilian-use version of the Y-20 large transport aircraft, the Y-20F100, can be seen at the exhibition.
Within the exhibit halls, the state-owned Aviation Industry Corp of China has put the latest entry of the Wing Loong series drone, the Wing Loong 3, on its public debut. The new drone is very large, with a very long range and endurance compared with previous members in the series. Aero Engine Corp of China will showcase a collection of the WS-10 Taihang series turbofan engine.
The SLC-18 space target observation AESA radar of China Electronics Technology Group Corp should attract attention because of its towering appearance. It is used to keep a close eye on reconnaissance satellites in low orbits. China Aerospace Science and Industry Corp will exhibit a container-type integrated sea defence combat system that can launch a variety of anti-ship missiles. Anti-drone systems and air defence missiles are also being exhibited.
Another aerospace giant, China Aerospace Science and Technology Corp, has put its CH and FH series drones on display, including the stealth CH-7 and the loyal wingman FH-97A, in addition to the YJ-21E air-to-surface missile weapon system. The VT4A1 main battle tank upgraded with an active defence system and drone interoperability is one of the star products from the NORINCO Group. Different types of firearms including China's latest assault rifles, sniper rifles and pistols are available for visitors to try out - but to touch and pose with only. A type of portable railgun weapon system will also be on display.
At sea, China State Shipbuilding Corp has a wide collection of warships available for export, from a 60 meter-class missile boat called the swordfish to corvettes of 1,000-tonne class and 2,000-tonne class, then to a 4,000-tonne class frigate, and at last a 6,000-tonne class destroyer.
PLA AIR FORCE UNVEILS EQUIPMENT LINEUP
PLA Air Force Spokesperson, Senior Colonel Shen Jinke, said that about 50 types of weapons and equipment including J-20, Y-20, and KJ-500, H-6K and HQ-9B will be displayed, among which YY-20, J-16 and GJ-2 unmanned aerial vehicles (UAV) will make their first public flights in the airshow. All of them will show the historical achievements of the PLA Air Force in the past decade of the new era and the phased results of the modernised strategic air force construction.
Aircraft J-20 is the new generation of stealth fighter jet independently developed by China, which made a public flight for the first time in the Airshow China 2016. Aircraft YY-20 is China's new-generation aerial refueling equipment, which has carried out aerial refueling training with multiple types of fighter jets including J-20, J-16 and J-10C, effectively enhancing the PLA Air Force's capability of long-range maneuverability.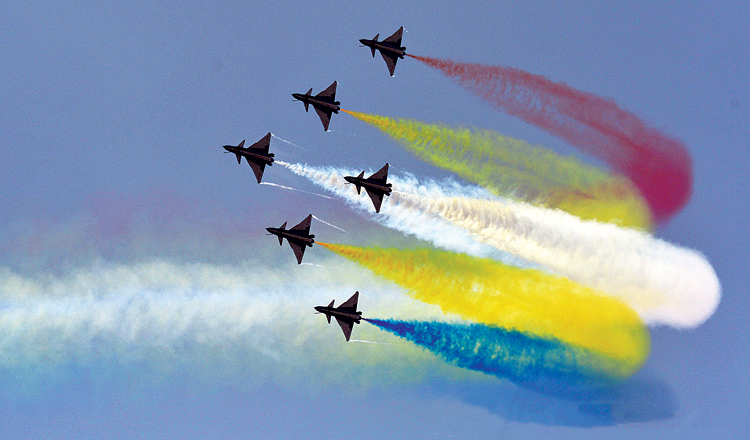 (File photo) J-10 fighter jets attached to the PLA Air Force's Bayi Aerobatics Team perform aerobatic stunts during Airshow China 2021
The PLA Air Force's new combat forces in new domain will also be displayed. The GJ-2 UAV, which will perform its first flight demonstration, is a medium-to-high-altitude, longendurance reconnaissance and combat UAV system developed by China. It is an important weapon for border patrol and antiterrorism operations. Other UAVs including the WZ-7, WZ-8, and WZ-10 will be on static display on the ground.
The Bayi Aerobatic Team of the PLA Air Force and the Red Eagle Aerobatic Team of the PLA Air Force Aviation University will also perform at the air show, the 10th time and third time respectively of their participation in such event.
CHINESE DRONES ON INTERNATIONAL MARKET
Production of China's CH series unmanned aerial vehicle (UAV) is running at maximum capacity with the bestselling CH-4 drone having sold more than 200 units on the international market. With increasing market demand, the CH UAV company is expanding its production capacity by building a modern, intelligent production line which will be fully operating by 2023. The announcement came shortly before the Airshow China 2022, where the CH series drones will be exhibited.
After being upgraded with a domestically developed heavyfuel engine, the CH-4 armed reconnaissance drone will make its reappearance at the air show. The latest version of the CH-5 will offer maritime applications, as it can detect information on the sea surface and underwater. As a high-end drone, the CH-7 is characterised by its high-altitude, high-speed, highendurance and stealth capabilities. The CH-7 can conduct reconnaissance missions without opponents becoming aware of it. Other known members in the CH drone family include the cheap but effective CH-3, the large CH-6, the tilt-rotor CH-10 and the solar-powered CH-T4. The company also makes munitions suitable for use with the drones.
FIRST FOUR-ENGINE LARGE DRONE TO DEBUT
The Twin-Tailed Scorpion D, a four-engine large drone independently developed by China, will make its public debut at the Airshow. Capable of carrying heavier and larger payloads, the new drone has enhanced transport capability compared with its predecessors. This multipurpose, medium-altitude, long-endurance unmanned aerial vehicle system with fixed wings and four engines is the first of its kind in the world. Other members of the Twin-Tailed Scorpion series include the original Twin-Tailed Scorpion (TB) with two engines and the Twin-Tailed Scorpion A (TB-A) with three engines.
CHINA'S ANTI-DRONE DEFENCES TO TAKE CENTRE STAGE
China's most advanced anti-drone defence systems will be one of the features of the country's leading air show. The systems are designed to detect and intercept swarms of unmanned aerial vehicles (UAVs) at low altitudes and combine air-defensive, artificial intelligence and anti-missile technology.
In response to new challenges in the modern warfare brought by drones with low flight altitude, slow flight speed and small radar reflection area, China has come up with a new indigenous air defence system and put it on display. Such anti-drone system is made up with early-warning detection, monitoring control and interception weapons. The new system was designed and developed by the Second Academy of the China Aerospace Science and Industry Corporation (CASIC), the country's largest air-space missile manufacturer. With the HQ-17AE short-range air defence missile weapon system at its core, the new system is projected to make its debut at this year's exhibition. The electro-optic radar and DK-1 low-altitude detecting radar will team up to work together at the early-warning detection stage. The electro-optic radar has the capabilities of visual imaging with high precision and it is also capable of "seeing" multiple targets at the same time.
The HQ-17AE system can effectively intercept stealth and non-stealth fixed-wing aircraft, armed helicopters, unmanned aerial vehicles, cruise missiles and tactical air-to-surface missiles, according to the academy. It has an interception slant range of 1.5 to 20 kms, and is capable of guiding four missiles to intercept four targets at the same time.
ZR-1500 unmanned smart defence weapon system, serving as the side vehicle for the HQ-17AE system, will also make its debut at the Airshow China. It has an interception slant range of 5 kms and can intercept targets including fixed-wing aircraft, helicopters and drones as well as enemy personnel and armed vehicles within the range. It can carry 12 micro-missiles and four small-scale missiles and two surveillance and strike integrated patrol missiles by default.
DEBUT OF CHINA'S NEW COMAC C919 SINGLE-AISLE JET
China will stage a low-key but historic debut of its C919 civil jet at its biggest air show. This will mark the first time when western plane giants Airbus and Boeing will have shared the stage with China's new COMAC C919 single-aisle jet at the event. The newly certified homegrown rival to the Airbus A320neo and Boeing 737 MAX will take part in the show's flying display for the first time. Commercial Aircraft Corporation of China (COMAC) plans the first C919 delivery to China Eastern in December and has reported orders from leasing firms for 300 C919s and 30 ARJ21 regional jets.
AIRSHOW UNDER CLOUD OF ZERO-COVID
In a reminder of the continuing health crisis slowing China's return to global aviation, organisers of Airshow China in the southern city of Zhuhai had urged attendees to arrive three days early because of COVID-19 precautions. China's zero-COVID policy has hampered its domestic aviation industry and kept international traffic at a tiny fraction of pre-pandemic levels. The zero-COVID policy comes amid a broader decoupling from the West as China aims for increased self-reliance amid the effects of strict export sanctions placed on Russian aviation.