Nadia Popova, a highly decorated Soviet pilot, was awarded 'Hero of the Soviet Union', the Gold Star Medal, the Order of Lenin, and three Orders of the Red Star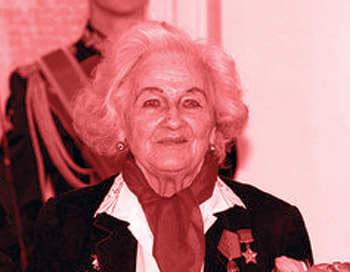 As the dazzling searchlights stabbed into the night sky, caressing her light biplane, Nadezhda Popova desperately twisted this way and that. She knew that a lethal hail of bullets would follow. She and her comrade were decoys, specifically tasked to attract German anti-aircraft fire, so as to allow the third aircraft in their formation to sneak in and mount an attack. Knowing that the powerful guns could rip their flimsy machines apart, it took nerves of steel to be an effective decoy.
And she had them in ample measure. She was a member of an elite corps of Soviet female pilots and one of very few women who fought during World War II. Her unit, the 588th Night Bomber Regiment, was later renamed the 46th Taman Guards Night Bomber Aviation Regiment, in recognition of its courage. In time, Popova rose to become its Deputy Commander.
Nadezhda 'Nadia' Vasil'yevna Popova was born in Shabanovka, Russia, on December 17, 1921. When she was still small, a light aircraft landed near her village. She took immediate fascination to aviation and joined a gliding school at the age of 15, without telling her parents. In 1937, she made her first parachute jump and first solo flight. Later, she braved her parents' opposition to obtain her flying licence and by age 18 she became a flight instructor.
When Germany invaded the Soviet Union in June 1941, Nadia volunteered to be a military pilot, only to be told that females were barred from combat. "No one in the armed services wanted to give women the freedom to die," she later said. But with the German Panzer force advancing rapidly towards Moscow, and the available pilots clearly unable to cope, Joseph Stalin had to resort to desperate measures. In October 1941, he agreed to the deployment of three women's air regiments, including the 588th Regiment. It turned out to be a smart move. Apart from helping shore up numbers, stories of brave women warriors make good headlines.
Night after night, Nadia Popova and her band of 18- to 26-year-old volunteers attacked the German forces. Although each of the three Polikarpov Po-2 aircraft in a mission had only a pair of light bombs apiece, they had enormous nuisance value. Besides, the German soldiers hated to confess that they were being harried by women. The aviators would fly very low to avoid being detected by German mobile radars. They would also avoid being aurally picked up by idling their engines near the target and gliding towards the bomb release point, with only the sound of wind in their wings to give them away. The German soldiers swore they sounded like witches riding on broomsticks and named them the 'Night Witches'. The women took it as a compliment. After returning to base safely, they would have just minutes to relax before taking off for another gruelling flight. Every night, over 40 twowoman crews flew over eight sorties each. And in four years of conflict, they totalled over 30,000 combat sorties and dropped 23,000 tonnes of bombs. About 30 women lost their lives.
The Po-2 was a two-seater made of canvas and plywood with open cockpits. It was the world's most produced biplane, with around 30,000 machines built from 1928 to 1952. Originally designed as a trainer and crop-spraying aircraft, it was hastily modified into a light bomber. It had rudimentary instruments, no radio and no weapon for self-defence. To save weight, most of the women pilots did not wear a parachute. They knew that even if they had one, their low operating heights meant that the parachute would not have time to open. If they were hit by the enemy, they would go down along with their aircraft. They flew only at night, to enhance their chances of survival. Therefore, they could not make too many precision attacks; but mostly resorted to harassment bombing of the German ground forces, rear bases and supply depots.
The Po-2's top speed was just 82 knots. But the Witches learned to use this low speed, coupled with the biplane's exceptional manoeuvrability, to survive more powerful enemy night fighters like the German Me-109. When attacked they would simply throw their Po-2s into a tight turn at low speed. Since this was well below the stalling speed of the Me-109, the German pilot would be forced to make a wider circle and come in for another attack, only to be evaded once more. The women would also fly so close to the ground that it was unsafe for the swift German fighters to follow. Ultimately the attackers would usually just give up and go.
Nadia Popova flew 852 sorties during the War and 18 in a single night over Poland in 1944. She became one of the most highly decorated Soviet pilots with awards that included "Hero of the Soviet Union", the Gold Star Medal, the Order of Lenin, and three Orders of the Red Star. Did she ever feel scared? There was no time for that, Nadia later declared. Rather, it was the biting cold of winter that really hurt, giving the pilots frostbitten faces and frozen feet. They were poorly kitted with oversized handme-down uniforms from male pilots and their living conditions were Spartan. She also recalled that although they were heroines in the Soviet press, the male soldiers resented them and mocked them as 'the skirt regiment'. They even had to endure some sexual harassment. Yet, they proved that neither courage nor fighting ability is limited to the male gender.
Nadezhda Popova died on July 8, 2013, at the age of 91.