With a history of inspiring innovation, preeminent suppliers amalgamated with contemporary customisation, Gulfstream not only balances luxury, style and convenience for its customers, but it also delivers the unmatched aviation design. Tray Crow, Director of Interior Design reveals to SP's their unique approach to designing aircraft interiors.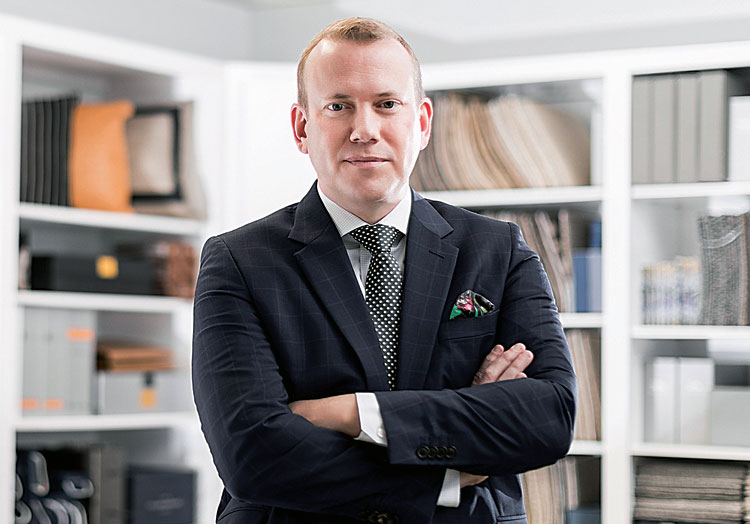 TRAY CROW DIRECTOR OF INTERIOR DESIGN
BizAvIndia (BAI): What will be the definition of aviation designing according to you, at Gulfstream Aerospace?
Tray Crow (Crow): Every Gulfstream interior is bespoke, from the floor plan to the finishes. Our client-facing team – comprised of a completions delivery executive, interior designer and completions delivery associate – works closely with each customer to understand their requirements. Once we've customised the floor plan, we launch the interior design process with fabric, leather, veneer and carpet samples to simplify what can be an overwhelming number of decisions. From there, the customisation process begins. We maintain exclusive relationships with our suppliers to customise materials, such as carpets and leathers, to suit the interior design scheme and palette we are creating.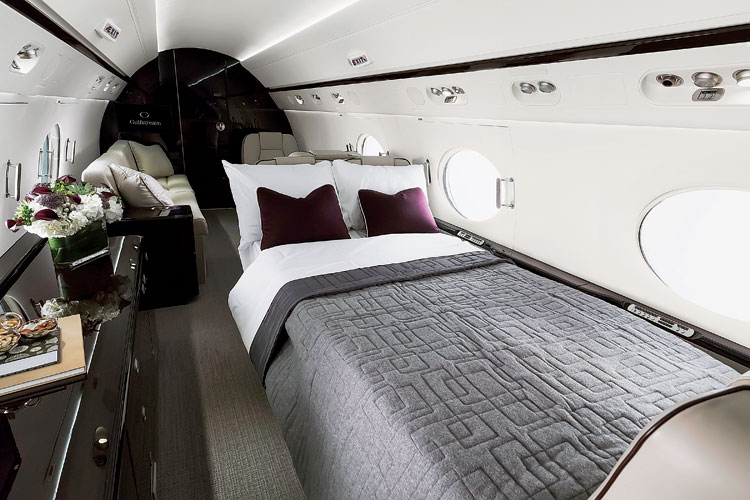 THE EXCEPTIONAL ARTISTRY OF THE INTERIORS PAVES WAY FOR ELEGANT AMBIENCE OF THE FINEST HOMES IN FLIGHT
BAI: What are the foundations of your interior designs?
Crow: At Gulfstream, flexibility is the core of our interior design and outfitting process. If we can be nimble with design, we can better accommodate special requests. One way we maintain flexibility is by completing all aircraft interiors in-house, allowing designers, engineers, the manufacturing team and others the ability to collaborate easily and ensure the final product meets the high Gulfstream standard.
"WITH A GULFSTREAM JET, YOU CAN HAVE THAT RARE COMBINATION OF SPEED, PAINSTAKING CRAFTSMANSHIP, BESPOKE DESIGN AND ARTISTRY."
BAI: What leads to the innovations you try to introduce time to time?
Crow: When a client requests a design with elements not yet seen in the industry, Gulfstream's interior design and completion teams work with our engineering teams to determine feasibility and execution and then make recommendations to our customers based on those project parameters.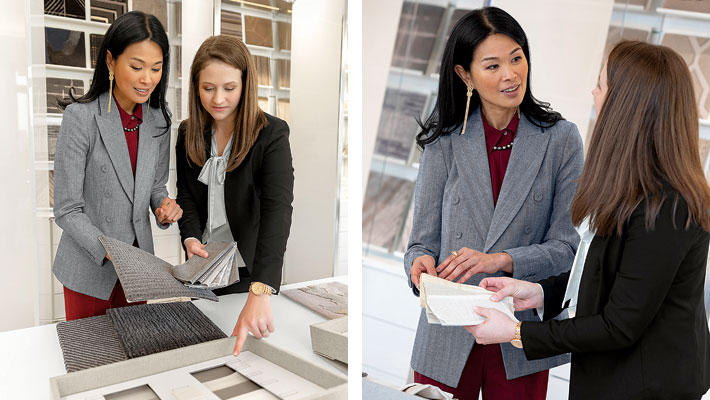 (LEFT) GULFSTREAM'S CLIENT-FACING TEAM INCLUDES COMPLETIONS DELIVERY EXECUTIVE, INTERIOR DESIGNER AND COMPLETIONS DELIVERY ASSOCIATE;(RIGHT) THE TEAM WORKS CLOSELY WITH EACH CUSTOMER TO UNDERSTAND THEIR REQUIREMENTS, ENSURING A TAILOR-MADE EXPERIENCE AND PRODUCT.
BAI: How do you keep the balance between luxury & style versus the key necessities of a bizjet keeping the interests of the potential owners and the users of the jets?
"AT GULFSTREAM, FLEXIBILITY IS THE CORE OF OUR INTERIOR DESIGN AND OUTFITTING PROCESS."
Crow: Gulfstream recognises that discerning business-jet owners expect their aircraft to wed time and excellence. With a Gulfstream, you can have that rare combination of speed, painstaking craftsmanship, bespoke design and artistry.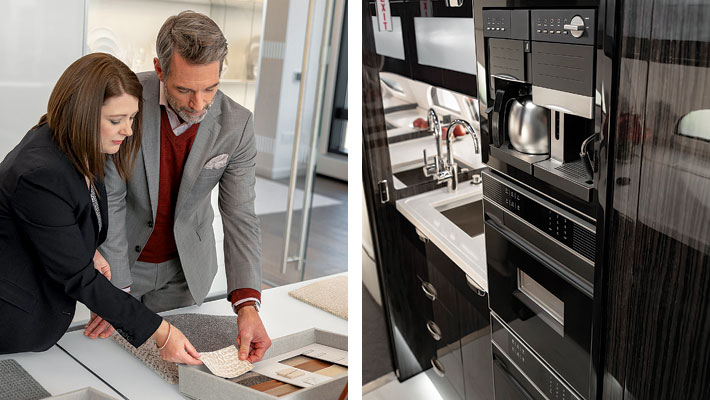 (LEFT) FROM THE FLOOR PLAN TO THE FINAL PRODUCT, EVERYTHING IS CUSTOMISED IN CLOSE DISCUSSION WITH THE CLIENT;(RIGHT) EVERY ASPECT OF THE AIRCRAFT INTERIORS IS DESIGNED BY COLLABORATING CUSTOMER'S VISION AND THE TEAM'S EFFICIENCY TO MEET GULFSTREAM'S HIGH STANDARD.
The materials available exclusively to Gulfstream customers look like what you would find in the finest homes, but they have been made expressly for flight. Gulfstream has a long history of working with preeminent suppliers to adapt their materials for the regulations that exist at altitude. For example, the hand-tufted, made-to-order carpeting, frequently a blend of wools and silks, is aviation-grade, but no less refined.
GULFSTREAM'S SALES AND DESIGN CENTER OPULENTLY SHOWCASES THE MATERIALS ARRANGED TO ADDRESS EVERY DESIGN SCHEME AND PALETTE BEING CREATED
"GULFSTREAM'S CLIENTS CAN CHOOSE FROM A DEDICATED SUPPLY OF NATURAL, EXOTIC WOODS FOR THE BULKHEADS, CABINETRY AND ACCENTS."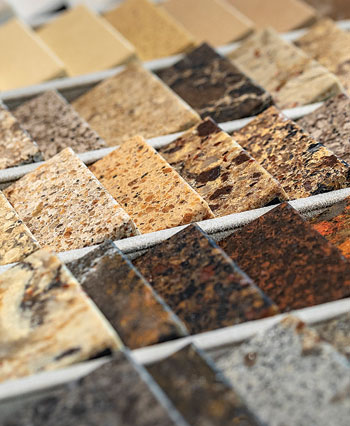 THE INTERIOR DESIGN PROCESS IS LAUNCHED WITH VARIOUS FABRIC, LEATHER, VENEER AND CARPET SAMPLES TO AID CUSTOMERS IN THEIR DECISION
Gulfstream clients can choose from a dedicated supply of natural, exotic woods for the bulkheads, cabinetry and accents. To ensure the availability and consistency of the wood, Gulfstream maintains a live log program, in which roughly 100 logs sourced from around the world are held in reserve exclusively for Gulfstream clients. Whether you want Smoky Eucalyptus or Mocca Oak, you can be guaranteed that what you choose will be of the best quality.
"GULFSTREAM HAS A LONG HISTORY OF WORKING WITH PREEMINENT SUPPLIERS TO ADAPT THEIR MATERIALS FOR THE REGULATIONS THAT EXIST AT ALTITUDE."
BAI: Would you like to share some of the most inspiring sources which do inspire you enough to enable you to come up with certain concrete designs for Gulfstream jets?
Crow: Creating bespoke interior designs that surprise and delight Gulfstream customers is what inspires the interior design team.